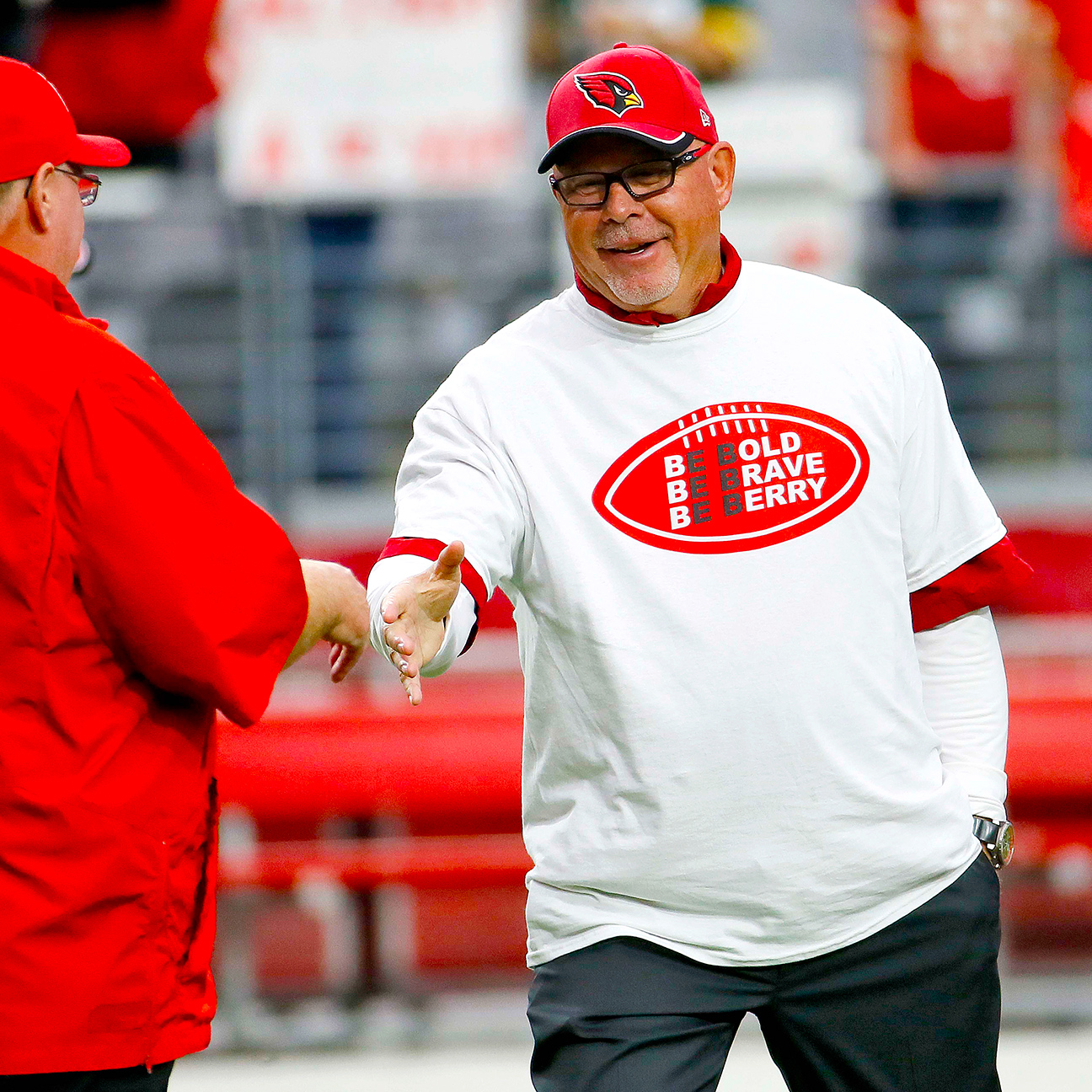 Larry Foote "50-50″ on playing in 2015

profootballtalk.com

23 hours ago

Earlier this offseason, the Cardinals released linebacker Larry Foote from their roster so that he could rejoin the team as a member of their coaching staff. The door was left open for a potential return to the field and it hasn't closed in the last two…

Share Tweet

Bruce Arians says return to Pittsburgh "just another game"

profootballtalk.com

Apr 23 (yesterday)

Cardinals coach Bruce Arians said Thursday that it is going to be tough to go back to Heinz Field in October, but insists that is only because they'll have to face "a really good football team" and not because of the way his tenure on Pittsburgh's coach…

Share Tweet

Cardinals haven't decided on Michael Floyd's 2016 option

profootballtalk.com

Apr 23 (2 days ago)

The Cardinals don't yet know whether they want Michael Floyd beyond 2015. Floyd, Arizona's 2012 first-round pick, has an option year for 2016 that the Cardinals haven't yet decided whether to pick up. Mike Jurecki of FOX Sports 910 reports that the Card…

Share Tweet

Keim's quip gets to the heart of the off-field dilemma

profootballtalk.com

Apr 22 (2 days ago)

In every joke, there's a sliver of truth. In a one-liner delivered Wednesday by Cardinals G.M. Steve Keim, that sliver was the size of a human liver. "If Hannibal Lecter ran a 4.3, we'd probably diagnose it as an eating disorder," Keim said, via Darren …

Share Tweet

Fitzgerald says his role limits his production

profootballtalk.com

Apr 22 (3 days ago)

Cardinals receiver Larry Fitzgerald recently said he can still play at a high level. So is it possible for him to generate significant numbers? "No, it's not possible," Fitzgerald told Burns & Gambo of Arizona Sports 98.7 FM in Phoenix. "And it's on…

Share Tweet

Larry Fitzgerald: I can still play at a high level

profootballtalk.com

Apr 21 (4 days ago)

Cardinals wide receiver Larry Fitzgerald posted 63 catches for 784 yards last season, which were his lowest numbers since his rookie season and the cause of some discussion about how much he might have left in the tank after 11 seasons in Arizona. It lo…

Share Tweet

Five former Cardinals worth considering for Ring of Honor

ESPN.com

Apr 21 (4 days ago)

Five former Cardinals worth considering for Ring of Honor

Share Tweet

Adrian Wilson is expected to retire Monday

profootballtalk.com

Apr 19 (6 days ago)

The Cardinals have announced a Monday press conference with long-time Arizona safety Adrian Wilson. He most likely will be formally retiring. Wilson joined the Cardinals in 2001, spending 12 seasons in Arizona. He signed with the Patriots in 2013 but la…

Share Tweet

Cardinals save Pat Tillman's practice locker from being discarded

Some advance planning and quick thinking by a Cardinals employee reportedly prevented the late Pat Tillman's old locker from being thrown away as the club remodels the locker room in its practice facility in Tempe. According to Darren Urban of AzCardina…

Share Tweet

The Cardinals watched the league's hottest start go pffft when they ran out of quarterbacks last year, so it makes sense that they'd want to restock. Toward that end, they're taking a look at one of the second-tier quarterbacks in the 2015 NFL Draft (a …

Share Tweet

Simeon Rice thinks he deserves a spot in the Pro Football Hall of Fame. The Ravens would probably support that bid, if only for what Rice saved them from. When the Illinois defensive end made a late climb up draft boards and was chosen third overall by …

Share Tweet

Arians believes female coaches could be hired in NFL

profootballtalk.com

Apr 12

The recent hiring of Sarah Thomas to serve as the first full-time NFL game official has caused Josh Weinfuss of ESPN.com to dust off a quote from last month made by Cardinals coach Bruce Arians regarding the possibility of a female NFL coach. "Someone a…

Share Tweet

Daryl Washington plans to apply for reinstatement soon

profootballtalk.com

Apr 10

The Cardinals aren't making plans for the 2015 season that include having linebacker Daryl Washington in the lineup, but there's a chance that they will be able to fit him into their plans at some point. Washington was suspended for at least a year last…

Share Tweet

profootballtalk.com

Apr 9

Whoever ends up throwing passes for the Browns this year — and who are we kidding, they will be legion — will have a new target. According to Ian Rapoport of the NFL Network, former Cardinals tight end Rob Housler has agreed to a one-year deal with the …

Share Tweet

profootballtalk.com

Apr 7

Last week, former Rams, Giants, and Cardinals quarterback Kurt Warner suggested that he'd possibly be unretiring, Brett Favre style. But it was an April Fools gag. This homage to Favre isn't: Warner will become an offense coordinator with a high school …

Share Tweet

profootballtalk.com yahoo.com

Apr 7

When Cardinals cornerback Patrick Peterson was asked recently about coach Bruce Arians's revelation that some of last season's struggles were attributable to blood sugar issues that Arians said made Peterson a "borderline" diabetic, Peterson said that h…

Share Tweet

Patrick Peterson confirms he's diabetic but is reticent to discuss it

yahoo.com

Apr 7

In a wide-ranging interview, Arizona Cardinals cornerback Patrick Peterson told the Arizona Republic's Kent Somers that he is diabetic. But Peterson had little interest talking more about the matter. Here's how that portion of the Q&A with Peterson …

Share Tweet

Terdell Middleton dies at 59

profootballtalk.com

Apr 5

Former NFL running back Terdell Middleton, who became the fourth 1,000-yard rusher in Packers history, has died at the age of 59. Via Tom Silverstein of the Milwaukee Journal Sentinel, Middleton passed just five days short of his 60th birthday. A third-…

Share Tweet

Bears release Anthony Walters

profootballtalk.com

Apr 2

Safety Anthony Walters returned for a second stint with the Bears late in the 2014 season, but it came to an end on Thursday. The Bears announced that they have released Walters, who signed with the team in November after failing to make the Cardinals o…

Share Tweet

profootballtalk.com

Apr 2

As free agency reaches its what, fourth or fifth wave, the ripples are getting smaller. But at least one guy is lining up multiple visits in search of a new home. According to Aaron Wilson of the Baltimore Sun, Cardinals free agent tight end Rob Housler…

Share Tweet

Cardinals sign Chandler Harnish

profootballtalk.com

Mar 31

The Arizona Cardinals have added an extra arm to their roster with Carson Palmer still recovering from an ACL tear. The Cardinals signed former Minnesota Vikings and Indianapolis Colts quarterback Chandler Harnish to a one-year deal on Tuesday. Harnish …

Share Tweet

Tyrann Mathieu: I want to let everyone know I'm back

profootballtalk.com

Mar 31

Cardinals safety Tyrann Mathieu was able to return to the lineup in Week Two last season, which marked a relatively quick turnaround after he tore his ACL late in his rookie season. Mathieu didn't immediately return to a prominent place in the lineup an…

Share Tweet

Bruce Arians wants more structure for Daryl Washington, other suspended players

ESPN.com

Mar 30

TEMPE, Ariz. – There were two players that Arizona Cardinals coach Bruce Arians wouldn't talk about during the NFL owners meetings: Minnesota Vikings running back Adrian Peterson, because he's under contract with another team; and Cardinals linebacker D…

Share Tweet

Kaepernick impresses Warner with touch passes

Cardinals fans weren't happy when former Arizona quarterback Kurt Warner decided to start working with 49ers quarterback Colin Kaepernick this offseason. Cardinals fans may be even less happy now. Via Jim Corbett of USA Today, Warner said recently that …

Share Tweet

Cardinals to give Logan Thomas "a ton of work" this offseason

When the Cardinals lost Carson Palmer and Drew Stanton for the season with injuries last year, they briefly considered starting Logan Thomas in the regular season finale before opting to stick with Ryan Lindley for that game and in their playoff loss to…

Share Tweet

Desmond Bishop to visit 49ers on Monday

The 49ers need linebackers. The next one they add may be one that was on the team at the end of the 2014 season. Matt Maiocco of CSNBayArea.com reports that Desmond Bishop will visit the 49ers on Monday. He appeared the final two games of the season. Bi…

Share Tweet

Inside NFL draft war rooms

Apr 22

NFL coaches and general managers dish on their favorite foods to snack on during the draft.

Strengths of the 2015 draft class

Apr 22

NFL coaches and general managers on the strengths of the 2015 draft class.

Challenging schedule for Cardinals

Apr 22

Jeff Saturday breaks down why the second half of the NFL season will be the most challenging for the Cardinals.

Rangers top Caps for NHL-best 53rd win

Apr 11

Kevin Hayes had a goal and an assist and Henrik Lundqvist stopped 22 shots for his ninth 30-win season.