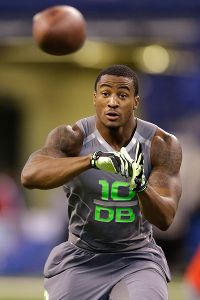 ESPN.com
Updated May 9, 2014
TEMPE, Ariz. -- Sometimes Arizona Cardinals general manager Steve Keim may be too smart for his own good. In the lead-up to the draft, Keim was open and honest about his intentions this week: he wanted to move back and collect more picks. After the Miam…
Upvote
Share
Tweet
Cardinals take John Brown in 3rd

TEMPE, Ariz. -- The pick: John Brown, wide receiver, Pittsburg State My take: He may be fast, having run a 4.34-second 40-yard dash at the NFL combine, but Brown may have trouble making this roster. He has three speed guys ahead of him -- all of whom we…

Upvote Share Tweet

Cardinals take Kareem Martin in 3rd

TEMPE, Ariz. -- The pick: Kareem Martin, defensive end, North Carolina My take: Arizona has been in need of an improved pass-rusher, but Martin may not provide the instant upgrade the Cards were searching for. He has the size and the strength -- and his…

Upvote Share Tweet

Cardinals may look at QBs in Day 2

TEMPE, Ariz. -- If you read deeper into what Cardinals coach Bruce Arians said last week about drafting a quarterback, Arizona will have its eyes on one when the second round starts Friday afternoon. After that, a quarterback may not be worth it. "…

Upvote Share Tweet

NFL Draft Highlight Reel: Kareem Martin

May 9

Watch highlights from NFL draft prospect Kareem Martin.

Arizona Cardinals select Troy Niklas with No. 52 pick

May 9

The Arizona Cardinals select Notre Dame tight end Troy Niklas with the No. 52 overall pick in the 2014 NFL Draft, as announced by Aeneas Williams.

Bucannon Happy To Be A Cardinal

May 9

Cardinals' first round draft pick Deone Bucannon talks with Wendi Nix about his draft day.