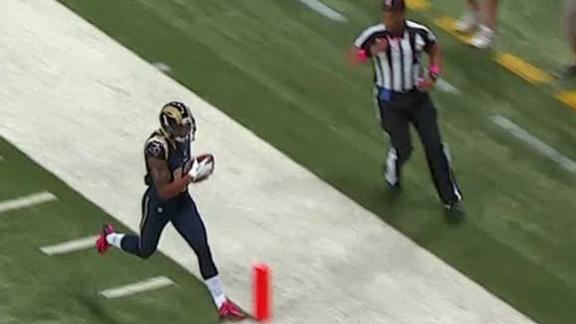 ESPN.com
CNNSI.com
profootballtalk.com
Updated Oct 4, 2012
Thoughts on the St. Louis Rams and Arizona Cardinals following the Rams' 17-3 victory Thursday night in the Edward Jones Dome: What it means: The Rams improved to 3-2, the first time they've had a winning record since the 2006 team was 4-3. They are 3-0…
Share
Tweet
Every October, the NFL promotes breast cancer awareness by allowing the otherwise sacrosanct NFL uniform to be invaded by copious amounts of pink. Cardinals receiver Larry Fitzgerald, who lost his mother to the disease in 2003, has taken the tribute a s…

Share Tweet

Every Thursday, MDS joins PFT Live to discuss our game picks for the coming week. This week, we disagree on two games - Cardinals at Rams (which is going on right now) and Falcons at Redskins. We also each have one game that makes us nervous.  For MDS,

Share Tweet

CNNSI.com ESPN.com profootballtalk.com yahoo.com

Oct 4, 2012

ST. LOUIS (AP) -- Arizona defensive tackle Darnell Dockett is starting for the Cardinals against the St. Louis Rams after sitting out last week because of a hamstring injury.

Share Tweet

ESPN.com

Oct 4, 2012

A few thoughts as the Arizona Cardinals and St. Louis Rams near their Thursday night matchup at the Edward Jones Dome: 2007-2011 NFC West Records Trending: The Rams are 1-0 against the NFC West as they try to reverse the worst wrong turn in franchise hi…

Share Tweet

Sean Payton, Mickey Loomis and Joe Vitt aren't going to be the only notable names in attendance at an NFL game this week. Gregg Williams is going to be in attendance at another Rams game on Thursday night. The NFL confirmed to PFT that Williams will be

Share Tweet

It wasn't much of a choice for the Cardinals to tab Kevin Kolb as their starting quarterback for the fourth straight game on Thursday night against the Rams. Mike Florio reports that John Skelton's sprained ankle has not healed enough for him to get b

Share Tweet

Week Five kicks off on Thursday night with the Rams and Cardinals and Pro Football Talk on NBC Sports Network will get you all the news you need to know about the game well ahead of kickoff. Amani Toomer and Pete Najarian will break down the game in one…

Share Tweet

ESPN.com

Oct 4, 2012

Picking winners on a short week isn't as easy as going 3-0 on a regular one, but here we go. Arizona Cardinals at St. Louis Rams, Thursday, 8:20 p.m.: The Cardinals are traveling on a short week following an overtime victory to face a well-coached team …

Share Tweet

Andrew Hawkins leads the list of the NFL's biggest surprises so far

yahoo.com

Oct 4, 2012

The Arizona Cardinals and St. Louis Rams kick off Week 5 of the 2012 NFL regular season on Thursday night in St. Louis. Before they do, though, here's a look at a few under-the-radar performances from the first four weeks of the season. Over 1,600 playe…

Share Tweet

After short break, Arizona Cardinals chase 5-0 start

azcentral.com

Oct 4, 2012

The soreness remains and the bruises haven't completely faded, so there is plenty for the Cardinals and Rams to whine about tonight as both play their second game in five days.

Share Tweet

Fitzgerald family fights on

Oct 4

Arizona Cardinals wide receiver Larry Fitzgerald lost his mother in college to a fight with breast cancer. Now, he is doing whatever he can to help others avoid going through the same pain his mother and his family went through.

Breaking Down The Rams' Win

Oct 4

NFL Live breaks down the Rams' win over the Cardinals

Highlight Of The Night

Oct 4

Rams hand Cardinals first loss of the season.

Rams Hand Cardinals First Loss Of Season

Oct 4

Rams stun Cardinals 17-3.