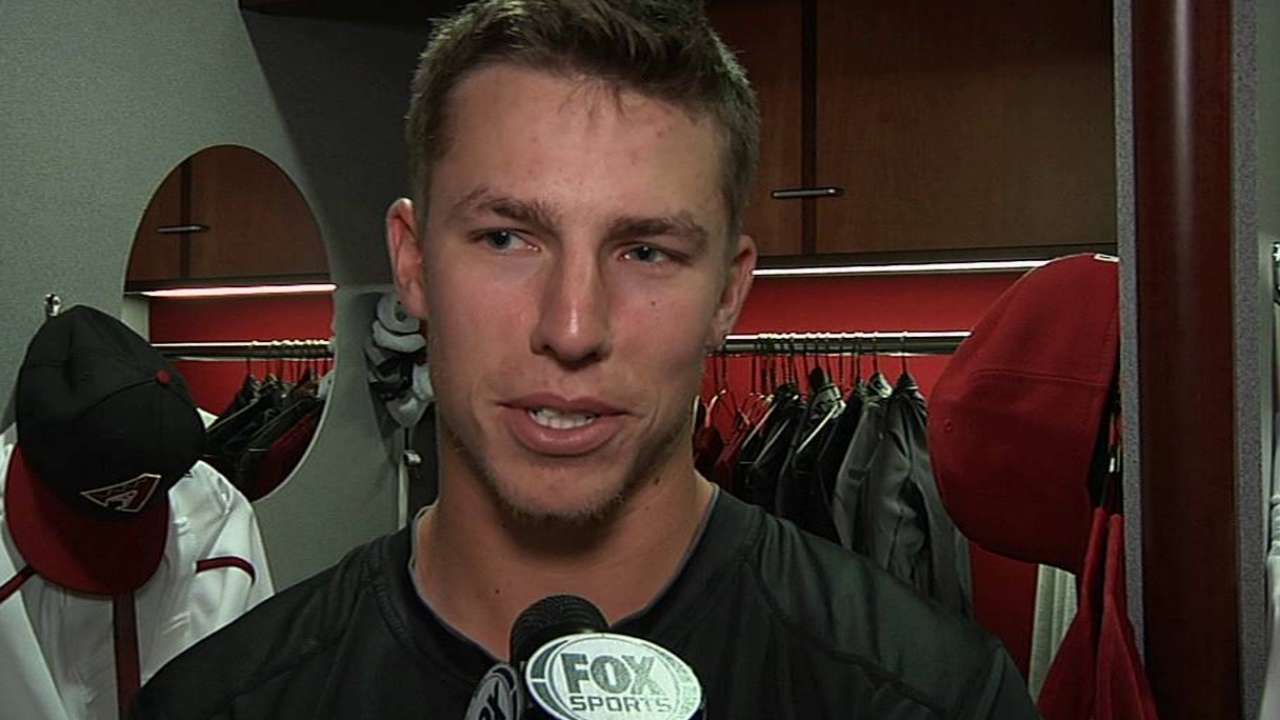 ESPN.com

Oct 17

New Los Angeles Dodgers president of baseball operations Andrew Friedman has spoken to former Diamondbacks and Padres general manager Josh Byrnes about the Dodgers' vacant GM position, according to team sources.

Upvote Share Tweet

ESPN.com

Oct 16

Mark Grace will join the staff of new Arizona Diamondbacks manager Chip Hale as assistant hitting coach.

Upvote Share Tweet

nytimes.com yahoo.com ESPN.com

Oct 13

Arizona hired the Oakland Athletics' bench coach, Chip Hale, as its manager to replace Kirk Gibson.

Upvote Share Tweet

Diamondbacks hire Chip Hale as manager for 2015

yahoo.com

Oct 13

Tony La Russa, Dave Stewart and the Arizona Diamondbacks have their manager. Chip Hale reportedly has been hired to be D-backs' skipper after the club was looking at several candidates, including former major league manager Jim Tracy and Phil Nevin, who…

Upvote Share Tweet

Major League Baseball Roundup

nytimes.com

Oct 7

Bench coach Chip Hale was granted permission from the Oakland Athletics to interview for managerial openings with the Minnesota Twins and Arizona Diamondbacks.

Upvote Share Tweet

nytimes.com

Oct 5

Earlier in his career, Buck Showalter had to watch teams he had led to the playoffs — the Yankees and the Diamondbacks — win World Series titles the season after he departed.

Upvote Share Tweet

Former GM Towers leaving new-look D-backs

ESPN.com

Oct 3

The Arizona Diamondbacks say Kevin Towers has told the team that he is leaving the organization.

Upvote Share Tweet

ESPN.com

Oct 2

The Arizona Diamondbacks have asked the Texas Rangers for permission to speak with interim manager Tim Bogar about a managerial position.

Upvote Share Tweet

ESPN.com

Oct 1

Sandy Alomar Jr., Jay Bell and Andy Green are among seven confirmed candidates for the Arizona Diamondbacks' manager position, the team announced Wednesday on Twitter.

Upvote Share Tweet

The Cardinals Took Care Not To Celebrate In The Diamondbacks' Pool

deadspin.com

Sep 29

The Cardinals found themselves in much the same position as the Dodgers did a year ago: at Chase Field, about to clinch the division. Would they celebrate the same way, by diving into the right-field pool and peeing all over the unwritten rules? They wo…

Upvote Share Tweet

nytimes.com

Sep 28

The Arizona Diamondbacks got to watch a team celebrate in their ballpark for the second straight season.

Upvote Share Tweet

ESPN.com nytimes.com

Sep 27

Jhonny Peralta drove in three runs, one with the go-ahead single in the 10th inning, and the St. Louis Cardinals survived an Arizona rally to beat the Diamondbacks 7-6 on Friday night and stay alone atop the NL Central.

Upvote Share Tweet

nytimes.com deadspin.com

Sep 26

Kirk Gibson was fired as manager of the Arizona Diamondbacks after posting the worst record in the National League, the club announced on Friday.

Upvote Share Tweet

Chief Tony La Russa and general manager Dave Stewart evidently wanted their own guy to manage the Arizona Diamondbacks. That means no more Kirk Gibson, who was fired Friday afternoon, along with bench coach Alan Trammell. Gibson and Trammell, of course,…

Upvote Share Tweet

The chatter is true, the reports are true — Dave Stewart has been hired by the Arizona Diamondbacks as the club's new general manager, replacing Kevin Towers, who was fired earlier this month. Stewart joins his ex-manager Tony La Russa, who is Arizona's…

Upvote Share Tweet

nytimes.com

Sep 24

Phil Hughes set a single-season major league record for strikeout-to-walk ratio, pitching eight strong innings for the Minnesota Twins in a 2-1 victory over the Arizona Diamondbacks on a wet Wednesday afternoon.

Upvote Share Tweet

Diamondbacks Hire Chip Hale As Manager

Oct 13

ESPN SweetSpot blogger David Schoenfield discusses the Diamondbacks' hiring of Chip Hale as manager.

D-backs In Need Of Skipper

Sep 26

Baseball Tonight's Eduardo Prez breaks down candidates to replace Kirk Gibson in Arizona.

Cardinals Fight Off D-backs In 10

Sep 26

Jhonny Peralta's RBI single in the 10th lifted the Cardinals to a 7-6 win over the Diamondbacks.

Hughes An Out Short Of $500,000

Sep 24

A rain delay prevented Phil Hughes from reaching 210 innings pitched and earning a half-million-dollar bonus as the Twins edged the Diamondbacks 2-1.