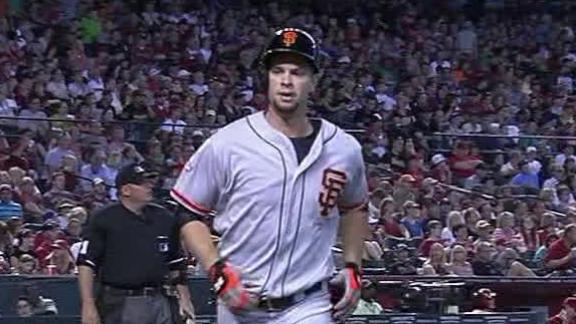 D-backs' Hudson OK with potential 2nd surgery

ESPN.com

Jun 9, 2013

Arizona Diamondbacks right-hander Daniel Hudson says he will visit specialist Dr. James Andrews and, if necessary, will undergo a second Tommy John surgery.

Share Tweet

Arizona's Brandon McCarthy is taking medication and says he's confident he'll be fine after he collapsed at a restaurant with a seizure related to the head injury he sustained while pitching last September.

Share Tweet

ESPN.com

Jun 9, 2013

Buster Posey capped a six-run fourth inning with a homer and had three RBIs, Madison Bumgarner pitched five effective innings and the San Francisco Giants pounded the Arizona Diamondbacks 10-5 Saturday night.

Share Tweet

yahoo.com

Jun 9, 2013

Though most of us demand results and conclusions immediately, it can take years to determine whether or not a team struck gold or missed the boat on a draft pick. Or at least that's how it works in most cases. In the case of the Arizona Diamondbacks and

Share Tweet

Giants Power Past Diamondbacks

Jun 9

Brandon Belt and Marco Scutaro hit solo home runs to lead the Giants past the Diamondbacks 6-2.