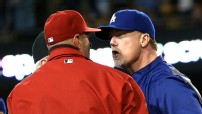 MLB.com ESPN.com deadspin.com

Jun 12, 2013

International season openers aren't new for Major League Baseball. But in 2014, the sport will literally extend its reach further than ever before when the Los Angeles Dodgers and Arizona Diamondbacks square off in Australia. The historic two-game serie…

Share Tweet

Rookie Yasiel Puig has been scratched from the starting lineup for the Los Angeles Dodgers' game against the Arizona Diamondbacks.

Share Tweet

In a game highlighted by a brawl that involved both players and coaches, Tim Federowicz hit a go-ahead three-run double in the eighth inning to help the Los Angeles Dodgers rally for a 5-3 victory over the Arizona Diamondbacks on Tuesday night.

Share Tweet

Casting the pro wrestling version of the Dodgers-Diamondbacks clash

yahoo.com

Jun 12, 2013

Tuesday's bench-clearing battle between the Los Angeles Dodgers and the Arizona Diamondbacks was like a big pro wrestling battle royal. It had foes getting tossed into rails, towering behemoths ready to snap and people on each side getting thrown to the…

Share Tweet

Buster Blog: Unwritten Rules

Jun 12

Buster Olney blogs that the Diamondbacks-Dodgers brawl was because of baseball's unwritten rules.

D-backs Put Away Dodgers In 12

Jun 12

The Diamondbacks scored four runs in the 12th to defeat the Dodgers 8-6.