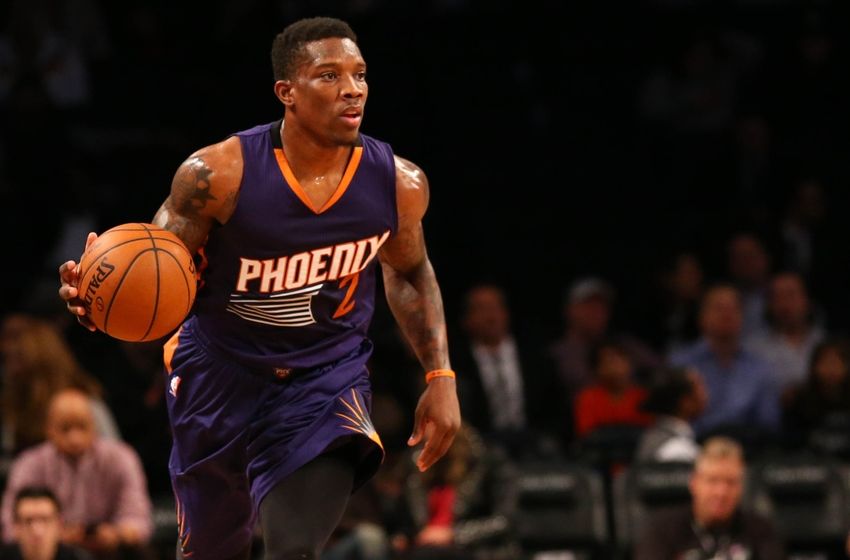 Phoenix Suns: What to Watch In Tonight's Season Opener
valleyofthesun.com
Updated 1 hour ago
All of the anticipation for the upcoming Phoenix Suns 2016-17 season is at an all-time high. After being named by ESPN as the worst franchise in the NBA, there is a lot to prove. The Suns have failed...
Share
Tweet
Phoenix Suns: Opening Night Preview, History and Trivia

valleyofthesun.com

6 hours ago

The Phoenix Suns start the franchise's 49th season in the NBA by taking on the Sacramento Kings at Talking Stick Resort Arena. Last season the Kings won the season series against the Phoenix...

Share Tweet

yahoo.com

6 hours ago

Daddy-to-be Russell Wilson wasn't thrilled to walk off the field after Sunday's strange 6-6 tie with the Arizona Cardinals. The quarterback thought he and his Seattle Seahawks teammates had played too long for the game to end with no real outcome. So af…

Share Tweet

Another double-digit drop in prime time

profootballtalk.com

10 hours ago

The Texans-Broncos game was pretty much what everyone thought it would be. And so were the ratings. Unmoved by the return of Brock Osweiler to Denver, the needle moved in the wrong direction from a Nielsen standpoint, with a 14-percent decline in rating…

Share Tweet

dimemag.com

13 hours ago

Getty Image Welcome to Hoop Dreams, a season preview unlike any other. The premise is simple: We'll be providing 30 of these fictional forays because it simply stinks that only one team can win the title each year. The list of contending teams seems to …

Share Tweet

NFL says Bobby Wagner's leap was legal

profootballtalk.com

15 hours ago

Cardinals coach Bruce Arians was furious that Seahawks linebacker Bobby Wagner wasn't penalized for jumping over the line to block a field goal on Sunday, saying after the game that he was expecting a "bulls–t" explanation of it from the league. Now Ari…

Share Tweet

David Johnson accounts for more than one-third of Cardinals' offense

ESPN.com

16 hours ago

David Johnson accounts for more than one-third of Cardinals' offense

Share Tweet

Bruce Arians believes leaping field goal blocks are "bad for football"

profootballtalk.com

22 hours ago

Arizona Cardinals head coach Bruce Arians is still unhappy about the field goal block attempts of Seattle Seahawks linebacker Bobby Wagner from Sunday night's 6-6 tie. Wagner twice leaped over Cardinals long snapper Aaron Brewer in an attempt to block k…

Share Tweet

Russell Wilson wants one final field goal to resolve tie games

The Seahawks played to a tie with the Cardinals on Sunday night, and quarterback Russell Wilson wasn't happy about it. Wilson said after thinking about the 6-6 tie in Arizona that the league needs to come up with a tiebreaking rule. Wilson's idea is an …

Share Tweet

Cardinals take a look at Dobson, Krause

The Cardinals worked out wide receivers Aaron Dobson and Jonathan Krause on Tuesday, PFT has learned. The team is exploring options at the position after losing Jaron Brown for the season to a torn ACL Brown suffered in last week's game vs. the Seahawks…

Share Tweet

Bruce Arians backs his kicker, with conditions

Cardinals kicker Chandler Catanzaro still has a job, which means the team has shown him some degree of support. But it's also clear he's on their radar, and they expect him to not do things like miss chip-shot field goals in overtime which would have wo…

Share Tweet

The Seahawks will have to get by for at least the next few weeks without starting left tackle Bradley Sowell. An MRI on Monday showed a sprained MCL in Sowell's right knee suffered in the fourth quarter of Sunday night's 6-6 tie with the Arizona Cardina…

Share Tweet

nba.com valleyofthesun.com

Oct 24 (2 days ago)

PHOENIX (AP) -- The Suns have waived former first-round draft pick Archie Goodwin.

Share Tweet

Cardinals have talked to Chandler Jones about a new contract

profootballtalk.com

Oct 24 (2 days ago)

Cardinals defensive end Chandler Jones has played well this season, but when Arizona traded a second-round pick to acquire Jones this year, it hoped to get more than one good year from Jones. And that can only happen with a new contract. Cardinals Gener…

Share Tweet

profootballtalk.com

Oct 24 (2 days ago)

The word from Arizona after wide receiver Jaron Brown injured his knee in Sunday night's tie with the Seahawks was that Brown suffered a torn ACL. That was the word from Cardinals coach Bruce Arians on Monday as well. Arians confirmed that Brown tore th…

Share Tweet

Ties in N.F.L. Are Rarer Now, but Still Unsatisfying

nytimes.com

Oct 24 (2 days ago)

The Seahawks-Cardinals game on Sunday night was the sixth tie of the 21st century; the last 6-6 tie came in 1972.

Share Tweet

ESPN.com

Oct 24 (3 days ago)

Cardinals' defense dominates Seahawks' offense in instant 'classic'

Share Tweet

The Cardinals and Seahawks played a 6-6 tie Sunday night that may have felt more painful for Arizona than it did for the Seahawks. Arizona was playing at home, their offense gained 443 yards and their defense held the Seahawks to 257 yards and 11 first …

Share Tweet

Bruce Arians waiting to hear NFL's "B-S" explanation of calls

Cardinals coach Bruce Arians didn't lose last night, but he was in no mood to consider the official explanation he'd get from the league later this week. In fact, that explanation may come in the form of an invoice. In discussing one particular play dur…

Share Tweet

ESPN.com

Oct 24 (3 days ago)

Seahawks, Cardinals both had guaranteed wins – until they didn't

Share Tweet

yahoo.com

Oct 24 (3 days ago)

There won't be a weirder game on Sunday night this NFL season. There won't be a weirder one on Thursday night, Monday night, Sunday afternoon or any other time the NFL wants to play, either. The Seattle Seahawks and Arizona Cardinals played to a 6-6 tie…

Share Tweet

Subtle, it was not. Stylish, it was not. But that doesn't mean it was bad, either. For all the problems the NFL has had putting entertaining games on in prime time this year, the Cardinals and Seahawks delivered a beauty, though it's admittedly in the e…

Share Tweet

Mathieu will command big money from Cardinals

Jul 26

Ed Werder and Louis Riddick explore how much Tyrann Mathieu is worth with him seeking a contract extension from the Cardinals.

Michael Floyd's goal for 2016 is 1,000 yards

Jul 25

After two straight seasons of less than 1,000 yards, Cardinals WR Michael Floyd has made reaching that milestone his expectation in 2016.

Mike Greenberg remembers Dennis Green

Jul 25

Mike Greenberg reflects on Dennis Green's passion for fishing, and how sad he is that he will never get the chance to go with him.

Dennis Green's eye for talent unmatched

Jul 24

John Saunders offers his thoughts on the career of Dennis Green and the impact he had on the NFL on and off the field after Green died earlier this week.