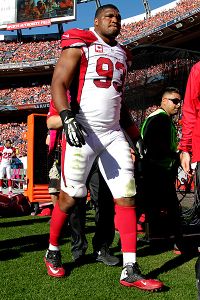 ESPN.com
Updated 5 hours ago
TEMPE, Ariz. – If it was up to Calais Campbell, he would be playing Sunday against Philadelphia. But Arizona Cardinals coach Bruce Arians will be the one who makes that call, and Arians said Friday that that status of his 6-foot-8 defensive end will be …
Upvote
Share
Tweet
Muffed returns could have led to different issue for Ted Ginn

ESPN.com

3 hours ago

TEMPE, Ariz. – Had Ted Ginn Jr. not recovered either of his muffed returns Sunday in Oakland, he knew this week might have been vastly different. But he did and he kept his job as the Arizona Cardinals' kickoff and punt returner for at least another gam…

Upvote Share Tweet

valleyofthesun.com

7 hours ago

Suns legend Steve Nash won two MVPs and brought the city of Phoenix too many memories to count. His credentials might be debatable, but his impact on the point guard position and the game can't...

Upvote Share Tweet

NHL.com

7 hours ago

GLENDALE, ARIZONA – Arizona Coyotes General Manager Don Maloney announced today that the Coyotes have recalled forward Justin Hodgman from the Portland Pirates, the club's American Hockey League (AHL) affiliate. The 26-year-old Hodgman has appe...

Upvote Share Tweet

yahoo.com

8 hours ago

After spending the last five seasons with the Phoenix Coyotes, Paul Bissonnette wasn't re-signed by the Arizona Coyotes, making the 29-year old tough guy an unrestricted free agent. His summer was then spent with some uncertainty about his future, but i…

Upvote Share Tweet

profootballtalk.com

10 hours ago

Eagles center Jason Kelce has been targeting Week 10 for his return from sports hernia surgery, but things appear to be progressing more quickly. Kelce returned to practice this week and has been listed as questionable for the team's trip to Arizona to …

Upvote Share Tweet

BDL's 2014-15 NBA Season Previews: Phoenix Suns

yahoo.com

11 hours ago

The Arizona desert turned up a UFO crash in 1953, purple alien eggs just last year and Lord knows what else in the 60 years between. It's only natural the Phoenix Suns add another wrinkle to their own weird science experiment, turning a two-headed snake…

Upvote Share Tweet

GIF: Josh Childress Levels Jesse Wagstaff With Airborne Elbow

dimemag.com

12 hours ago

Former Hawks and Suns forward Josh Childress, who spurned an NBA contract to sign a $20 million contract in July of 2008 to play in Greece, is now playing for the Sydney Kings of the National Basketball League (NBL) in Australia. During a game against t…

Upvote Share Tweet

Larry Fitzgerald: Lack of touches is a "champagne problem"

profootballtalk.com

12 hours ago

Larry Fitzgerald has piled up a lot of stats for a lot of mediocre teams. So now that he's not getting as many stats for a good one, he's not going to complain, at least out loud. While it's clear that the Cardinals wide receiver isn't getting the ball …

Upvote Share Tweet

ESPN.com

14 hours ago

TEMPE, Ariz. -- The pop came overnight. When Carson Palmer threw the Thursday before Arizona hosted Washington in Week 6, wide receiver Larry Fitzgerald saw passes that were "a little soft coming out." A day later, when the Cardinals took the field for …

Upvote Share Tweet

ESPN.com

16 hours ago

Anyone looking for a good, old-fashioned running battle won't have to look further than University of Phoenix Stadium on Sunday. The Arizona Cardinals' top-ranked rushing defense will have its hands full trying to corral Philadelphia Eagles running back…

Upvote Share Tweet

Week 8 N.F.L. Matchups

nytimes.com

18 hours ago

This week's games include a matchup between the Eagles and the Cardinals, who have unexpectedly taken control of the N.F.C. West.

Upvote Share Tweet

Kuemper makes 26 saves, Wild shut out Coyotes 2-0

NHL.com

Oct 23 (yesterday)

ST. PAUL, Minn. - Darcy Kuemper made 26 saves for his third shutout of the season, and defenceman Jared Spurgeon had two assists to lead the Minnesota Wild past the Arizona Coyotes 2-0 on Thursday night. Kuemper has allowed just two goals in ...

Upvote Share Tweet

Eagles will test Cards' offseason focus on defending tight ends

ESPN.com

Oct 23 (yesterday)

TEMPE, Ariz. -- Tyrann Mathieu was counting in his head. Did the Arizona Cardinals allow the Philadelphia Eagles' tight ends to catch two touchdowns last season? Or three? At first he was sure of two because he allowed them in the Eagles' 24-21 win in W…

Upvote Share Tweet

ESPN.com valleyofthesun.com nba.com

Oct 23 (yesterday)

Phoenix Suns rookie forward T.J. Warren has a small crack in a bone in his left thumb.

Upvote Share Tweet

Tyler Ennis is learning, developing at a quick pace

valleyofthesun.com

Oct 23 (yesterday)

Many jaws dropped when the Phoenix Suns drafted Tyler Ennis with the 18th overall pick in the 2014 NBA Draft. The element of surprise wasn't due to an unexpected drop or a high reach, but...

Upvote Share Tweet

Old Clippers Fan Mauls Young Clippers Fan In Brawl During Game

deadspin.com

Oct 23 (yesterday)

Button-up man took on T-shirt man at Wednesday night's Suns-Clippers game to determine whose style of shirt was superior. Or, maybe they were fighting for a dumber reason. Who knows.Read more...

Upvote Share Tweet

yahoo.com dimemag.com valleyofthesun.com

Oct 23 (yesterday)

While the Phoenix Suns and Eric Bledsoe found themselves embroiled in a negotiating standoff this summer, the offseason drama had more to do with the vagaries of restricted free agency than any lack of interest on Phoenix's part in keeping the 24-year-o…

Upvote Share Tweet

Eric Bledsoe Shook Some Poor Scrub Right Off The Damn Court

deadspin.com

Oct 23 (yesterday)

Preseason basketball isn't really worth much of anyone's time, but there is value in the fact that it allows the game's best players ample opportunity to humiliate end-of-the-bench scrubs in live game action. That's how we ended up with Suns point guard…

Upvote Share Tweet

ESPN.com

Oct 23 (yesterday)

John Clayton's First and Goal: The NFC, currently led by the surprising Cowboys, Cardinals and Lions, has a wide-open feel entering Week 8.

Upvote Share Tweet

'Playbook': Philadelphia Eagles vs. Arizona Cardinals

Oct 24

The "Playbook" crew breaks down the battle of the birds and what it's going to take for the Philadelphia Eagles to go into Arizona and defeat the Arizona Cardinals.

NFL Cold Hard Facts

Oct 23

Mark Schlereth on DeMarco Murray's season, the Eagles vs. the Cardinals matchup and the key to the Ravens' success.

NFL Live Prediction: Eagles-Cardinals

Oct 23

The NFL Live crew make their picks for Philadelphia at Arizona.

Inside Edge: Eagles-Cardinals

Oct 23

ESPN NFL Insider Mike Sando delivers stats to help you make a pick for Philadelphia at Arizona.