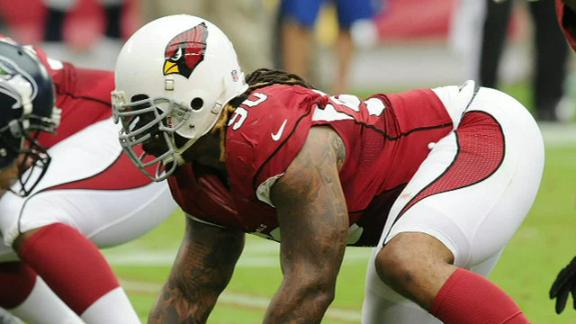 profootballtalk.com
CNNSI.com
ESPN.com
Updated Dec 7, 2012
Whatever Cardinals defensive lineman Darnell Dockett did to safety Kerry Rhodes, it was enough to result in a very significant sanction from the organization. Albert Breer of NFL Network reports that the team has fined Dockett $200,000 for conduct detri…
Share
Tweet
It's the day after the winter meetings in Nashville and it's proving to be just as busy as the meetings themselves! OK, so maybe that's not saying a whole lot, but at least there has been some movement with two solid contributors coming off the board. D…

Share Tweet

valleyofthesun.com yahoo.com

Dec 7, 2012

PHOENIX - The third quarter of the Suns' loss to the Dallas Mavericks Thursday could arguably have been one of the more abysmal stretches for the Phoenix offense this season. The 1-for-14...

Share Tweet

Should Phoenix Suns fans request a refund after being guaranteed satisfaction?

yahoo.com

Dec 7, 2012

Last Friday, Kelly Dwyer hipped you to the Phoenix Suns' plans to issue their fans refunds if they did not have a satisfactory amount of fun at one of their games. It was a bold move, and also a smart one - the Suns received lots of press via the intern

Share Tweet

Adam Schefter Made Beanie Wells Look Like A Dick Last Night Because He Sucks At Twitter

deadspin.com

Dec 7, 2012

While watching last night's Broncos-Raiders game, Cardinals running back Beanie Wells sent out the following innocuous tweet, expressing his views on Peyton Manning: More »

Share Tweet

ESPN.com

Dec 7, 2012

2012 Russell Wilson by Opponent Seattle Seahawks rookie Russell Wilson completed 6 of 18 passes for 47 yards with a 42.4 NFL passer rating and 14.6 Total QBR score when the Arizona Cardinals rushed five or more defenders in Week 1. He had no touchdowns,…

Share Tweet

valleyofthesun.com ESPN.com

Dec 7, 2012

The Phoenix Suns organization put together quite an evening at US Airways Center Thursday for "Satisfaction Guaranteed Night." The in-game entertainment was lively, the concession lines...

Share Tweet

'Playbook': Arizona Cardinals vs. Seattle Seahawks

Dec 7

Why has Seattle Seahawks wide receiver Golden Tate been finding the end zone so frequently? The "Playbook" analysts discuss the Seahawks' impressive playmakers and why they will have an impact Sunday.