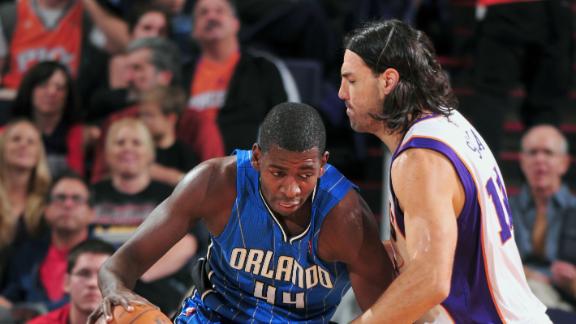 Updated Dec 9, 2012
Share
Tweet
Rookie Andrew Nicholson scored nine of his career-high 19 points in the fourth quarter and the Orlando Magic pulled away to hand the Phoenix Suns their seventh loss in a row, 98-90 on Sunday night.
Sources:
ESPN.com
valleyofthesun.com
Updated Dec 9, 2012

Share Tweet

SEATTLE -- When the CenturyLink Field scoreboard finally topped out at 58-0 in the Seattle Seahawks' favor Sunday, a reporter with no NFL playing experience asked Arizona Cardinals coach Ken Whisenhunt which quarterback would start for him next week. Wh…

Sources:

ESPN.com profootballtalk.com

Updated Dec 9, 2012

Share Tweet

The father of Cardinals receiver Larry Fitzgerald has seen enough. Larry Fitzgerald Sr., a sportswriter who occasionally opines about his son's athletic endeavors, took to Twitter on Sunday and ripped the Cardinals as they went through a dismal 58-0 los

Updated Dec 9, 2012

Share Tweet

This is painful to read. Not painful as in "watching the Cardinals get shut out and surrender half a hundred" painful, but "dude, have some pride" painful. Vince Young, once and (he hopes) future NFL quarterback, took to Twitter on S…

Sources:

yahoo.com deadspin.com

Whisenhunt-for-Horton swap could be coming

Updated Dec 9, 2012

Share Tweet

As the Cardinals close in on an epic defeat at Seattle, in which the team allowed a franchise record 38 points in the first half, it's time to revisit a report that first surfaced last Monday. According to Mike Jurecki of XTRA 910 in Phoenix, the Cardin

Cardinals can't get out of own way, trail 38-0 at half

Updated Dec 9, 2012

Share Tweet

It's a pretty simple formula, really. If you can force your opponent to turn the ball over six times, your chances  of winning improve dramatically. That's what the Seahawks have done, and why they're beating the Cardinals 38-0. John Skelton has th

Seahawks up 17-0 early on Cardinals

Updated Dec 9, 2012

Share Tweet

Some things, you can see coming a mile away. The Cardinals are getting less-than-stellar quarterback play and the Seahawks are running well, pointing to a 17-0 Seattle lead. Cards quarterback John Skelton already has an interception, and Marshawn Lynch …

Jags hold 3-0 lead as Jets offense continues to destruct

Updated Dec 9, 2012

Share Tweet

Last week's Jets-Cardinals game set offensive football back about 60 years. This week's Jets-Jaguars matchup isn't quite that bad, but it isn't going to be the subject of any glowing documentaries on the NFL Network either. The Jaguars lead 3-0 af

Cardinals, Seahawks draw 49ers-Rams ref

Updated Dec 9, 2012

Share Tweet

SEATTLE -- Carl Cheffers, the referee assigned to work the Arizona-Seattle game Sunday, was the same one presiding over two controversial scoring plays earlier this season. Cheffers' crew incorrectly allowed a Carolina touchdown to stand during the Pant…

D-backs, infielder Chavez finalize one-year deal

Updated Dec 9, 2012

Share Tweet

The Arizona Diamondbacks and infielder Eric Chavez finalized a $3 million, one-year contract Saturday.

Updated Dec 9, 2012

Share Tweet

The Phoenix Suns played three solid quarters, but still finished with the same result as their previous six games in their 117-99 loss to the Los Angeles Clippers. After never trailing by more than...

Source:

valleyofthesun.com

710ESPN Seattle audio: Clayton Show

Updated Dec 9, 2012

Share Tweet

Good morning/evening and welcome to Week 14 on the NFC West blog. I'll be heading to CenturyLink Field early Sunday for the Seattle Seahawks' game against the Arizona Cardinals. The plan is to watch the St. Louis Rams-Buffalo Bills broadcast from there,…

Nicholson Leads Magic Past Suns

Dec 9

Rookie Andrew Nicholson scores 19 points in Magic's 98-90 win over Suns.

Ken Whisenhunt Apologizes To The Fans

Dec 9

Ken Whisenhunt after Cardinals embarrassing 58-0 loss to Seahawks.

Sunday Blitz: Cardinals-Seahawks Recap

Dec 9

Jim Basquil and Eric Allen break down the Seahawks' 58-0 win over the Cardinals.

Seahawks Blank Cardinals, 58-0

Dec 9

Seahawks capitalize on eight turnovers, handing the Cardinals their ninth straight loss.

Sports Columnists

Don Banks: Falcons, Bears on downward spirals as postseason nears; more Sn…

Dec 9

LANDOVER, Md. -- Musings, observations and the occasional insight from a less-than-artistic Week 14 in the NFL.

Don Banks: Even with RGIII injury, 'Skins' special season stays on playoff…

Dec 9

LANDOVER, Md. -- The Washington Redskins became relevant again that moment in early March when they swung the blockbuster trade for the St. Louis Rams' No. 2 draft pick, making the Heisman-winning Robert Griffin III a dream come true in burgundy.