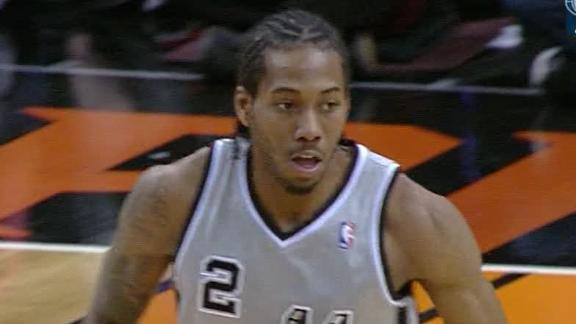 Updated Feb 24
Share
Tweet
Patty Mills and Kawhi Leonard scored 16 apiece to lead six San Antonio players in double figures and the Spurs ended their nine-game road trip Sunday night with a 97-87 victory over the Phoenix Suns.
Sources:
ESPN.com
nba.com
valleyofthesun.com
The first unofficial first-round smokescreen of the year

Updated Feb 24

Share Tweet

With multiple reports indicating that the Cardinals, who hold the seventh overall pick in the draft, have become smitten with former USC quarterback Matt Barkley, our first reaction is this. It's B.S. With the Bills parked one spot behind the Cardinals

Source:

profootballtalk.com

Pregame: Hamed Haddadi happy in Phoenix, Pop is awesome

Updated Feb 24

Share Tweet

PHOENIX - Hamed Haddadi will be inactive for the Phoenix Suns' game on Sunday as he tries to get back into shape. After going through a practice that interim coach Lindsey Hunter called a...

Source:

valleyofthesun.com

Roundup: Verlander, Grienke make spring debuts

Updated Feb 24

Share Tweet

LAKELAND, Fla. (AP) -- Cy Young Award winners Roy Halladay and Justin Verlander made their spring training debuts Sunday as the Philadelphia Phillies and Detroit Tigers tied 5-5 in 10 innings.

Source:

CNNSI.com

Updated Feb 24

Share Tweet

Remember that time when Michael Beasley was single-handedly destroying the entire sport of basketball at Kansas State and was obviously going to be better than everyone in the NBA in like three years and probably the next Scottie Pippen, except better t…

Source:

deadspin.com

On guards: How early to draft best ones

Updated Feb 24

Share Tweet

General managers and coaches have been known to send figurative smoke screens from the NFL scouting combine regarding their draft intentions. On the surface, at least, the rest of the NFC West has to hope Arizona general manager Steve Keim is serious wh…

Source:

ESPN.com

Spurs Rebound With Win Against Suns

Feb 24

Kawhi Leonard scored 16 points and recorded nine rebounds to lead the Spurs past the Suns 97-87.

Sports Columnists

Sources -- Oklahoma City Thunder trying to bring back Derek Fisher

Feb 25

The Oklahoma City Thunder are preparing to re-sign veteran guard Derek Fisher, according to sources familiar with the Thunder's thinking.

5-on-5: Stretch-run debates

Feb 24

Our panel takes aim at some of the biggest debates for the stretch run.