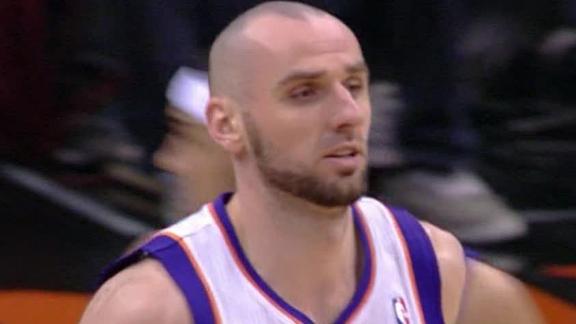 ESPN.com
valleyofthesun.com
Updated Jan 2, 2013
Luis Scola scored 19 of his 21 points in the second half and the Phoenix Suns beat the Philadelphia 76ers 95-89 Wednesday night to snap a six-game losing streak.
Share
Tweet
Alvin Gentry looks at how to close, P.J. Tucker to start against 76ers

valleyofthesun.com

Jan 2, 2013

PHOENIX - Alvin Gentry continues his search for the right formula. He's not the type of coach who will express any complaints about his job, but before the Phoenix Suns' game on...

Share Tweet

CNNSI.com profootballtalk.com yahoo.com

Jan 2, 2013

BUFFALO, N.Y. (AP) -- First, Ken Whisenhunt, now Ray Horton. The Buffalo Bills' coaching search stayed in Arizona for at least one more day.

Share Tweet

Paolantonio "flabbergasted" by Arizona's interest in Reid

profootballtalk.com

Jan 2, 2013

Whether it's on Wednesday or Thursday, the Cardinals will interview former Eagles coach Andy Reid. And the possibility of the Cardinals hiring Reid isn't sitting well with ESPN's Sal Paolantonio, a veteran reporter who has covered the Eagles for a l

Share Tweet

yahoo.com ESPN.com profootballtalk.com

Jan 2, 2013

When Andy Reid visits the Arizona Cardinals to discuss their job opening, a selling point will be he can fix QB Kevin Kolb. If the Cardinals are looking for Reid to remedy its QB situation, Mike Florio wonders why Reid won't support the idea of bringing…

Share Tweet

PFT Live: Cardinals talk with Kent Somers, coaching changes

profootballtalk.com

Jan 2, 2013

The first PFT Live of 2013 is about to start and we'll be taking a close look at one of the seven current coaching vacancies in the NFL. Kent Somers of AZ Central Sports will join Mike Florio to talk about the work being done by the Cardinals to secure

Share Tweet

ESPN.com

Jan 2, 2013

Falling 1. Cardinals leadership. Coach Ken Whisenhunt and general manager Rod Graves lost their jobs following Arizona's second 5-11 season in the past three years. Their inability to upgrade the quarterback position was the No. 1 reason for their demis…

Share Tweet

Andy Reid To Interview With Arizona, Kansas City

Jan 2

Andy Reid will interview with Arizona and Kansas City on Wednesday.

Suns Snap Six-Game Skid

Jan 2

Jrue Holiday's triple-double not enough as 76ers fall to Suns.