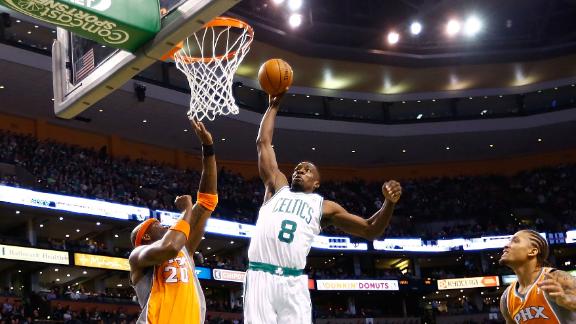 ESPN.com
valleyofthesun.com
Updated Jan 9, 2013
Jeff Green scored 14 points, rookie Jared Sullinger added 12 points and a career-best 16 rebounds, and the Boston Celtics recovered from a dreadful third quarter with a big rally to start the fourth and held off the slumping Phoenix Suns 87-79.
Share
Tweet
profootballtalk.com

Jan 9, 2013

[Editor's note:  Every day, we'll post a new update on the various coaching and G.M. vacancies, until all of them are filled.  And we'll eventually try to come up with a different way to explain that via an Editor's note.] Arizona Cardinals:  The Cardi

Share Tweet

deadspin.com ESPN.com profootballtalk.com

Jan 9, 2013

We like NFL.com's Ian Rapoport-good guy, good sources, good track record. But nobody deserves the head-spinning confusion he's dealing with today, thanks to Steelers offensive coordinator Todd Haley, who might be interviewing for the Arizona Cardinals h

Share Tweet

Strength of schedule from another angle

ESPN.com

Jan 9, 2013

A perfect storm took down the Arizona Cardinals in 2012: worst-case-scenario injuries at running back, shoddy quarterback play, questionable planning for the offensive line, unexpected quarterback developments elsewhere in the division and a brutal sche…

Share Tweet

Kerry J. Byrne: Numbers show that Harbaugh will come to regret Kaepernick move

San Francisco 49ers coach Jim Harbaugh will regret the decision to bench highly efficient quarterback Alex Smith in favor of Colin Kaepernick in the middle of the season. And there's a good chance that moment of regret will come Saturday night at Candle…

Share Tweet

The Plot Thickens: Think you're prepared for the divisional round? T…

Think you're prepared for the divisional round? Think again. Dig deep, and you'll find some intriguing storylines that provide a backdrop for this weekend, Don Banks writes.

Share Tweet

Don Banks: No shortage of storylines surrounding NFL's elite eight

The best weekend of the NFL season is just ahead, with the league's elite eight colliding in a burst of divisional-round playoff football. Here are eight of the best storylines that provide a backdrop for the action to come:

Share Tweet

yahoo.com

Jan 9, 2013

Two NFL teams ended their search for a new general manager on Tuesday. The Arizona Cardinals tabbed an in-house candidate — vice president of player personnel Steve Keim — to replace Rod Graves, while the Jacksonville Jaguars went outside the organiza

Share Tweet

Ian Thomsen: A perfect fit in Utah, Millsap may find himself elsewhere soon

Unrestricted free agency is on the way for Paul Millsap. Its reward has been a long time coming.

Share Tweet

Around the NFC West: 1-900-DARNELL

ESPN.com

Jan 9, 2013

Around the NFC West: Jan. 9, 2013 Arizona Cardinals defensive lineman Darnell Dockett was one of the first NFL athletes I can recall using Twitter as a personal playground -- one without much of a filter. I recall thinking initially that Dockett might b…

Share Tweet

valleyofthesun.com

Jan 9, 2013

It would be a colossal understatement to say the Phoenix Suns are struggling in a way they have not for decades. After tonight's loss in Milwaukee, the team has dropped nine of 10 games and...

Share Tweet

Celtics Top Struggling Suns

Jan 9

Jeff Green had 14 points and a highlight reel dunk in the Celtics' 87-79 win.