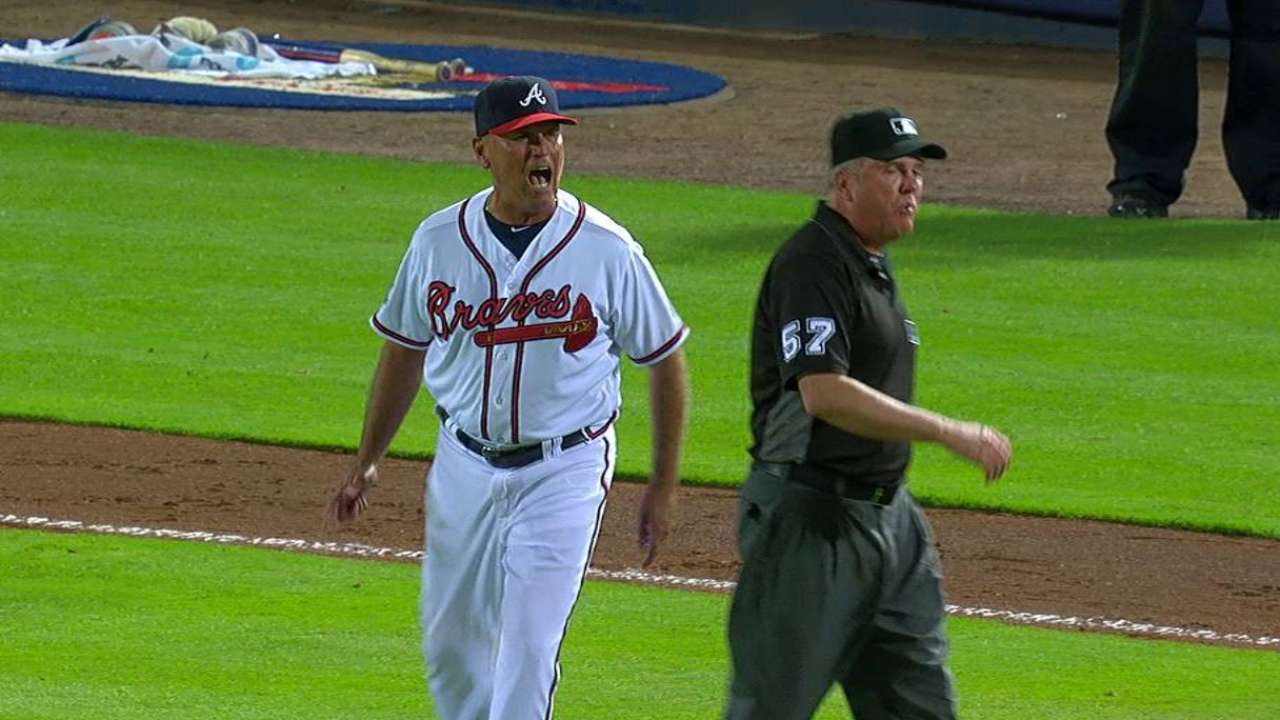 Braves GM doesn't expect to trade ace Teheran

ESPN.com

4 hours ago

Braves GM doesn't expect to trade ace Teheran

Share Tweet

Braves 4, Mets 3: Mets Get Rare Good News on Injuries, Then Fall to Braves

nytimes.com

19 hours ago

Two key players saw team doctors on Wednesday. Yoenis Cespedes, who had injured a hand, got the day off on Thursday, and Noah Syndergaard is scheduled to make his next start on Monday.

Share Tweet

Garcia's 2-Run Homer in 8th Sends Braves Past Mets

nytimes.com

20 hours ago

Adonis Garcia hit a go-ahead, two-run homer off Addison Reed in the eighth inning and the Atlanta Braves beat the New York Mets for the fourth straight time in a week, 4-3 Thursday.

Share Tweet

Conley Pitches 8 Innings to Help Marlins Beat Braves 3-0

nytimes.com

Jun 22 (2 days ago)

Adam Conley walked off the mound for the final time in the eighth inning Wednesday with a string of zeroes behind him.

Share Tweet

nytimes.com

Jun 21 (3 days ago)

Jace Peterson has not hit a lot of home runs in his brief career.

Share Tweet

Braves place Smith on DL; recall Bonifacio

MLB.com

Jun 21 (3 days ago)

The Braves placed outfielder Mallex Smith on the 15-day disabled list with a fractured left thumb and recalled Emilio Bonifacio from Triple-A Gwinnett on Tuesday.

Share Tweet

Big week nets Freeman top NL player honors

MLB.com

Jun 20 (4 days ago)

Freddie Freeman's bat has led the Braves to a five-game winning streak and earned the first baseman National League Player of the Week honors.

Share Tweet

yahoo.com

Jun 20 (4 days ago)

The Arizona Diamondbacks had an explosive offseason. They signed pitcher Zack Greinke to a six-year contract worth more than $200 million. They traded shortstop Dansby Swanson, their first overall pick in the 2015 draft, to the Atlanta Braves for pitche…

Share Tweet

nytimes.com MLB.com

Jun 19 (5 days ago)

Julie Teheran pitched a complete-game one-hitter to finish off a sweep of the Mets, who continued to lose ground in the National League East race.

Share Tweet

Smith sustains left thumb fracture

MLB.com

Jun 19 (5 days ago)

Braves rookie center fielder Mallex Smith has a left thumb fracture, after being hit by a pitch during Atlanta's 6-0 win over the Mets at Citi Field on Sunday, the team announced.

Share Tweet

Homers, hustle give Braves 4th straight win

MLB.com

Jun 19 (6 days ago)

Ender Inciarte displayed impressive instincts and hustle, willing himself around the bases to give the Braves a lead they would preserve en route to notching their second four-game winning streak of the season with Saturday night's 4-3 win over the Mets…

Share Tweet

ESPN.com nytimes.com

Jun 19 (6 days ago)

Mets suffer ignominy on the bases in loss to Braves

Share Tweet

yahoo.com

Jun 18 (6 days ago)

As you're probably well aware, things have not been going well for the Atlanta Braves this season. In you need a refresher course though, or just some visual evidence of their futility, we'll direct your attention to the following video. It features Bra…

Share Tweet

MLB.com nytimes.com

Jun 18 (7 days ago)

Facing the club that drafted him in the 21st round back in 2011, John Gant earned his first career Major League win, allowing just one run on two hits over 6 2/3 innings to lead the Braves to a 5-1 series-opening victory over the Mets on Friday at Citi …

Share Tweet

nytimes.com

Jun 17 (7 days ago)

Harvey had shown improvement over the past two weeks, but he regressed in Friday's loss to the Braves.

Share Tweet

Freeman delivers big blow in win vs. Reds

Freddie Freeman's two-run home run in the third gave the Braves a lead they wouldn't relinquish, as Atlanta received a solid start from Matt Wisler and defeated the Reds, 7-2, on Thursday in the series finale at Turner Field.

Share Tweet

#TBT: Nixon steals record 6 bases for Braves

Twenty-five years later, Otis Nixon still chuckles at the fact that his entry into Major League Baseball's record book was set up by an April Fools' Day trade that initially made him feel like he was on the wrong end of a prank.

Share Tweet

Morris to have right shoulder examined

Reds reliever A.J. Morris exited Wednesday's 9-8 loss to the Braves at Turner Field in the bottom of the fifth inning with a right shoulder injury.

Share Tweet

yahoo.com nytimes.com

Jun 16

Welcome to The Walk Off, the nightly MLB recap from Big League Stew. Here we'll look at the top performers of the night, show you a must-see highlight and rundown the scoreboard. First, we start with a game you need to know about. Atlanta Braves first b…

Share Tweet

Minor Starting Season On DL: Good News For Braves?

Mar 10

ESPN SweetSpot blogger David Schoenfield discusses why pitcher Mike Minor starting the season on the DL is a good thing for the Braves.

Gattis Heading To Houston

Jan 14

Eric Karabell discusses how the Astros hope to benefit by the addition of Evan Gattis, acquiring him in a trade with the Atlanta Braves for three prospects.

Hank Aaron Joins Group Pursuing Hawks Ownership

Jan 12

ESPN senior basketball writer Marc Stein discusses Hank Aaron's interest in buying the Atlanta Hawks.

Padres Complete Big Three With Upton Trade

Dec 19

Buster Olney discusses the excitement surrounding San Diego's new outfield after the Padres made deals to acquire Wil Myers, Matt Kemp and Justin Upton.