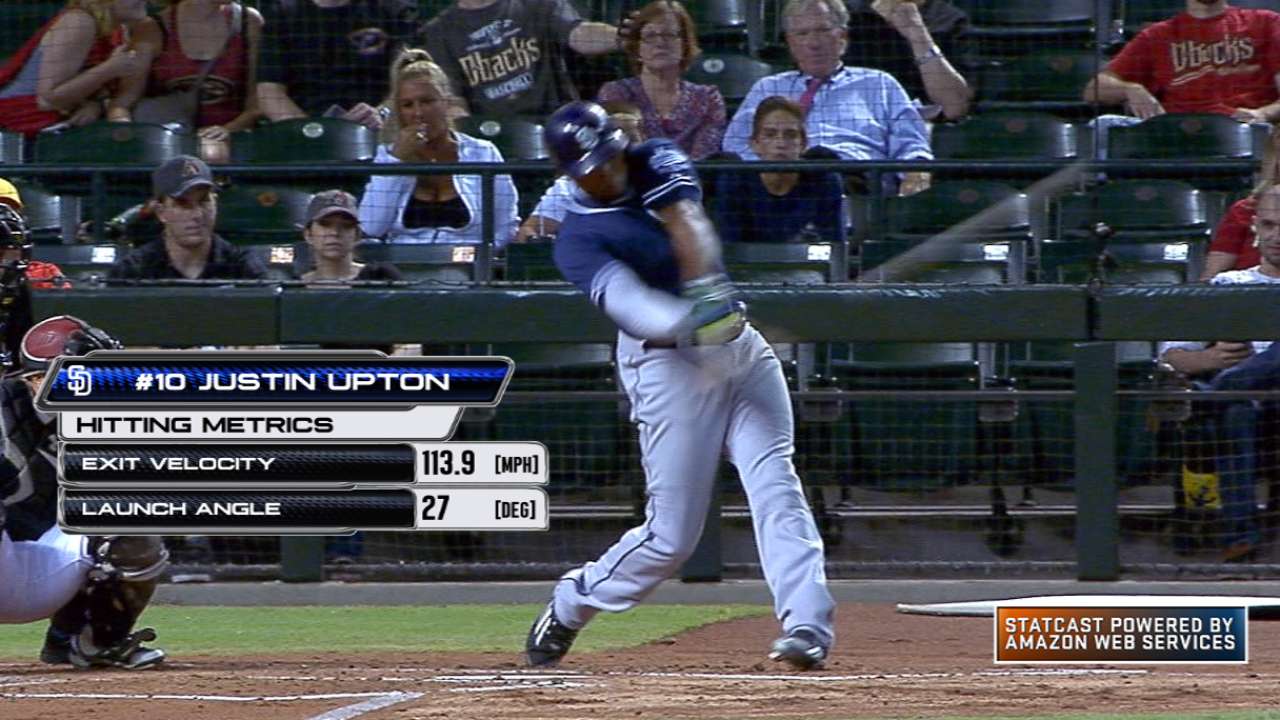 MLB.com
Updated Nov 26 (3 days ago)
After spending his first six seasons with the D-backs, Justin Upton could now be on his way to playing for his third team in three years, after spending the past two seasons with the Braves and Padres, respectively. Here's a look at five stats from Upto…
Share
Tweet
nytimes.com MLB.com

Nov 25 (4 days ago)

The Braves have added a veteran pitcher to their young rotation, agreeing to a one-year contract with right-hander Bud Norris.

Share Tweet

Simmons' stellar 'D' has dazzled for years

MLB.com

Nov 23 (6 days ago)

Terry Pendleton calls Andrelton Simmons "one of my sons." In Atlanta these past four years, the current Braves first-base coach and former All-Star third baseman cared for Simmons as if he were one of his own. He disciplined him, encouraged hi…

Share Tweet

Garcia continues to hone skills in Winter League ball

MLB.com

Nov 21

The power component continues to improve for Braves third baseman Adonis Garcia, who connected on 10 home runs in his rookie season. But more than just showing the ability to deposit the ball over the wall, he is using his Winter League experience to he…

Share Tweet

MLB.com

Nov 20

Friday's deadline to set 40-man rosters brought with it a flurry of roster moves, including a pair of trades. The Tigers acquired outfielder Cameron Maybin in a deal with the Braves, while Toronto swapped Kyle Hendriks for Oakland's Jesse Chavez. And if…

Share Tweet

MLB.com yahoo.com nytimes.com ESPN.com

Nov 20

A decade after the Tigers drafted Cameron Maybin to be their center fielder of the future, they reacquired him to help their outfield of the present. The rangy, athletic outfielder rejoined his original organization Friday night in a trade with the Brav…

Share Tweet

Braves may look to deal from pitching surplus

MLB.com

Nov 18

By compiling this abundance of pitching, the Braves have created depth to overcome injuries and the inevitable decline of some of these hurlers. But at the same time, they've created an opportunity to trade from this abundance to strengthen areas of nee…

Share Tweet

Rumor roundup: Braves shopping Freeman

MLB.com

Nov 16

The Braves may not yet be done trading centerpiece-type players, according to FOXSports.com. FOXSports.com cited sources from three clubs as saying that Atlanta has been shopping first baseman Freddie Freeman, with one noting that the discussions were &…

Share Tweet

nytimes.com ESPN.com

Nov 13

Liberty Media, which owns the Atlanta Braves, said it would offer a tracking stock specifically for the team.

Share Tweet

In his first major move with his new team, Billy Eppler acquired Andrelton Simmons from the Braves in exchange for the veteran shortstop Erick Aybar and two top pitching prospects.

Share Tweet

Mets have productive talks at GM Meetings

MLB.com

Nov 12

Thursday's hot rumor was Braves shortstop Andrelton Simmons to the Mets, who reportedly balked at the initial asking price: one of the same group of young, talented, battle-tested starting pitchers that everyone wants to acquire.

Share Tweet

MLB.com

Nov 11

The Braves are listening to some clubs that have shown interest in Andrelton Simmons, but this does not mean they are actively shopping the young shortstop, who is widely considered one of the game's top defensive assets.

Share Tweet

Braves could go with Garcia at third base

MLB.com

Nov 11

At some point over the next couple of months, the Braves could acquire a third baseman via trade or determine that they are no longer comfortable with their plan to have Hector Olivera make the transition from third base to left field.

Share Tweet

yahoo.com

Nov 11

Former Atlanta Braves and Los Angeles Angels pitcher Tommy Hanson may have died due to an overdose. The details surrounding the 29-year-old's death are still unclear, but an overdose is possible according to Zach Klein of WSB-TV. We've obtained Tommy Ha…

Share Tweet

Minor Starting Season On DL: Good News For Braves?

Mar 10

ESPN SweetSpot blogger David Schoenfield discusses why pitcher Mike Minor starting the season on the DL is a good thing for the Braves.

Gattis Heading To Houston

Jan 14

Eric Karabell discusses how the Astros hope to benefit by the addition of Evan Gattis, acquiring him in a trade with the Atlanta Braves for three prospects.

Hank Aaron Joins Group Pursuing Hawks Ownership

Jan 12

ESPN senior basketball writer Marc Stein discusses Hank Aaron's interest in buying the Atlanta Hawks.

Padres Complete Big Three With Upton Trade

Dec 19

Buster Olney discusses the excitement surrounding San Diego's new outfield after the Padres made deals to acquire Wil Myers, Matt Kemp and Justin Upton.