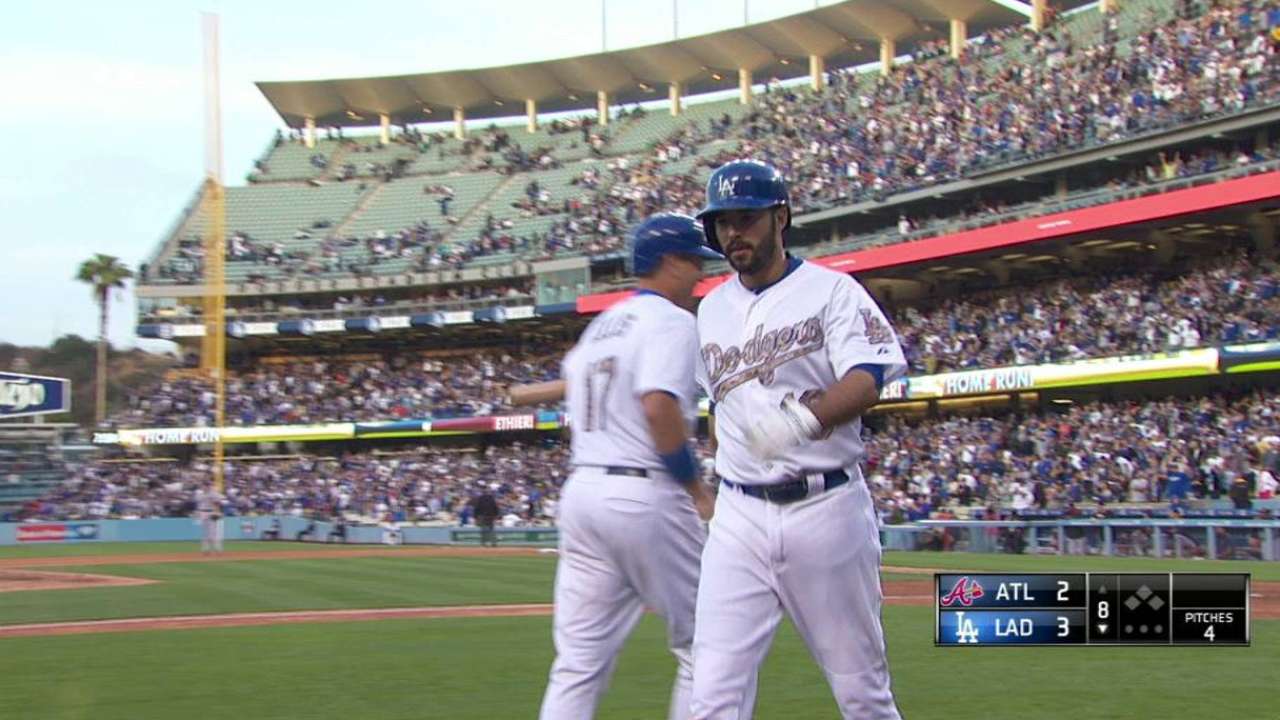 nytimes.com
MLB.com
Updated 2 hours ago
Andre Ethier, Alex Guerrero and Jimmy Rollins each homered in the eighth inning, rallying the Los Angeles Dodgers to a 6-3 victory over the Atlanta Braves on Monday night.
Share
Tweet
Folty outduels Nelson as Braves take series

MLB.com

May 24 (yesterday)

Braves rookie Mike Foltynewicz pitched his best game of the season in the Braves' 2-1 win over Jimmy Nelson and the Brewers on Sunday afternoon, giving Atlanta its third victory in the finale of a four-game series at Turner Field.

Share Tweet

Braves rookie delivers in 11th to sink Brewers

MLB.com

May 23 (2 days ago)

Shelby Miller bounced back from a rocky first inning and the Braves' bullpen held off the Brewers long enough for Jace Peterson to give Atlanta a walk-off single for a 3-2, 11-inning win Saturday.

Share Tweet

yahoo.com

May 23 (3 days ago)

Take a moment of your time to marvel at the latest defensive wizardry exhibited by Kansas City Royals shortstop Alcides Escobar. Escobar, who much like Atlanta Braves Gold Glove winner Andrelton Simmons is quickly building a reputation for his defensive…

Share Tweet

Braun Powers Brewers to Easy Win Over Braves

nytimes.com

May 22 (3 days ago)

Ryan Braun homered and drove in four runs, four Milwaukee pitchers combined to hold Atlanta to three hits, and the Brewers beat the Braves 11-0 on Friday night.

Share Tweet

Brewers pull Peralta early with left side injury

MLB.com

May 22 (3 days ago)

Milwaukee starter Wily Peralta was cruising Friday night when he felt some tightness in his left side on a pitch in the fourth inning against the Braves.

Share Tweet

MLB.com nytimes.com deadspin.com

May 22 (3 days ago)

Count Braves right fielder Nick Markakis among the Major League hitters who are comforted by the trend of pitchers using a hidden foreign substance to improve their grip of the baseball.

Share Tweet

Braves roll past Brewers behind big 7th inning

MLB.com

May 21 (4 days ago)

The Braves broke open a tight game with seven runs in the bottom of the seventh in a 10-1 win over the Brewers on Thursday night.

Share Tweet

nytimes.com

May 21 (4 days ago)

Julio Teheran pitched seven strong innings and the Atlanta Braves took advantage of Milwaukee reliever Will Smith's seventh-inning ejection for allegedly using pine tar in a 10-1 victory Thursday night.

Share Tweet

nytimes.com MLB.com

May 20 (5 days ago)

Williams Perez gave up one run over five innings in his first major league start and fellow rookie Todd Cunningham drove in the tiebreaking run with a groundout as the Atlanta Braves beat the Tampa Bay Rays 2-1 on Wednesday night.

Share Tweet

MLB.com nytimes.com

May 19 (6 days ago)

Erasmo Ramirez struck out five over five innings, and the Rays' bullpen pitched four scoreless innings to secure a 5-3 win over the Braves on Tuesday night.

Share Tweet

MLB.com

May 18

As Shelby Miller came within one out of completing a no-hitter on Sunday afternoon at Marlins Park, Braves president of baseball operations John Hart and assistant general manager John Coppolella peered overhead from their private box and gained even mo…

Share Tweet

yahoo.com

May 18

Even for the unpredictable Miami Marlins this qualifies as a shocker. The Marlins named general manager Dan Jennings as their new field manager Monday, replacing Mike Redmond who was fired Sunday after Miami was nearly no-hit in a 6-0 loss to the Atlant…

Share Tweet

MLB.com nytimes.com

May 18

A disappointing 16-22 start to the 2015 season prompted the Marlins to dismiss manager Mike Redmond and bench coach Rob Leary on Sunday after the team was swept by the Braves.

Share Tweet

Minor Starting Season On DL: Good News For Braves?

Mar 10

ESPN SweetSpot blogger David Schoenfield discusses why pitcher Mike Minor starting the season on the DL is a good thing for the Braves.

Gattis Heading To Houston

Jan 14

Eric Karabell discusses how the Astros hope to benefit by the addition of Evan Gattis, acquiring him in a trade with the Atlanta Braves for three prospects.

Hank Aaron Joins Group Pursuing Hawks Ownership

Jan 12

ESPN senior basketball writer Marc Stein discusses Hank Aaron's interest in buying the Atlanta Hawks.

Padres Complete Big Three With Upton Trade

Dec 19

Buster Olney discusses the excitement surrounding San Diego's new outfield after the Padres made deals to acquire Wil Myers, Matt Kemp and Justin Upton.

Sports Columnists

2015 NBA playoffs - Golden State Warriors eye finishing touch against Hous…

May 25

For all intents and purposes, these Western Conference finals are over. The only question that remains: How quickly will Steph Curry and the Warriors seal the deal?

2015 NBA playoffs - Golden State Warriors learning what it takes to be cha…

May 21

Steve Kerr is trying to impress upon his inexperienced Warriors just how hard the playoffs can be, without them actually proving it by adding to the degree of difficulty.

NBA Playoffs 2015 - Golden State Warriors and Houston Rockets going small …

May 21

The Western Conference finals are downsizing. And while Houston has no problem going small, it might be playing right into Golden State's hand.