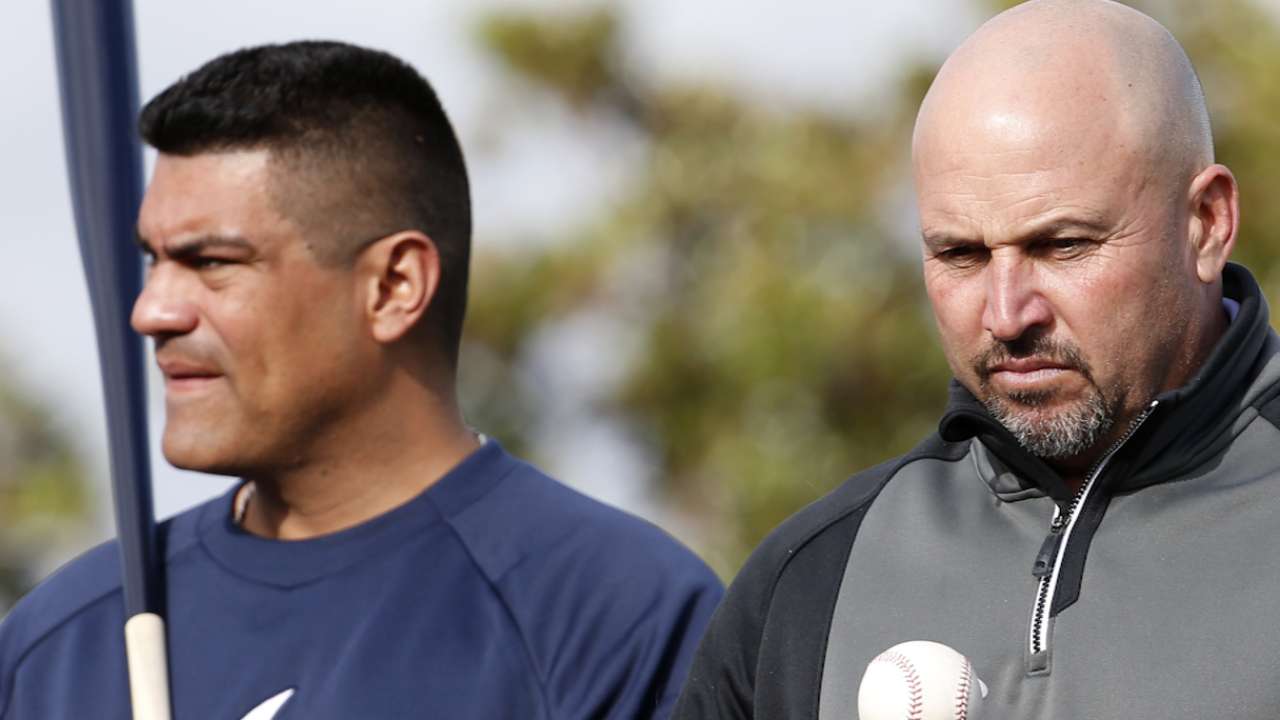 Around the Horn: Bullpen

MLB.com

Feb 3 (7 days ago)

As the Braves near Spring Training with a few open spots in the bullpen, they are comforted by the depth they have compiled in an effort to avoid experiencing a repeat of the late-inning frustration they felt far too often last year.

Share Tweet

Source: Braves making push for 'Lazarito'

MLB.com

Feb 2

Cuban prospect Lazaro Robersy Armenteros Arango, known as "Lazarito," is expected to sign with a Major League team next week, and the Atlanta Braves are among the teams making a strong push to acquire the teenage outfielder.

Share Tweet

Foltynewicz patient in recovery from blood clot

MLB.com

Feb 1

Braves right-hander Mike Foltynewicz endured a sedentary September that became downright frightening when he was diagnosed with a potentially fatal blood clot, which likely will limit him through the early portion of the upcoming season.

Share Tweet

yahoo.com

Feb 1

In our Homer History series, writers re-tell the stories of memorable home runs from their perspective. In this installment, Yahoo Sports' Jay Busbee talks about the 1996 World Series homer that sank the Braves' chance at a dynasty. The Atlanta Braves o…

Share Tweet

Braves' Freeman says no lingering pain in wrist

ESPN.com

Jan 30

Braves' Freeman says no lingering pain in wrist

Share Tweet

Freeman, Swanson headline Braves at FanFest

MLB.com

Jan 27

The Braves announced that Freddie Freeman, A.J. Pierzynski, Dansby Swanson and Sean Newcomb will be among the players and prospects who will participate in FanFest, which will be held on Saturday at Turner Field.

Share Tweet

Around the Horn: Braves have familiar faces at catcher

MLB.com

Jan 27

The Braves reconnected with their past to satisfy their catching needs for the upcoming season. In doing so, they brought suburban Atlanta native Tyler Flowers back home to be reintroduced to his original organization -- and his former White Sox teammat…

Share Tweet

deadspin.com

Jan 26

Someone at the Daily Caller had a good idea: call John Rocker, the retired former Atlanta Braves relief pitcher, and ask him if he supports Donald Trump. As luck would have it, John Rocker indeed supports Donald Trump. "I think he has really woken Ameri…

Share Tweet

A look at Braves' returns for Heyward, Upton

MLB.com

Jan 19

Had the Braves taken the risk of jeopardizing their future by keeping both Justin Upton and Jason Heyward for the 2015 season, they certainly could have avoided some of the disappointment that was experienced last summer. They could have delayed their m…

Share Tweet

Welcome to The Stew's Hot Stove Digest, our daily rundown of MLB news, rumors and gossip for Hot Stove season. Here you'll find a recap of all the day's action and other fun stuff from around the Internet. HOPEFUL: Where Yoenis Cespedes ends up is still…

Share Tweet

MLB Hot Stove Daily: Astros interested in acquiring Inciarte from Braves

ESPN.com

Jan 13

MLB Hot Stove Daily: Astros interested in acquiring Inciarte from Braves

Share Tweet

yahoo.com

Jan 9

We often overlook the toll that the unpredictable life of a professional athlete can take on the athletes themselves and especially their families. In a moment's notice, the athlete's life and the lives of those who depend on them can change dramaticall…

Share Tweet

Orioles claim versatile Terdoslavich off waivers

MLB.com

Jan 8

The Orioles claimed infielder/outfielder Joey Terdoslavich off waivers from the Braves on Friday.

Share Tweet

Braves could use camp to shop Swisher

MLB.com

Jan 7

The Braves have spent a significant portion of this offseason attempting to trade Nick Swisher. Now that they have reached an agreement with Kelly Johnson, there is even less reason to believe they will still be carrying Swisher on their roster when the…

Share Tweet

nytimes.com MLB.com

Jan 6

A person familiar with the negotiations says infielder Kelly Johnson and the Atlanta Braves have agreed to a $2 million, one-year contract.

Share Tweet

Braves, Ogando agree to Minor League deal

MLB.com

Dec 23, 2015

Former All-Star Alexi Ogando will come to Spring Training with a strong chance to begin the upcoming season as a member of Atlanta's bullpen.

Share Tweet

Fried excited to show Braves what he can do

MLB.com

Dec 21, 2015

This was not the journey Max Fried anticipated when the Padres gave him a $3 million bonus after taking him with the seventh overall selection in the 2012 Draft. By now, he was supposed to have either already gotten a taste of the big leagues or at leas…

Share Tweet

nytimes.com yahoo.com MLB.com

Dec 18, 2015

Jones, an eight-time All-Star, has been hired as a special assistant to baseball operations.

Share Tweet

Touki aims to get ahead of the curve with Braves

MLB.com

Dec 17, 2015

Touki Toussaint, 19, is one of the top prospects the Braves brought to Atlanta this week to participate in a Winter Elite Development camp aimed toward teaching young players about strength training, nutrition, financial matters and media responsibiliti…

Share Tweet

Albies next Braves star to hail from Curacao?

MLB.com

Dec 17, 2015

As Ozhaino Albies established himself as one of baseball's top overall prospects within his first two professional seasons, he has positioned himself to follow the path set by two of his native Curacao's favorite sons -- Andruw Jones and Andrelton Simmo…

Share Tweet

Braves' organizational overhaul shows growth

MLB.com

Dec 15, 2015

Shortly after assuming an influential advisory role after Frank Wren was dismissed as Atlanta's general manager and before accepting his current role as the Braves' president of baseball operations, John Hart analyzed the club's farm system and gained e…

Share Tweet

Minor Starting Season On DL: Good News For Braves?

Mar 10

ESPN SweetSpot blogger David Schoenfield discusses why pitcher Mike Minor starting the season on the DL is a good thing for the Braves.

Gattis Heading To Houston

Jan 14

Eric Karabell discusses how the Astros hope to benefit by the addition of Evan Gattis, acquiring him in a trade with the Atlanta Braves for three prospects.

Hank Aaron Joins Group Pursuing Hawks Ownership

Jan 12

ESPN senior basketball writer Marc Stein discusses Hank Aaron's interest in buying the Atlanta Hawks.

Padres Complete Big Three With Upton Trade

Dec 19

Buster Olney discusses the excitement surrounding San Diego's new outfield after the Padres made deals to acquire Wil Myers, Matt Kemp and Justin Upton.