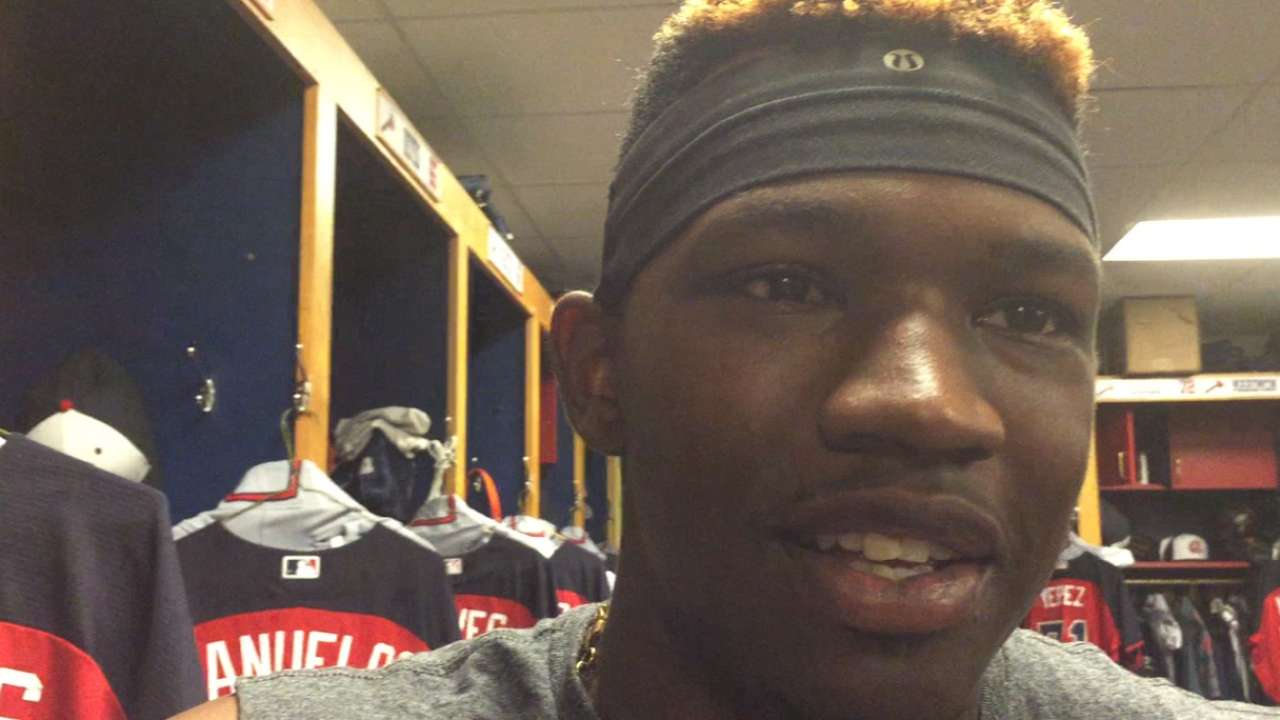 'Eager' prospect Jenkins grabs front office's attention
MLB.com
Updated 18 hours ago
Braves president of baseball operations John Hart and manager Fredi Gonzalez were among the many members of the organization who seemingly made a point to watch Tyrell Jenkins complete his live batting practice session on Monday.
Upvote
Share
Tweet
Courageous teenager works out with Wood, Braves

MLB.com

20 hours ago

As he has undergone multiple surgeries to remove a foot-long tumor from his spine and continued to play high school sports with titanium rods in his back, Thompson Ritter has maintained a passion for baseball that was enriched when he accepted Alex Wood…

Upvote Share Tweet

On Baseball: Pioneering G.M. Is Eager to Mold Another Winner in Atlanta

nytimes.com

Feb 28 (3 days ago)

John Hart, formerly a general manager with the Indians and the Rangers, is fired up about resuming his position in the front office and "restarting" the Braves.

Upvote Share Tweet

New name, same disappointment. Melvin Upton — the Atlanta Braves outfielder formerly known as B.J. Upton — got some unbossman-like news Friday. He's very likely to miss the rest of spring training and opening day because of a foot injury. Upton, 30, has…

Upvote Share Tweet

Atlanta Braves shortstop Andrelton Simmons has a slight left oblique strain.

Upvote Share Tweet

Cleared for action, Markakis targeting Opening Day

MLB.com

Feb 25 (6 days ago)

Nick Markakis hopes to be in the Braves' Opening Day lineup. But as he eases his way back from neck surgery, the veteran outfielder will not accelerate his preseason preparations to the point where he might jeopardize realizing this goal.

Upvote Share Tweet

MLB.com deadspin.com ESPN.com

Feb 23

Outfielder Melvin Upton Jr. hopes his third season with the Braves goes better than his fist two, and he has the support of president of baseball operations John Hart and manager Fredi Gonzalez.

Upvote Share Tweet

Acree's journey an integral part of Braves lore

MLB.com

Feb 21

Over the past five decades, Bill Acree has established himself as one of the most influential and respected employees the Braves organization has ever known.

Upvote Share Tweet

Part of big trade, Walden set to make name for himself

MLB.com

Feb 19

Though not the first name that folks reference when discussing the Cardinals' gain from a four-player trade with the Braves back in November, Jordan Walden likely won't continue to be overlooked. His stature, alone, ensures that.

Upvote Share Tweet

Braves right-hander Shae Simmons has undergone Tommy John surgery and is expected to miss the upcoming season.

Upvote Share Tweet

Braves' longtime travel director easing into retirement

MLB.com

Feb 12

Bill Acree has likely seen more Braves games than anybody since the club moved to Atlanta in 1966. And he is looking forward to a less stressful view as he prepares for his 50th season with the club.

Upvote Share Tweet

Braves to bring back 1B McGriff as assistant

ESPN.com

Feb 9

The Braves are bringing back former first baseman Fred McGriff and ex-hitting coach Greg Walker.

Upvote Share Tweet

yahoo.com

Feb 7

Retired Atlanta Braves star Chipper Jones brings an often unique and sometimes entertaining perspective to social media. However, on Friday night, Jones managed to startle and understandably anger his followers with a misguided tweet concerning the Sand…

Upvote Share Tweet

MLB.com

Feb 6

Braves manager Fredi Gonzalez has not determined exactly how he will align the players in his starting lineup this season. But, he has a small stack of paper that provides proof of the many alterations he has made as his club's roster has been overhaule…

Upvote Share Tweet

Braves invite 24 non-roster players to Spring Training

MLB.com

Feb 3

The Braves have invited 24 non-roster players to Spring Training this year, including some of the club's top prospects.

Upvote Share Tweet

Pipeline Perspectives: Ruiz the best hitter not in Top 100

MLB.com

Feb 3

Braves third-base prospect Rio Ruiz, who was recently acquired in a deal from the Astros, is the best hitter not be be ranked on the Top 100 Prospects list, according to MLBPipeline.com's Jonathan Mayo.

Upvote Share Tweet

ESPN.com

Feb 2

Former Atlanta Braves slugger Andruw Jones is looking to return to Major League Baseball after playing two years in Japan, agent Scott Boras told ESPN.com Monday.

Upvote Share Tweet

nytimes.com

Jan 31

The Atlanta Braves traded the right-handed pitchers David Hale and Gus Schlosser to the Colorado Rockies on Friday for the minor league catchers Jose Briceno and Chris O'Dowd.

Upvote Share Tweet

Gattis Heading To Houston

Jan 14

Eric Karabell discusses how the Astros hope to benefit by the addition of Evan Gattis, acquiring him in a trade with the Atlanta Braves for three prospects.

Hank Aaron Joins Group Pursuing Hawks Ownership

Jan 12

ESPN senior basketball writer Marc Stein discusses Hank Aaron's interest in buying the Atlanta Hawks.

Padres Complete Big Three With Upton Trade

Dec 19

Buster Olney discusses the excitement surrounding San Diego's new outfield after the Padres made deals to acquire Wil Myers, Matt Kemp and Justin Upton.

Sources: Padres Acquire Justin Upton

Dec 19

Tim Kurkjian discusses the improvements made by the Padres after they added outfielders Justin Upton, Matt Kemp and Wil Myers.