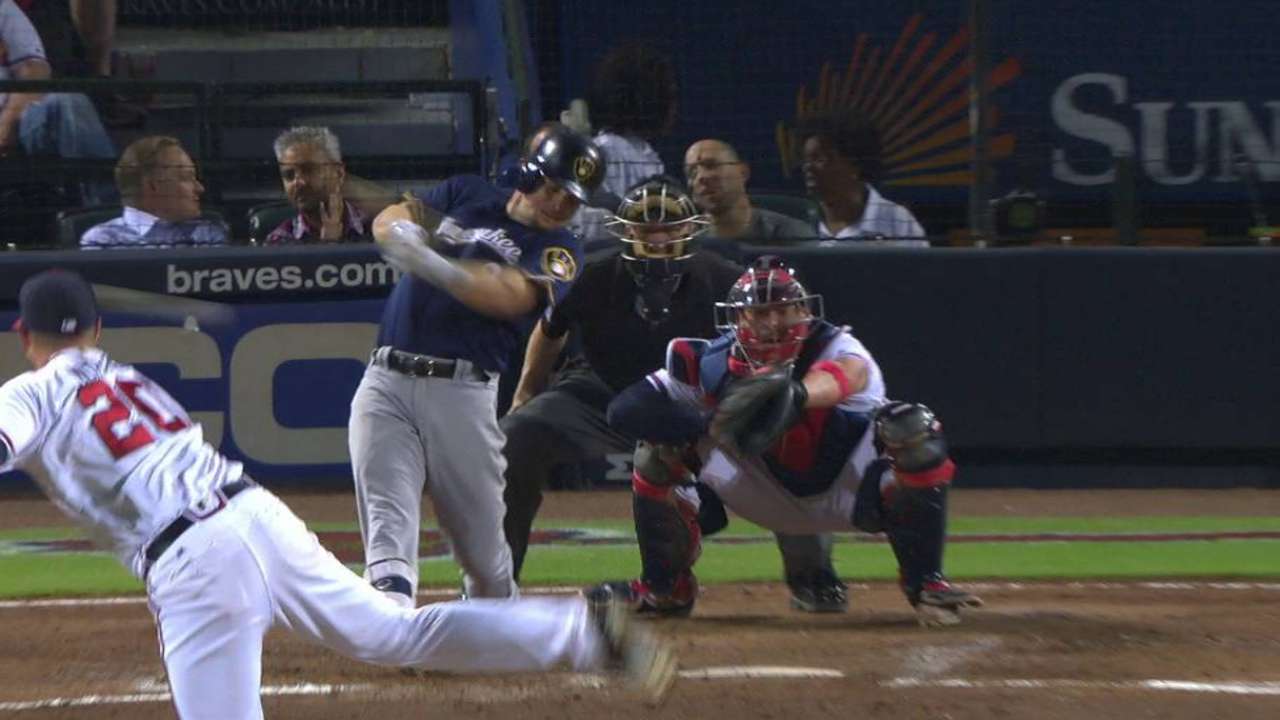 Crew Scoots way to win in pitchers' duel
MLB.com
Updated 16 hours ago
After dealing with Julio Teheran's impressive effort at Turner Field on Tuesday night, the Brewers snapped a three-game losing streak courtesy of Scooter Gennett's two-out single, which proved decisive in a 2-1 win over the Braves, who have now lost 18 …
Share
Tweet
O's add second lefty, call up Tolliver from Double-A

MLB.com

19 hours ago

After dealing Brian Matusz to the Braves, the Orioles called up left-hander Ashur Tolliver from Bowie to fill the final spot on the 25-man roster.

Share Tweet

MLB.com

19 hours ago

Brian Snitker did not necessarily expect to sell his house as quickly as he did this winter, and he certainly did not anticipate the opportunity he gained when the Braves dismissed former manager Fredi Gonzalez last week. So for now, Snitker will simply…

Share Tweet

O's trade P Matusz, pick to Braves for prospects

Share Tweet

Eickhoff Shuts Down Braves Over 7 Innings, Phillies Win 5-0

nytimes.com

May 22 (3 days ago)

Jerad Eickhoff pitched five-hit ball over seven innings to help the Philadelphia Phillies avoid a three-game sweep and beat the Atlanta Braves 5-0 on Sunday.

Share Tweet

Williams Perez Shuts Down Phillies Again, Braves Win 2-0

nytimes.com

May 21 (4 days ago)

Williams Perez took a two-hitter into the seventh, helping the Atlanta Braves beat the Philadelphia Phillies 2-0 Saturday for just their second series win this season.

Share Tweet

MLB.com nytimes.com

May 20 (5 days ago)

Freddie Freeman and Nick Markakis extended an unexpected power surge as they combined to record three home runs that backed Matt Wisler's strong start and helped the Braves claim Friday night's 7-1 win over the Phillies at Citizens Bank Park.

Share Tweet

Braves call up De La Cruz, option Gant

MLB.com

May 20 (5 days ago)

When Mike Foltynewicz recorded just nine outs in Thursday night's 8-2 loss to the Pirates, he became the second Braves starting pitcher to complete fewer than four innings within a three-day span. Thus, there was a need to provide yet another Minor Leag…

Share Tweet

5 reasons the Phillies are winning now

MLB.com

May 20 (5 days ago)

One question lots of people are asking about the Phillies is whether or not they're remarkable start is sustainable. Let's just enjoy the ride and all its possibilities as the Braves come to Citizens Bank Park for a weekend series.

Share Tweet

MLB.com nytimes.com

May 19 (6 days ago)

Left-hander Jeff Locke threw seven strong innings, Gregory Polanco led another complete performance by the Pirates lineup and the Bucs beat the Braves, 8-2, on Thursday night to clinch a victory in their four-game series at PNC Park.

Share Tweet

MLB.com nytimes.com deadspin.com

May 19 (6 days ago)

Braves shortstop Erick Aybar was taken to a medical facility to have a chicken bone removed from his throat late Thursday afternoon.

Share Tweet

nytimes.com

May 18 (7 days ago)

Given that it took four decades for Brian Snitker to become a big-league manager, he wasn't going to be picky about his first victory in the majors.

Share Tweet

MLB.com

May 18 (7 days ago)

Terry Pendleton and Eddie Perez would both like the opportunity to become the Braves' next long-term manager. But neither objected to the club's decision to name Brian Snitker the interim manager after Fredi Gonzalez was dismissed on Tuesday.

Share Tweet

nytimes.com

May 18 (7 days ago)

Fredi Gonzalez brought two bottles of wine and knocked on the hotel room door of Atlanta general manager John Coppolella for a late-night bull session.

Share Tweet

Minor Starting Season On DL: Good News For Braves?

Mar 10

ESPN SweetSpot blogger David Schoenfield discusses why pitcher Mike Minor starting the season on the DL is a good thing for the Braves.

Gattis Heading To Houston

Jan 14

Eric Karabell discusses how the Astros hope to benefit by the addition of Evan Gattis, acquiring him in a trade with the Atlanta Braves for three prospects.

Hank Aaron Joins Group Pursuing Hawks Ownership

Jan 12

ESPN senior basketball writer Marc Stein discusses Hank Aaron's interest in buying the Atlanta Hawks.

Padres Complete Big Three With Upton Trade

Dec 19

Buster Olney discusses the excitement surrounding San Diego's new outfield after the Padres made deals to acquire Wil Myers, Matt Kemp and Justin Upton.