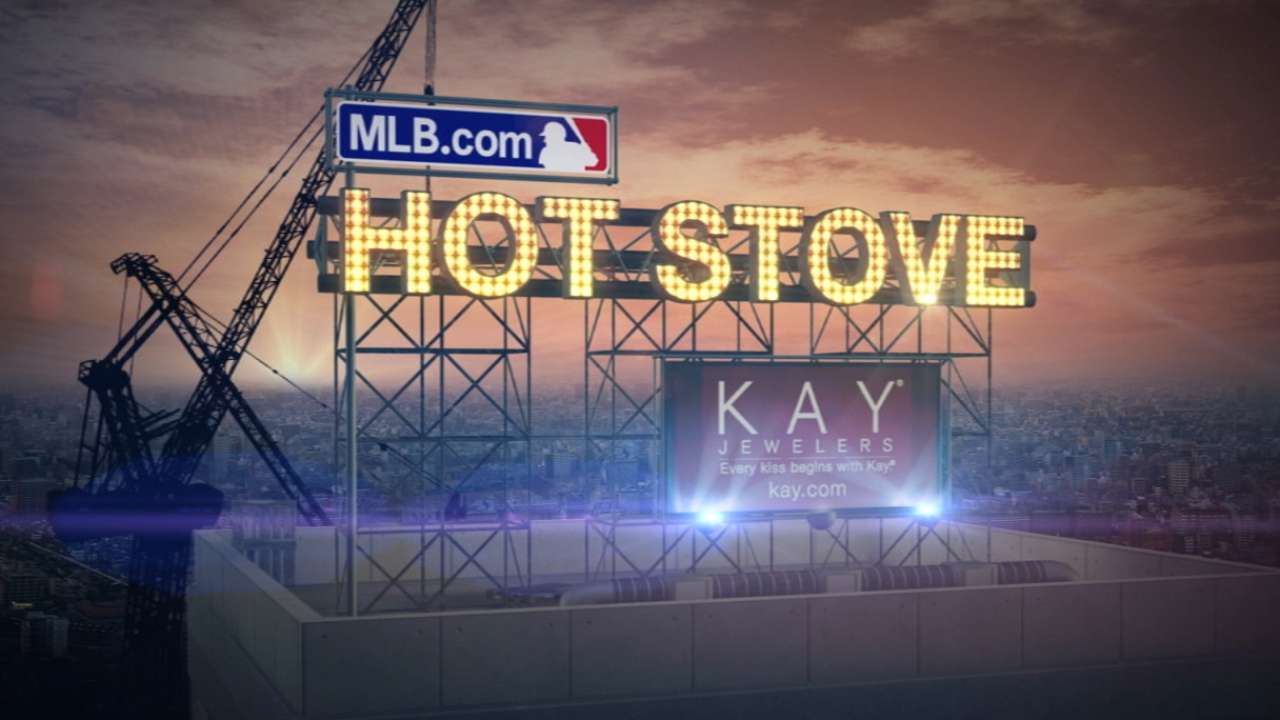 MLB.com
Updated Nov 21 (yesterday)
The Padres were not the only club to emerge on Friday as a frontrunner to sign Cuban outfielder Yasmany Tomas, as the Braves have joined the mix. Here's a recap of the major Hot Stove stories of the day.
Upvote
Share
Tweet
Top prospect Peraza among Braves' roster additions

MLB.com

Nov 19 (4 days ago)

The Braves bid adieu to the longest-tenured member of their organization to create 40-man roster space for top prospect Jose Peraza and six other Minor Leaguers who will have an opportunity to experience their first Major League Spring Training.

Upvote Share Tweet

Miller excited to get started with Braves

MLB.com

Nov 18 (5 days ago)

Instead of worrying about what he is leaving behind, Shelby Miller has grown excited about the chance to become an integral part of a Braves organization that is currently making a flurry of changes with the hope of realizing some of the consistent succ…

Upvote Share Tweet

Rebuild or compete in 2015? Braves could go either way

MLB.com

Nov 18 (5 days ago)

John Hart, the Braves' president of baseball operations, spent the past week saying that he does not know whether this offseason's roster-reconstruction process will be aimed toward competing or rebuilding during the 2015 season. He reiterated his stanc…

Upvote Share Tweet

MLB.com yahoo.com nytimes.com deadspin.com ESPN.com

Nov 18 (5 days ago)

Jason Heyward still has the potential to live up to his first season of hype, but after years -- and with all of their pitching issues -- the Braves got tired of waiting.

Upvote Share Tweet

The Atlanta Braves will meet with free-agent left-hander Jon Lester this week, sources told ESPN's Buster Olney, and multiple reports say the meeting will take place Thursday.

Upvote Share Tweet

Waino trade in '03 similar to Braves-Cards deal

MLB.com

Nov 17 (6 days ago)

When the Braves and Cardinals announced a four-player trade that featured Jason Heyward and Shelby Miller on Monday, there was reason to draw similarities to the trade these two teams made 11 years ago. Only this time, it is the Braves who are hoping to…

Upvote Share Tweet

Cards-Braves deal full of varying upside, risk

MLB.com

Nov 17 (6 days ago)

This is a tremendous trade for the St. Louis Cardinals. Not because they got the best of the Atlanta Braves. Truth is, they may not have. In fact, the Braves know exactly what they're getting, and it's plenty good. The Cardinals can't do this. They're g…

Upvote Share Tweet

Son of ex-Braves GM Frank Wren has great reaction to Jason Heyward trade

yahoo.com

Nov 17 (6 days ago)

Welcome to another chapter of the Wren family vs. the Atlanta Braves. If you missed the previous installments: Frank Wren was fired as Braves GM in September, after the team didn't make the playoffs. The Braves also fired Frank's brother, a scout and as…

Upvote Share Tweet

The Braves have traded minor league outfielder Kyle Wren, the son of former Atlanta general manager Frank Wren, to the Milwaukee Brewers for right-hander Zach Quintana.

Upvote Share Tweet

MLB.com

Nov 13

After spending the past week in Arizona analyzing ways to improve their club, the top members of the Braves' recently-overhauled baseball operations department returned to Atlanta on Thursday with the sense that they had at least gained a better feel fo…

Upvote Share Tweet

Hart weighing which direction to go this offseason

MLB.com

Nov 12

Braves president of baseball operations John Hart has kept open the possibility of constructing a roster that could prove to be postseason worthy next year. But he understands that it might be in the organization's best interest to treat 2015 as a rebui…

Upvote Share Tweet

'Bad contracts' to limit Braves' free-agent options

MLB.com

Nov 11

John Hart has spent the first two days of this week's General Managers Meetings speaking optimistically about B.J. Upton's future in Atlanta. At the same time, the longtime baseball executive is fully aware that the club's limited financial flexibility …

Upvote Share Tweet

Hart facing tough decisions with outfield mix

MLB.com

Nov 10

As the annual GM Meetings opened on Monday, there was speculation about whether Atlanta will trade Evan Gattis, Justin Upton or Jason Heyward. Braves president of baseball operations John Hart insisted that he is not aggressively shopping anyone.

Upvote Share Tweet

Braves add veteran trio to build org depth

MLB.com

Nov 10

As this year's General Managers Meetings were getting started in Phoenix on Monday, the Braves announced that they have signed two pitchers -- right-hander Chien-Ming Wang and left-handed reliever Donnie Veal -- to Minor League contracts and inked forme…

Upvote Share Tweet

Heat's really on the GMs of the Braves, Phillies, Rays and Blue Jays this winter

nydailynews.com

Nov 8

We interrupt the Alex Rodriguez cheating, lying and pissing follies to bring you the real business of baseball now that the World Series is over.

Upvote Share Tweet

Defensive excellence sewn into fabric of Braves

MLB.com

Nov 7

Braves manager Fredi Gonzalez had this brilliant idea before the 2014 season. He had a sign made to display the Braves' defensive accomplishments through the decades. Then, after conversing with several groups of players on the importance of fielding, t…

Upvote Share Tweet

Braves Trade Heyward To Cardinals

Nov 17

Buster Olney breaks down the Braves' decision to trade Jason Heyward and Jordan Walden to the Cardinals for Shelby Miller and Tyrell Jenkins.

Heyward Addition Big Plus For Cardinals

Nov 17

Eric Karabell and David Schoenfield discuss the Cardinals' trade for outfielder Jason Heyward.

Braves Bring Back Gonzalez For Fifth Season

Oct 3

ESPN's David Schoenfield discusses the Braves' decision to bring back manager Fredi Gonzalez.

Pirates Rout Braves

Sep 25

Edinson Volquez tosses seven scoreless innings as the Pirates blow out the Braves 10-1.