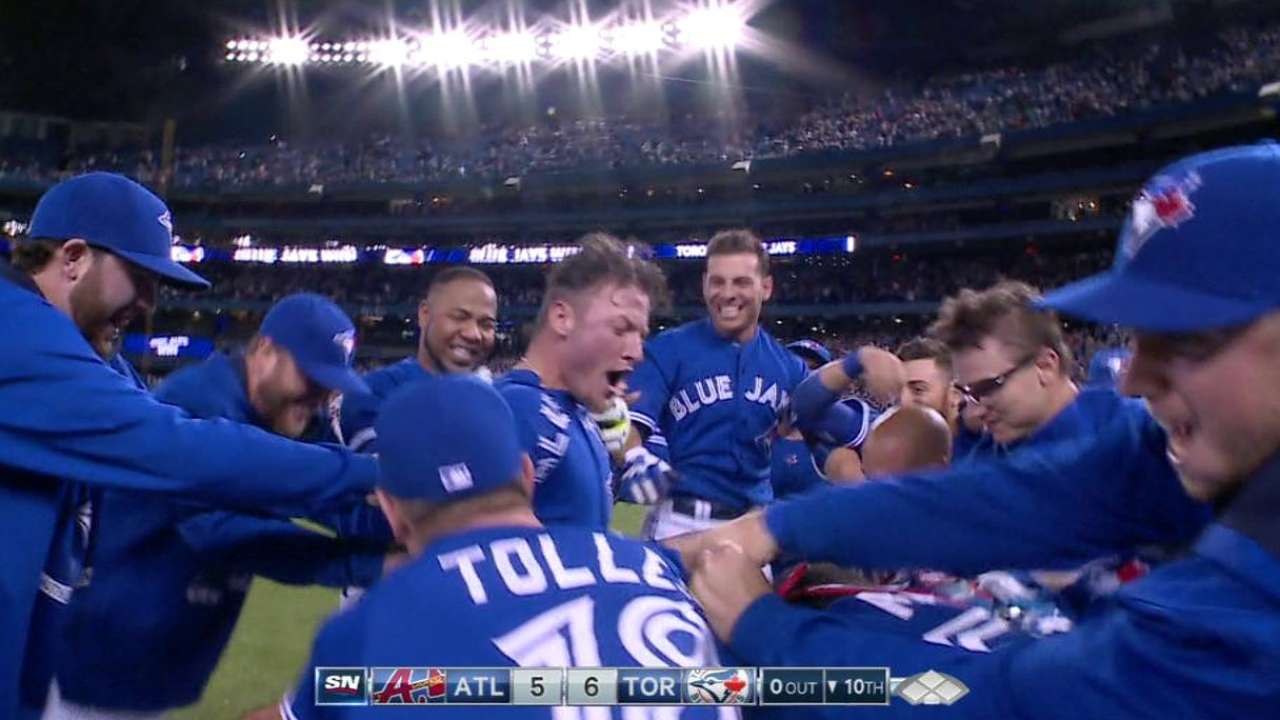 MLB.com
nytimes.com
Updated 11 hours ago
Josh Donaldson played the hero as the Blue Jays staged a come-from-behind, 6-5 victory over the Braves at Rogers Centre on Saturday afternoon. With the game knotted at 5 in the 10th, Donaldson swatted a homer off Braves reliever Sugar Ray Marimon over t…
Share
Tweet
deadspin.com

15 hours ago

This Blue Jays fan saw a foul ball headed his way during today's game at Rogers Centre against the Braves. He then tried to catch the ball, apparently, with his can of beer. The result: he didn't catch the ball, and he wasted beer. Gotta save at least o…

Share Tweet

MLB.com

19 hours ago

It's no secret by now that Braves shortstop Andrelton Simmons has seemingly made a habit out of taking hits away from opposing batters -- specifically Mets catcher Travis d'Arnaud. Simmons made an outstanding play on April 10 to rob d'Arnaud of a base h…

Share Tweet

Haren, Hechavarria Help Marlins Win 2nd Straight

nytimes.com

Apr 15 (4 days ago)

Dan Haren gave up three hits in seven innings, Adeiny Hechavarria went 3 for 3 with a homer and three RBIs and the Miami Marlins beat the Atlanta Braves 6-2 on Wednesday.

Share Tweet

Swingin' in the rain: Braves rally past Fish after delays

MLB.com

Apr 13 (5 days ago)

Aggressive baserunning and a couple of timely hits proved to be enough for the Braves to add to Mat Latos' early-season woes and claim a 3-2 win over the Marlins on Monday night at Turner Field.

Share Tweet

Travis d'Arnaud Needs To Stop Hitting Balls At Andrelton Simmons

deadspin.com

Apr 13 (6 days ago)

Braves shortstop Andrelton Simmons made a ridiculous throw to get Mets catcher Travis d'Arnaud out at first in Friday's game, which is cool, because Simmons churns out gorgeous defensive highlights like it's nothing, but what's even cooler is that Simmo…

Share Tweet

MLB.com nytimes.com

Apr 12 (6 days ago)

He stuck his bat into the strike zone as his helmet flew off, flailing toward the baseball and grinning the whole time. And somehow, some way in the fifth inning of Sunday's Mets game against the Braves, Bartolo Colon emerged with a hit.

Share Tweet

MLB.com nytimes.com

Apr 11

The Braves remained perfect with the assistance of a four-run fifth inning that doomed Dillon Gee and provided enough cushion to overcome the sudden seventh-inning struggles Julio Teheran encountered during Saturday night's 5-3 win over the Mets at Turn…

Share Tweet

Gilmartin gets 2 tough outs in his MLB debut

MLB.com

Apr 11

Mets reliever Sean Gilmartin made his big league debut on Friday, recording a pair of outs in the seventh inning against the Braves, who selected him in the first round of the 2011 First-Year Player Draft.

Share Tweet

Every season, Atlanta Braves shortstop Andrelton Simmons leaves us with a seemingly endless number of clips that are worth replaying over and over. Sometimes those clips even help us get through those cold nights in mid-December, when baseball's return …

Share Tweet

yahoo.com

Apr 11

The Marlins got on the board with an exciting walkoff victory against the Tampa Bay Rays on Friday night in Miami. After being swept at home by the Atlanta Braves earlier this week, it's a win they badly needed just to get some confidence rolling on the…

Share Tweet

Heady Braves get past Mets late, stay unbeaten

MLB.com

Apr 11

Phil Gosselin's two-run single off Rafael Montero with two outs in the eighth inning gave the Braves a lead they preserved to remain perfect with a 5-3 win in Friday night's home opener against the Mets.

Share Tweet

Braves 5, Mets 3: John Mayberry Jr. Homers, but He Can't Save the Mets

nytimes.com

Apr 11

Mayberry does well enough against left-handed pitching that the Mets will often use him in place of Lucas Duda or Curtis Granderson, their two lefties who struggle against left-handers.

Share Tweet

Despite start, NL East race is marathon affair

So should we look at the National League East race any differently than we did, say, a week ago? Absolutely not. Nothing has changed even with Matt Harvey at his 98-mph best on Thursday afternoon, and despite the Braves being 3-0 and the Marlins 0-3.

Share Tweet

Early returns on revamped bullpen look good

After trading Craig Kimbrel, the Braves were confident that veterans Jason Grilli and Jim Johnson could protect late-inning leads, and so far they have done the job.

Share Tweet

Marlins' offense slow out of the gate

Limited to just three runs in the series and two extra base hits, not much went the Marlins way in the season-opening series vs. the Braves.

Share Tweet

Rested Pierzynski shows he can be more than a mentor

A.J. Pierzynski prepared for his first start with the Braves by taking an afternoon nap, then showed why he could be more than just a mentor to Christian Bethancourt behind the plate.

Share Tweet

MLB.com nytimes.com

Apr 8

A.J. Pierzynski, a mentor to a young pitching staff, showed he still can be a threat. The veteran catcher uncorked a two-run homer off Tom Koehler in the seventh inning on Wednesday that powered the Braves to a 2-0 win over Miami at Marlins Park.

Share Tweet

Melvin Upton has injured foot examined by Padres' doctor

MLB.com

Apr 8

New Padres outfielder Melvin Upton Jr., whom the team acquired Sunday from the Braves with closer Craig Kimbrel, is in San Diego meeting with team doctors about his injured left foot.

Share Tweet

MLB.com

Apr 8

Giancarlo Stanton is much more than just a power hitter. The 25-year-old on Wednesday showed why he was a Gold Glove finalist in 2014. In the fourth inning against the Braves at Marlins park, Stanton made what might wind up being Miami's best defensive …

Share Tweet

nytimes.com

Apr 8

Atlanta got to Miami's Mat Latos for seven runs in the first, and he was pulled after just two-thirds of an inning.

Share Tweet

Minor Starting Season On DL: Good News For Braves?

Mar 10

ESPN SweetSpot blogger David Schoenfield discusses why pitcher Mike Minor starting the season on the DL is a good thing for the Braves.

Gattis Heading To Houston

Jan 14

Eric Karabell discusses how the Astros hope to benefit by the addition of Evan Gattis, acquiring him in a trade with the Atlanta Braves for three prospects.

Hank Aaron Joins Group Pursuing Hawks Ownership

Jan 12

ESPN senior basketball writer Marc Stein discusses Hank Aaron's interest in buying the Atlanta Hawks.

Padres Complete Big Three With Upton Trade

Dec 19

Buster Olney discusses the excitement surrounding San Diego's new outfield after the Padres made deals to acquire Wil Myers, Matt Kemp and Justin Upton.