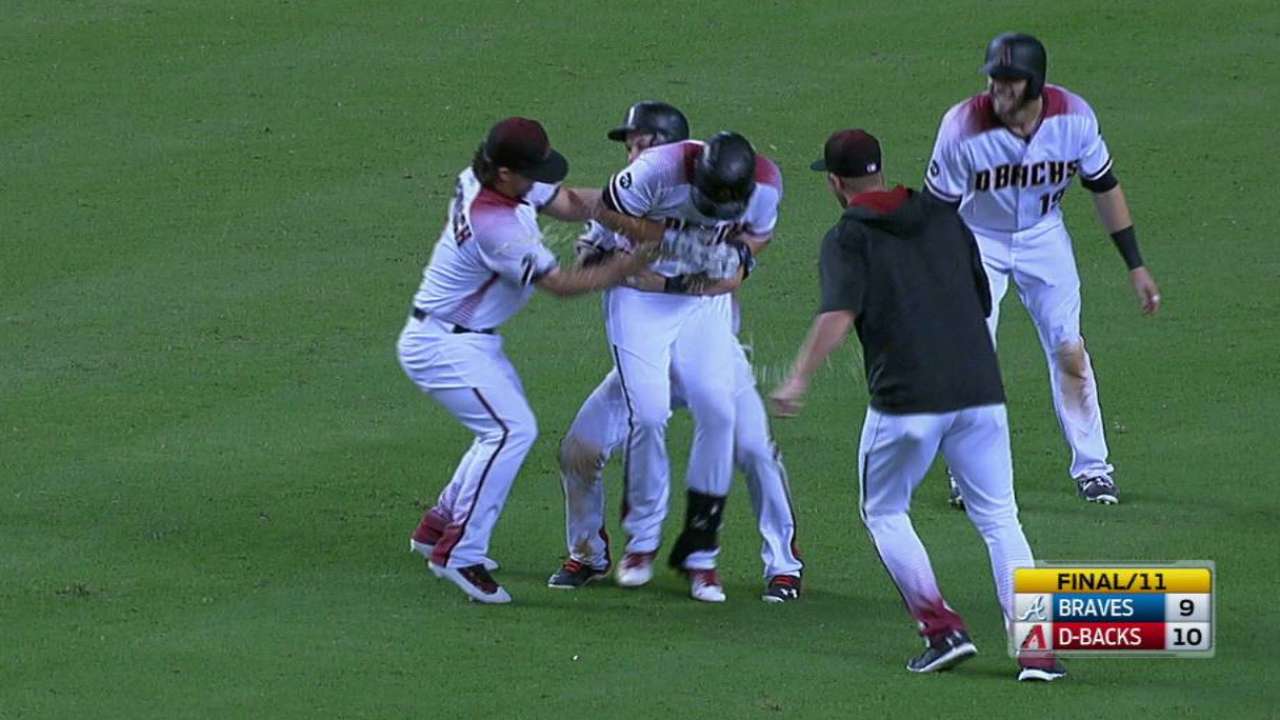 D-backs walk off in 11th after Braves rally in 9th
MLB.com
Updated 1 hour ago
After blowing a four-run lead in the ninth inning, the D-backs came back to beat the Braves in the 11th, as Brandon Drury drove in the game-winning run on a sacrifice fly in a 10-9 win on Wednesday night at Chase Field. Jake Lamb hit a one-out double to…
Share
Tweet
Drury Hits Sac Fly in 11th, D'backs Beat Braves 10-9

nytimes.com

1 hour ago

Brandon Drury drove in Jake Lamb with a sacrifice fly in the 11th inning, giving the Arizona Diamondbacks a 10-9 win over the Atlanta Braves on Wednesday night.

Share Tweet

Greinke reaches 2,000-strikeout milestone

MLB.com

1 hour ago

D-backs starter Zack Greinke reached 2,000 career strikeouts in Wednesday's 10-9, 11-inning win over the Braves, when he fanned Freddie Freeman to open the fourth inning.

Share Tweet

Marlins acquire Francoeur in 3-team trade

MLB.com

4 hours ago

Braves outfielder Jeff Francoeur is headed to the Marlins in a three-team trade that also involves the Rangers. Rangers Minor League shortstop Dylan Moore was sent to the Braves, while Texas received three international signing slots, one from Atlanta a…

Share Tweet

Kemp's Bases-Loaded Double Lifts Braves Past D-Backs

nytimes.com

Aug 24 (yesterday)

Matt Kemp's two-out, bases-loaded double in the eighth inning erased a one-run Arizona lead and the Atlanta Braves beat the Diamondbacks 7-4 on Tuesday night in the second of a four-game series between teams with the two worst records in the National Le…

Share Tweet

Goldschmidt's Game-Ending HR Lifts D'backs Over Braves 9-8

nytimes.com

Aug 23 (2 days ago)

Paul Goldschmidt hit a solo homer in the ninth inning to lift the Arizona Diamondbacks over the Atlanta Braves 9-8 on Monday night.

Share Tweet

Chipper Jones calls out Atlanta Braves for bobblehead miscue

ESPN.com

Aug 22 (2 days ago)

Chipper Jones calls out Atlanta Braves for bobblehead miscue

Share Tweet

Peterson's Homer in 10th Sends Braves Past Nationals

nytimes.com

Aug 21 (3 days ago)

Jace Peterson didn't know if he'd be able stay in the game after catching a ball and slamming into the center-field wall in the third inning.

Share Tweet

Peterson's walk-off HR lifts Braves over Nats

MLB.com

Aug 21 (3 days ago)

The Braves rallied for a 7-6 win over the Nationals on Jace Peterson's walk-off home run in the 10th inning on Sunday at Turner Field.

Share Tweet

Braves activate Gant to bolster bullpen

MLB.com

Aug 21 (4 days ago)

The Braves activated right-hander John Gant from the disabled list before Sunday's series finale against the Nationals.

Share Tweet

It looked like the Nationals were in for a long night on Saturday at Turner Field. Right-hander Max Scherzer was having early problems, while Braves rookie Tyrell Jenkins had his way with Washington.

Share Tweet

Nationals first baseman Ryan Zimmerman and catcher Jose Lobaton were activated from the 15-day disabled list before Saturday's game against the Braves, while catcher Pedro Severino and right-hander A.J. Cole were optioned to Triple A Syracuse.

Share Tweet

From his first Major League game and hit on Wednesday to his first error on Friday, this week has been full of new experiences for Dansby Swanson.

Share Tweet

Zimmerman's Return Sparks Nationals to 11-9 Win Over Braves

nytimes.com

Aug 20 (5 days ago)

Ryan Zimmerman homered among his three hits in his return from the disabled list, and the Washington Nationals used an eight-run fourth inning to take control before holding on for an 11-9 win over the Atlanta Braves on Saturday night.

Share Tweet

Revere robs homer with phenomenal grab

MLB.com

Aug 19 (5 days ago)

Center fielder Ben Revere has made his share of great catches for the Nationals this season, but the one he made in Friday's 7-6 win over Braves may have topped them all.

Share Tweet

nytimes.com MLB.com

Aug 19 (6 days ago)

Rookie Reynaldo Lopez beat the Atlanta Braves five days ago, so he knew they would likely struggle against his fastball again.

Share Tweet

Nationals recall right-hander Cole

MLB.com

Aug 18 (6 days ago)

Right-hander A.J. Cole was scheduled to pitch for Triple-A Syracuse on Friday night against Lehigh Valley. Instead, on Wednesday night, Cole was told to head to Atlanta and meet the Nationals for the four-game series against the Braves.

Share Tweet

MLB.com nytimes.com

Aug 17

Though there would certainly be a benefit to gaining the first overall pick in next year's MLB Draft, the Twins weren't complaining as they took advantage of Mike Foltynewicz's early exit and frustrated the Braves' bullpen on the way to completing a two…

Share Tweet

Acquired by the Tigers from the Braves on Tuesday, Erick Aybar has ramped up his production at the plate since the All-Star break. His batting average was just a touch above .200 heading into the break, but he has hit .313 since then.

Share Tweet

When Dansby Swanson called his mother early Tuesday evening to tell her he was packing his bags and coming home, her immediate maternal reaction was to ask if her son was OK. After a brief chuckle, Swanson clarified his message by making it clear he was…

Share Tweet

Minor Starting Season On DL: Good News For Braves?

Mar 10

ESPN SweetSpot blogger David Schoenfield discusses why pitcher Mike Minor starting the season on the DL is a good thing for the Braves.

Gattis Heading To Houston

Jan 14

Eric Karabell discusses how the Astros hope to benefit by the addition of Evan Gattis, acquiring him in a trade with the Atlanta Braves for three prospects.

Hank Aaron Joins Group Pursuing Hawks Ownership

Jan 12

ESPN senior basketball writer Marc Stein discusses Hank Aaron's interest in buying the Atlanta Hawks.

Padres Complete Big Three With Upton Trade

Dec 19

Buster Olney discusses the excitement surrounding San Diego's new outfield after the Padres made deals to acquire Wil Myers, Matt Kemp and Justin Upton.