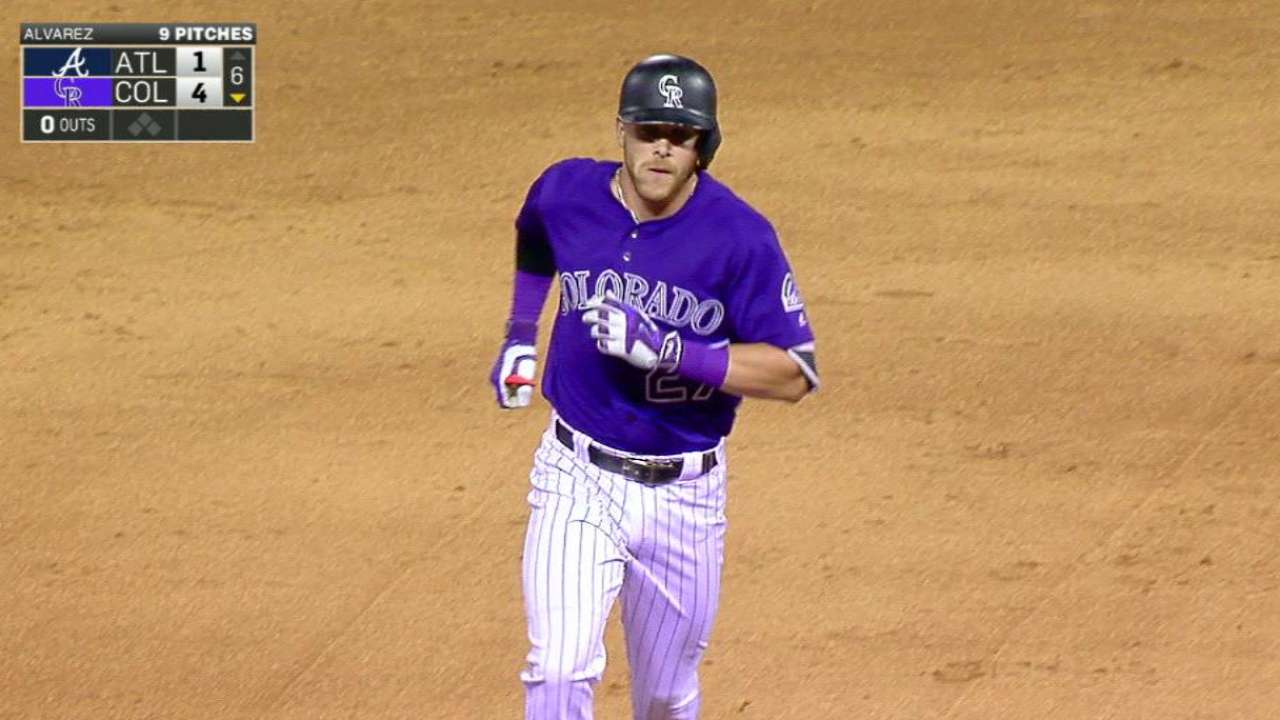 Story ties Tulo's NL rookie SS homer record
MLB.com
Updated 13 hours ago
Rockies shortstop Trevor Story's two-run homer in the sixth inning against the Braves on Friday night was his 24th of the season, which tied the record set in 2007 by former Rockie Troy Tulowitzki for the most home runs by a rookie shortstop in National…
Share
Tweet
Gray's Pitching Keys Rockies' 4-3 Win Over Braves

nytimes.com

11 hours ago

His early career struggles behind him, Jon Gray is answering the call as the Colorado Rockies' ace.

Share Tweet

Gonzalez, Bettis Help Rockies to 7-3 Win Over Braves

nytimes.com

Jul 22 (yesterday)

Carlos Gonzalez can't ever remember hitting a ball any better or louder.

Share Tweet

Reds Beat Braves 6-3, Take Series Between NL's Worst Teams

nytimes.com

Jul 20 (3 days ago)

Anthony DeSclafani is giving the Reds what they've missed most of the season.

Share Tweet

Game-Ender! Inciarte hits sac fly in 11th for win

MLB.com

Jul 20 (3 days ago)

It was a night where both teams' bullpens had spells of not getting the job done. But the messy battle of relievers was ultimately claimed by the Braves with a 5-4 victory over the Reds in 11 innings, with Ender Inciarte's sacrifice fly being the differ…

Share Tweet

Braves Blow Lead in 9th, Rally for 5-4 Win Over Reds in 11th

nytimes.com

Jul 19 (4 days ago)

Atlanta's bullpen blew a two-run lead in the ninth inning, but Ender Inciarte hit a sacrifice fly in the 11th that sent the Braves to a 5-4 win over the Cincinnati Reds on Tuesday night and evened a series between the NL's worst teams.

Share Tweet

Swanson, Newcomb among top prospect performers Monday

MLB.com

Jul 19 (4 days ago)

The Braves' top two prospects, Dansby Swanson and Sean Newcomb, were among the top prospect performers in the Minors as they helped Double-A Mississippi to a 5-0 win on Monday night.

Share Tweet

nytimes.com yahoo.com

Jul 17 (6 days ago)

Braves ace Julio Teheran doesn't mind missing out on a winning decision when Atlanta squeaks out a rare home victory.

Share Tweet

Aggressive Rox rally to clinch series over Braves

MLB.com

Jul 16 (7 days ago)

Mike Foltynewicz was positioned to celebrate another splendid start until the Rockies manufactured a three-run eighth inning that included the first of the three wild pitches that helped them claim a 4-3 comeback win over the Braves on Saturday night at…

Share Tweet

Prospect Jenkins rejoins rotation on Tuesday

MLB.com

Jul 16 (7 days ago)

After spending the past six weeks adjusting to what he has frequently called bullpen life, Tyrell Jenkins will attempt to take advantage of the opportunity to begin the season's second half as a member of the Braves' starting rotation.

Share Tweet

Vizcaino exits with oblique injury after 3 pitches

MLB.com

Jul 16

In his first appearance since July 6 in Philadelphia, Braves closer Arodys Vizcaino exited Friday's 11-2 loss to the Rockies with a right oblique injury after throwing only three pitches in the ninth inning.

Share Tweet

CarGo collects 3 hits, Raburn slams in win over Braves

Recognizing their play over the next couple weeks could determine whether they are buyers or sellers at the Trade Deadline, the Rockies provided an efficient Jorge De La Rosa with sufficient support and opened the season's second half with Friday night'…

Share Tweet

yahoo.com

Jul 15

Freddie Freeman runs the bases after hitting a solo home run against the White Sox. (AP) Atlanta Braves first baseman Freddie Freeman didn't spend his All-Star break in the same relaxed state as many of his peers. According to the Atlanta Journal-Consti…

Share Tweet

Braves seeking solution to catching duties

Even before Tyler Flowers sustained a fractured left hand that could sideline him into September, the Braves were already evaluating the possibility of acquiring next year's primary catcher before this year's non-waiver Trade Deadline.

Share Tweet

Olivera cleared to play with GCL Braves

Hector Olivera has had no choice but to spend the past three months dwelling on the ramifications of being arrested for assault and serving the most significant suspension delivered to date via Major League Baseball's recently instituted domestic-violen…

Share Tweet

Flowers out 6-plus weeks with broken hand

MLB.com

Jul 12

Though the Braves were cautiously optimistic Tyler Flowers would need just a few days of rest, the veteran catcher entered the All-Star break with a sense he would get the news that was delivered on Tuesday, when he learned he could be sidelined into Se…

Share Tweet

MLB.com nytimes.com

Jul 10

Jeff Francoeur and Jace Peterson hit home runs and Braves pitcher Mike Foltynewicz did the rest, striking out a career-high 10 batters over seven innings.

Share Tweet

Frazier Homers, White Sox Nip Braves 5-4

nytimes.com

Jul 9

Jose Quintana beamed while describing the attention the first all-Colombian pitching matchup in major league history was getting back home.

Share Tweet

MLB.com

Jul 9

Todd Frazier and the White Sox offense that outlasted the Braves in a 5-4 victory to even the series at one game apiece and give the White Sox a chance for their sixth straight series win going into the All-Star break.

Share Tweet

MLB.com nytimes.com

Jul 9

Chris Sale will be making his fifth straight All-Star appearance, and there's a chance the White Sox ace could be named the American League starter. But the southpaw didn't exactly strengthen his resume during an 11-8 loss to the Braves Friday night at …

Share Tweet

After rain showers, Flowers gives Braves win

MLB.com

Jul 8

Tyler Flowers smacked an RBI single with two outs in the 11th inning and Nick Markakis hit two home runs, including a game-tying homer in the ninth, to lift the Braves to a 4-3 victory over the Cubs on Thursday night at Wrigley Field.

Share Tweet

Markakis Homers Twice, Braves Beat Slumping Cubs in 11

nytimes.com

Jul 8

A long, odd night turned into a frustrating early morning for a Chicago Cubs team that appears to have lost its swagger.

Share Tweet

nytimes.com deadspin.com

Jul 7

A man was carted off Wrigley Field and hospitalized after he slipped and fell while attempting to jump from the bleachers before a game between the Atlanta Braves and Chicago Cubs on Thursday night.

Share Tweet

Minor Starting Season On DL: Good News For Braves?

Mar 10

ESPN SweetSpot blogger David Schoenfield discusses why pitcher Mike Minor starting the season on the DL is a good thing for the Braves.

Gattis Heading To Houston

Jan 14

Eric Karabell discusses how the Astros hope to benefit by the addition of Evan Gattis, acquiring him in a trade with the Atlanta Braves for three prospects.

Hank Aaron Joins Group Pursuing Hawks Ownership

Jan 12

ESPN senior basketball writer Marc Stein discusses Hank Aaron's interest in buying the Atlanta Hawks.

Padres Complete Big Three With Upton Trade

Dec 19

Buster Olney discusses the excitement surrounding San Diego's new outfield after the Padres made deals to acquire Wil Myers, Matt Kemp and Justin Upton.