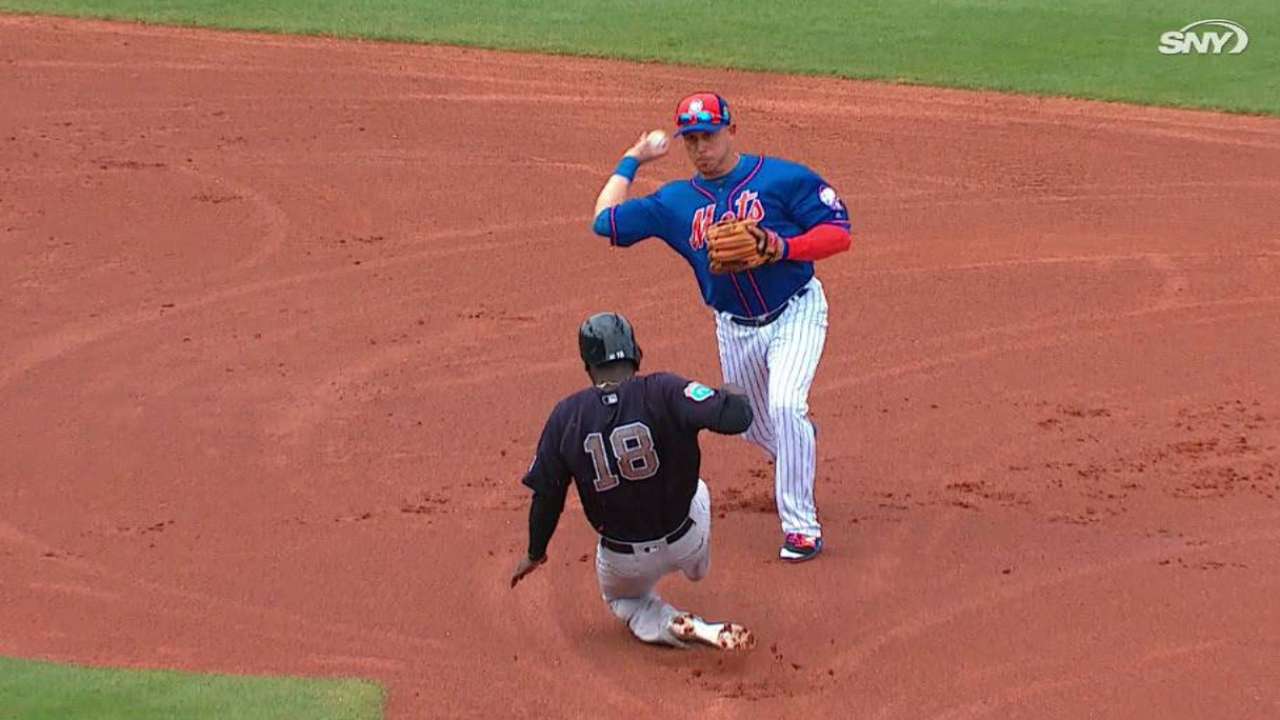 nytimes.com MLB.com

20 hours ago

Wright and Lucas Duda hit solo homers, Yoenis Cespedes had a two-run shot, and Bartolo Colon picked up his second win of the year as the Mets topped Atlanta at Citi Field.

Share Tweet

Johnson, O'Flaherty receive NL champs rings

MLB.com

23 hours ago

Braves veterans Kelly Johnson and Eric O'Flaherty received a nice gift on Monday afternoon, when Mets Chief Operating Officer Jeff Wilpon and general manager Sandy Alderson entered the visitor's clubhouse at Citi Field with a two 2015 National League ch…

Share Tweet

On Baseball: For Braves, No Place to Go but Up

nytimes.com

23 hours ago

The Braves, who open a new ballpark next season and have traded most veterans of value, lost 18 games in April. They did not expect to contend. But they did not plan to struggle like this.

Share Tweet

MLB.com

May 2 (yesterday)

Braves manager Fredi Gonzalez admitted it was not easy to tell Jace Peterson he had been optioned to Triple-A Gwinnett on Monday. But at the same time, Gonzalez realized that his former starting second baseman was not providing much value at the Major L…

Share Tweet

Markakis plates winner as Braves earn split

MLB.com

May 1 (2 days ago)

Nick Markakis hit a sacrifice fly with one out in the 10th inning Sunday to lift the Braves to a 4-3 victory over the Cubs, who had rallied to tie the game in the ninth.

Share Tweet

Short-Handed Braves Rally in 10th to Knock Off Cubs 4-3

nytimes.com

May 1 (2 days ago)

A gaffe by the front office left the Atlanta Braves a player short. The bullpen blew a lead and Julio Teheran's great outing was seemingly wasted.

Share Tweet

nytimes.com MLB.com

May 1 (2 days ago)

A front-office mistake left the Atlanta Braves short a player for their game against the Chicago Cubs on Sunday.

Share Tweet

nytimes.com MLB.com

Apr 30 (3 days ago)

If there's any question about his first-place team, Chicago Cubs manager Joe Maddon says it has to do with its untested relief corps.

Share Tweet

nytimes.com MLB.com

Apr 29 (4 days ago)

Szczur, a midgame defensive replacement, hit his first career grand slam during a five-run eighth inning as the Cubs broke away to defeat the Braves.

Share Tweet

ESPN.com

Apr 29 (4 days ago)

Lester's latest fielding failure doesn't hamper Cubs against Braves

Share Tweet

ESPN.com

Apr 28 (5 days ago)

Clay Buchholz struggles against bottom of lineup in Red Sox's loss to Braves

Share Tweet

Mallex, Markakis lead Braves to snap skid

MLB.com

Apr 28 (5 days ago)

The Braves put together a steady offense against Clay Buchholz and salvaged the finale of a four-game series with the Red Sox by pulling out a 5-3 victory at Fenway Park on Thursday night. The win snapped an eight-game losing skid for Atlanta.

Share Tweet

yahoo.com

Apr 28 (5 days ago)

The Atlanta Braves were supposed to be bad coming into the season. That's what happens when you trade off all your major-league assets for future considerations. It wasn't a big secret. Everyone knew the Braves were coming into the year in a clear rebui…

Share Tweet

yahoo.com

Apr 28 (6 days ago)

How poorly are things going for the Atlanta Braves right now? On a night where they had two legitimate reasons to celebrate — Freddie Freeman's drought-ending home run and A.J. Pierzynski's 2,000th career hit — they still managed to lose in convincing f…

Share Tweet

Chip Caray channels Harry Caray as Braves home run drought ends

yahoo.com

Apr 28 (6 days ago)

The Atlanta Braves two-and-a-half week nightmare is finally over. In the eighth inning of Wednesday's 9-4 loss against the Boston Red Sox, first baseman Freddie Freeman hit a home run off left-hander Tommy Layne to end their 15-game homerless streak. [E…

Share Tweet

Minor Starting Season On DL: Good News For Braves?

Mar 10

ESPN SweetSpot blogger David Schoenfield discusses why pitcher Mike Minor starting the season on the DL is a good thing for the Braves.

Gattis Heading To Houston

Jan 14

Eric Karabell discusses how the Astros hope to benefit by the addition of Evan Gattis, acquiring him in a trade with the Atlanta Braves for three prospects.

Hank Aaron Joins Group Pursuing Hawks Ownership

Jan 12

ESPN senior basketball writer Marc Stein discusses Hank Aaron's interest in buying the Atlanta Hawks.

Padres Complete Big Three With Upton Trade

Dec 19

Buster Olney discusses the excitement surrounding San Diego's new outfield after the Padres made deals to acquire Wil Myers, Matt Kemp and Justin Upton.