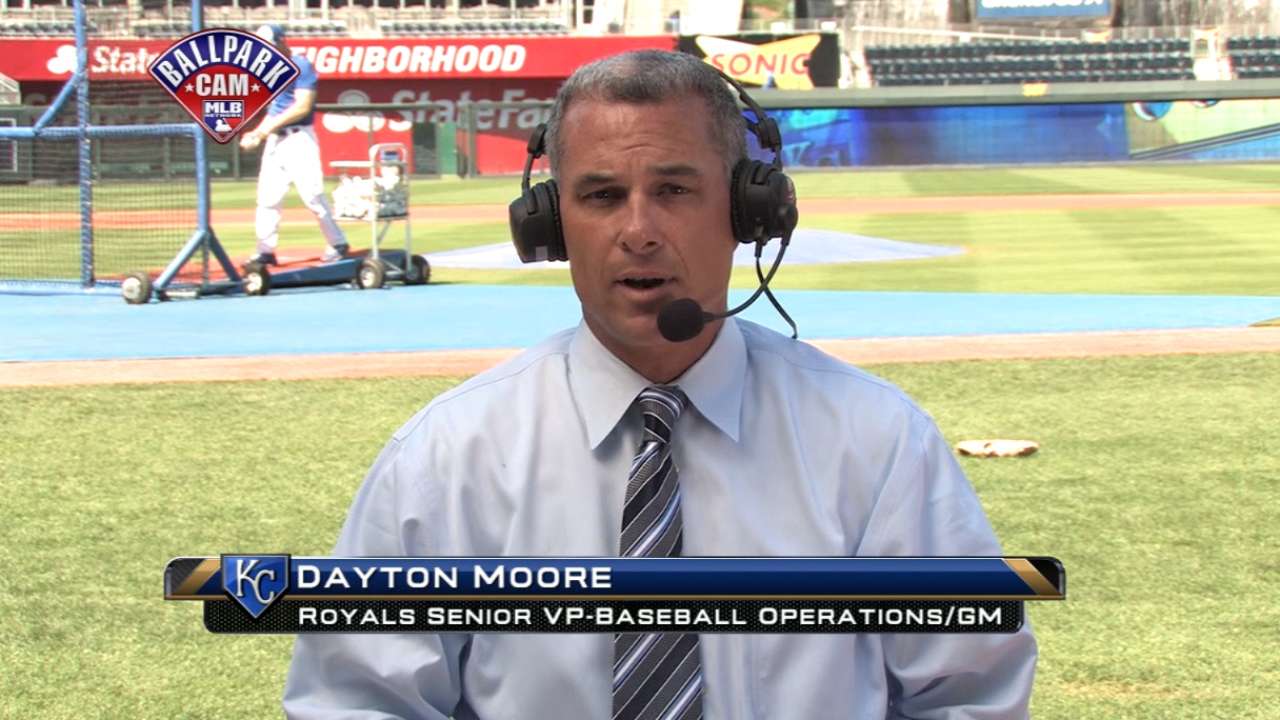 Royals expect Moore to remain GM through contract
MLB.com
Updated 1 hour ago
Royals chairman and owner David Glass said on Monday that he doubts that general manager Dayton Moore would want to take the currently vacant Braves GM job, but that he wouldn't stand in Moore's way if Moore wanted to leave Kansas City.
Upvote
Share
Tweet
yahoo.com nytimes.com ESPN.com MLB.com

5 hours ago

Frank Wren's job as general manager of the Atlanta Braves could not withstand a brutal collapse that helped ensure another season without the playoffs. The Braves announced Monday morning they had fired Wren and named John Hart interim GM. Hart reported…

Upvote Share Tweet

The Atlanta Braves collapsing down the stretch and missing the playoffs wasn't entirely the fault of outfielder B.J. Upton, though it's reasonable to think that Upton's mere existence on Atlanta's roster at roughly $15 million per season could be hasten…

Upvote Share Tweet

MLB.com nytimes.com

21 hours ago

In his previous start against Miami at Citi Field, Jacob deGrom tied a modern Major League record by striking out the first eight hitters he faced. On Sunday afternoon at Turner Field, deGrom only struck out the first four Braves hitters but fired four …

Upvote Share Tweet

nytimes.com MLB.com

Sep 20 (yesterday)

The Mets' Jon Niese allowed two runs and seven hits to earn a win against Atlanta, which fell two games under .500.

Upvote Share Tweet

Minor exits start with shoulder discomfort

MLB.com

Sep 20 (yesterday)

Mike Minor completed just one inning before exiting Saturday night's start against the Mets with left shoulder discomfort. The Braves announced that he will be further evaluated by their medical staff.

Upvote Share Tweet

Teheran deals, but Braves blanked in costly loss

Julio Teheran and Mets starter Zack Wheeler were involved in a tight pitchers' duel on Friday night at Turner Field. But Mets first baseman Lucas Duda ended that with a two-run home run that proved decisive in the Braves' 5-0 loss.

Upvote Share Tweet

Braves fan catches Lucas Duda's home run in popcorn bucket

yahoo.com

Sep 19 (3 days ago)

If players are given the Gold Glove Award as recognition for their superior defensive skills, perhaps fans should be rewarded with golden buckets of popcorn when they make the highlight reels. That seems to be the most commonly used prop — well, aside f…

Upvote Share Tweet

Sixty years ago, A's play last home game in Philadelphia

Exactly 60 years ago Friday, the Philadelphia A's departed the corner of 21st and Lehigh for a train that would take them to play the Boston Braves, beginning a season-ending road trip. They never returned.

Upvote Share Tweet

Pitching staff remains bright spot for Braves amid struggles

It is true that the Braves have gone from first place to the margins of the National League Wild Card race due to a numbing offensive slump. But for the longer-term future of the Atlanta franchise, there will be the usual solace: A core of pitching stre…

Upvote Share Tweet

Braves Fan Catches Foul Ball With Face

deadspin.com

Sep 18 (5 days ago)

See, this is why grown ass men should bring gloves to baseball games. When the foul ball comes your way—like it did to this unfortunate Braves fan at Turner Field—you are going to try and catch it. And if you are going to try and catch it, shouldn't you…

Upvote Share Tweet

Braves hold steady in WC race after topping Nats

MLB.com

Sep 17 (5 days ago)

Christian Bethancourt's sharp single accounted for each of the three runs Alex Wood received Wednesday night as the lefty extended his mound dominance in a 3-1 win over the Nationals. Atlanta remains 5 1/2 games back of the Pirates for the second NL Wil…

Upvote Share Tweet

Braves Beat Nationals 3-1 to Snap 5-Game Skid

nytimes.com

Sep 17 (5 days ago)

Three runs scored on Christian Bethancourt's single in the sixth inning to help the Atlanta Braves beat the Washington Nationals 3-1 on Wednesday night and preserve their fading playoff hopes.

Upvote Share Tweet

ESPN.com deadspin.com yahoo.com

Sep 17 (5 days ago)

Umpire Tim Welke heard a foul-mouthed fan heckling Bryce Harper and decided it was time for the man to go.

Upvote Share Tweet

yahoo.com

Sep 17 (6 days ago)

In a span of 58 days, the Washington Nationals turned a tight National League East race into a cakewalk. The Nats got seven shutout innings from Tanner Roark, along with a two-run homer by Ian Desmond in a 3-0 victory against the Atlanta Braves on Tuesd…

Upvote Share Tweet

Is Frank Wren To Blame For Braves' Woes?

Sep 22

Eric Karabell and David Schoenfield discuss the Braves' firing of GM Frank Wren.

Braves Snap Slide

Sep 17

The Braves snapped a five-game losing streak with a 3-1 win over the Nationals.

Souza's First-Career Homer

Sep 17

Nationals left fielder Steven Souza hit his first MLB home run in the Nationals' loss to the Braves.

Nationals Clinch National League East

Sep 16

The Nationals defeated the Braves 3-0 to claim their second National League East title in the past three years.