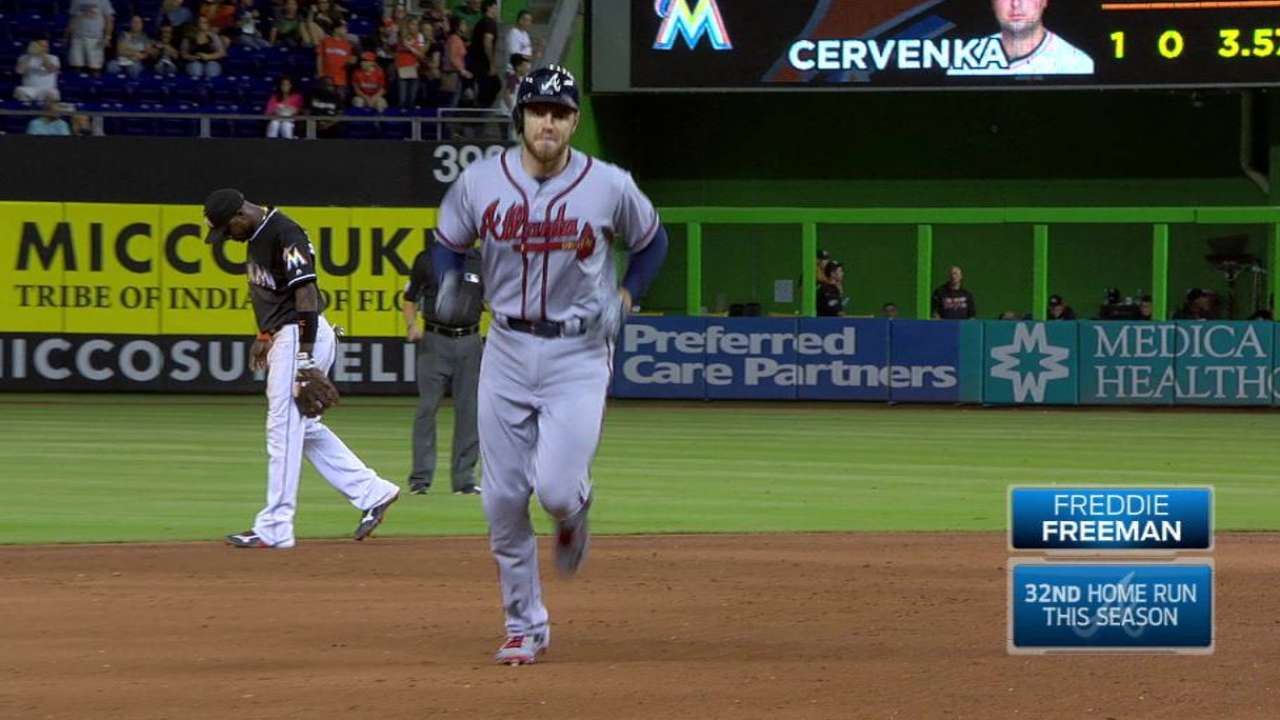 yahoo.com

Sep 25 (2 days ago)

The tragic death of Miami Marlins ace Jose Fernandez has devastated the baseball world. Fernandez, 24, was killed in a boating accident Sunday morning. The Marlins canceled their game against the Atlanta Braves following the news. Fernandez's death is s…

Share Tweet

Dietrich homers as Marlins snap Braves' streak, stay alive in WC

There's still a heartbeat, albeit a faint one. The Marlins are still alive and kicking in the National League Wild Card race after snapping the Braves' seven-game win streak with a 6-4 victory on Saturday night at Marlins Park.

Share Tweet

Freeman extends hit streak to 28 on RBI single

Braves first baseman Freddie Freeman extended the longest active hitting streak in the Majors to 28 games when he produced an RBI single off Wei-Yen Chen during the first inning of Saturday's game against the Marlins.

Share Tweet

Simmons dealing with right forearm discomfort

A little more than three weeks after returning to the big leagues for the first time in more than two years, Braves right-handed reliever Shae Simmons is dealing with yet another arm ailment.

Share Tweet

Garcia's late RBI hurts Marlins' WC hopes

MLB.com

Sep 23 (4 days ago)

All season, the Braves have presented problems to Miami. On Friday night, Adonis Garcia's two-out RBI single in the ninth inning lifted Atlanta to a 3-2 comeback win and pushed the Marlins closer to National League Wild Card elimination.

Share Tweet

Kemp ejected in third for arguing strike call

MLB.com

Sep 23 (4 days ago)

Matt Kemp's birthday did not go exactly as he had envisioned. The Braves' left fielder was ejected during the third inning of Friday's 3-2 win over the Marlins after he expressed displeasure toward a strike called against Nick Markakis.

Share Tweet

NYC hails a Cab(rera)! Met's HR wows Citi

Ender Inciarte was safely in Miami with the Braves. No one was going to take this win away from the Mets, who needed it so badly. They had to work all night and they had to come back three times, but when it was all over Asdrubal Cabrera's three-run hom…

Share Tweet

Kemp's 2 HRs lead win vs. WC-seeking Fish

he Braves continue to play for more than pride. The way they've heated up, they're spoiling the postseason plans for a couple of National League East rivals. Matt Kemp belted two home runs and Josh Collmenter gave up two runs in seven innings on Thursda…

Share Tweet

Kemp's 2 Homers Power Braves to 6-3 Win Over Marlins

nytimes.com

Sep 22 (5 days ago)

Matt Kemp hit two home runs to power the Atlanta Braves to a 6-3 win over the Miami Marlins on Thursday night.

Share Tweet

When Freddie Freeman sits down with his good friend Chipper Jones this winter, he can tell the Braves legend what it felt like to break one of his old records. Atlanta's first baseman might also have a chance to do the same with his buddy Dan Uggla.

Share Tweet

ESPN.com nytimes.com deadspin.com MLB.com

Sep 22 (6 days ago)

Ender Inciarte sticks dagger in Mets as Braves sweep series

Share Tweet

Jose scheduled to start Sunday vs. Braves

MLB.com

Sep 21 (6 days ago)

For now, Jose Fernandez is scheduled to start Sunday in the series finale with the Braves at Marlins Park. But that outing is subject to change, depending on how the club is trending in the Wild Card standings.

Share Tweet

ESPN.com nytimes.com yahoo.com

Sep 20 (7 days ago)

NL wild-card race gets tighter as Mets drop second straight to Braves

Share Tweet

nytimes.com

Sep 20 (7 days ago)

If the New York Mets wind up reaching the NL wild-card game, at least they won't have to face Julio Teheran.

Share Tweet

nytimes.com

Sep 19

After a powerful display in the first inning, a rested Syndergaard regressed, giving up five runs before being pulled after three and two-thirds innings.

Share Tweet

nytimes.com MLB.com

Sep 19

The Blair Pitch Project started to show results for the Atlanta Braves.

Share Tweet

Braves Take Rare Victory Over Nationals, 7-3

nytimes.com

Sep 17

When he was pitching in the minor leagues earlier this month, Josh Collmenter didn't envision himself beating the Washington Nationals.

Share Tweet

Minor Starting Season On DL: Good News For Braves?

Mar 10

ESPN SweetSpot blogger David Schoenfield discusses why pitcher Mike Minor starting the season on the DL is a good thing for the Braves.

Gattis Heading To Houston

Jan 14

Eric Karabell discusses how the Astros hope to benefit by the addition of Evan Gattis, acquiring him in a trade with the Atlanta Braves for three prospects.

Hank Aaron Joins Group Pursuing Hawks Ownership

Jan 12

ESPN senior basketball writer Marc Stein discusses Hank Aaron's interest in buying the Atlanta Hawks.

Padres Complete Big Three With Upton Trade

Dec 19

Buster Olney discusses the excitement surrounding San Diego's new outfield after the Padres made deals to acquire Wil Myers, Matt Kemp and Justin Upton.