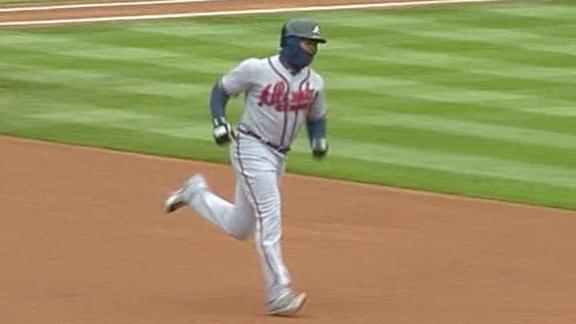 Updated Apr 23
Share
Tweet
In the coldest Major League game played in Colorado, the ball was flying like a balmy midsummer slugfest. Atlanta scored all of its runs on a trio of long balls, besting the Rockies, 4-3, in a game where the temperature never climbed out of the 20s.
Updated Apr 23

Share Tweet

Baseball's hottest teams played in Coors Field's coldest weather.

Source:

ESPN.com

Pastornicky recalled as Braves cover for Heyward

Updated Apr 23

Share Tweet

With Jason Heyward undergoing a smooth appendectomy Monday night, the Braves on Tuesday placed him on the 15-day disabled list and called up shortstop Tyler Pastornicky from Triple-A Gwinnett.

Source:

MLB.com

Updated Apr 23

Share Tweet

Atlanta Braves right fielder Jason Heyward was placed on the 15-day disabled list on Tuesday after an appendectomy.

10 Minutes With Braves Pitcher Paul Maholm

Updated Apr 23

Share Tweet

"There was a start last June, in Arizona, and ... " Paul Maholm started to laugh before I could finish the sentence. In general, the first 14 start...

Source:

grantland.com

The GM's Office: Mark Of A Master

Apr 23

Braves GM Frank Wren stops by the GM's Office to break down how he pulled off the deals to get brothers Justin and B.J. Upton.

Braves Hold Off Rockies In Game 1

Apr 23

Justin Upton hits his 10th home run in the Braves' win.

Buster Blog: Heyward Has Appendectomy

Apr 23

Buster Olney blogs about Atlanta OF Jason Heyward's appendectomy, 1B Freddie Freeman's return from the DL, and C Brian McCann's rehab from offseason shoulder surgery.

Upton Brothers Hit Back-To-Back Homers

Apr 23

Brothers B.J. and Justin Upton hit back-to-back homers, leading the Braves to a sweep of the Rockies in a day-night doubleheader.