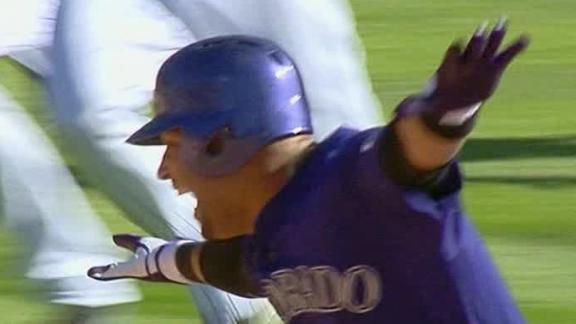 ESPN.com
Updated Apr 24, 2013
Wilin Rosario scored from second on Yorvit Torrealba's single to left and the Colorado Rockies rallied to beat the Atlanta Braves 6-5 in 12 innings on Wednesday.
Share
Tweet
'Ball's Not Dropping In Our Favor'

CNNSI.com

Apr 24, 2013

The Nationals are struggling, as they fell to 10-11 after Wednesday's loss to the Cardinals. Now, they must shake off the bad start and look towards tomorrow, writes Thomas Lake.

Share Tweet

B.J. and Justin Upton homered in consecutive at-bats for the first time with the Braves, a feat that brothers had not accomplished in the Majors since 1938.

Share Tweet

Rockies Walk Off In 12

Apr 24

Down 5-3 going into the ninth inning, the Rockies scored three unanswered runs to defeat the Braves in 12 innings 6-5.

Sports Columnists

Clayton: Thrill of skill positions will wait in draft

Apr 24

Tackles and guards will take precedence over skill positions early in the draft, writes John Clayton.

Derrick Rose of Chicago Bulls shouldn't be second-guessed for not playing

Apr 24

Those who criticize Derrick Rose for not playing should consider the risk of returning too soon from ACL surgery.