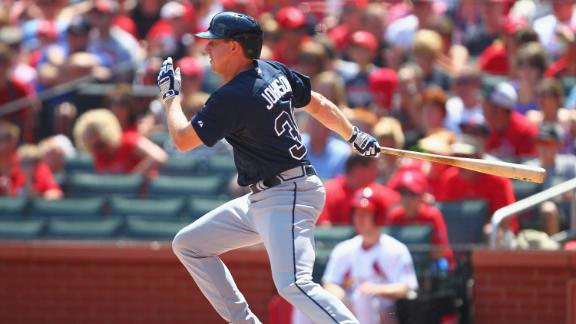 Prado delivers on promise to special-needs fan

Updated Aug 25

Share Tweet

His first name is Josh. D-backs third baseman Martin Prado doesn't know his last name, only that he's a special-needs Phillies fan whom he became acquainted with five or six years ago, when Prado was still with the Braves.

Injuries dictate unusual Braves lineup in finale

Updated Aug 25

Share Tweet

Justin Upton, Freddie Freeman and Andrelton Simmons were the only members of Sunday's Braves lineup who had made more than 34 starts for Atlanta this year.

Miller, early blasts boost Cards into tie for first

Updated Aug 25

Share Tweet

Home runs are coming with more frequency these days for St. Louis, and on Saturday night, a pair of solo shots behind Shelby Miller's strong performance laid the foundation for the Cardinals to take a 6-2 win over the Braves.

Braves Top Cardinals, Avoid Sweep

Aug 25

Andrelton Simmons hit a solo home run and the Braves beat the Cardinals 5-2 to avoid a four-game sweep.