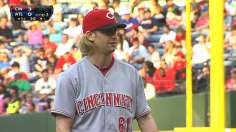 MLB.com
Updated Jul 12, 2013
Bronson Arroyo threw seven terrific innings, limiting the Braves to one run and three hits in a 4-2 win over Atlanta on Friday night. The Reds put up three runs in the first inning.
Share
Tweet
MLB.com

Jul 12, 2013

One night after Jason Heyward left after just two innings with a strained right hamstring, the Braves lost another starting outfielder to injury early in Friday night's game against the Reds when center fielder B.J. Upton left in the first inning with a…

Share Tweet

ESPN.com

Jul 12, 2013

Braves outfielder Jason Heyward says his strained right hamstring feels better and he's hoping to avoid the disabled list.

Share Tweet

yahoo.com

Jul 12, 2013

The Juice returns for season No. 6! It's almost eligible for free-agency! Stop by daily for news from the action, along with great photos, stats, video highlights and more. Freddie Freeman made the people who elected him to the National League All-Star …

Share Tweet

Braves Lose Upton Brothers

Jul 12

Baseball Tonight breaks down what the loss of B.J. and Justin Upton would mean to the Braves.

Sports Columnists

Toe injury forces Dallas Mavericks to shelve Devin Harris deal, sources sa…

Jul 12

The Dallas Mavericks have been forced to amend their plan to bring back former Mavericks stalwart Devin Harris after X-rays unexpectedly revealed that Harris has a dislocated toe on his left foot, according to sources close to the situation.

Sources: Ellis finds home with Mavericks

Jul 12

The Dallas Mavericks have struck a free-agent deal with guard Monta Ellis, according to sources close to the process.