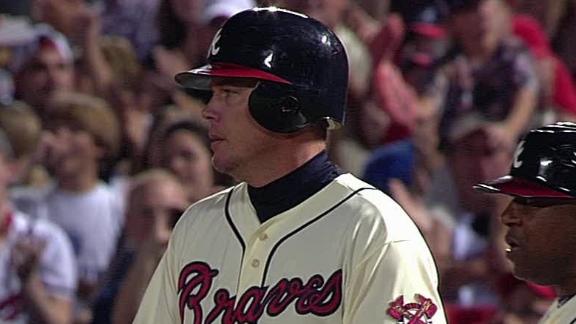 Mike Minor threw six strong innings, Dan Uggla broke it open with a two-run single and the Braves denied Gio Gonzalez his 20th win, completing a sweep of the first-place Nationals 2-1 on Sunday night.
Share
Tweet
Morse won't play until he can take full BP

Michael Morse has been forced to become a spectator for this weekend's series against the Braves, and there's no guarantee he'll be back in the lineup when the Nationals return home Tuesday to play the Dodgers.

Share Tweet

Nationals rookie Bryce Harper and Braves veteran Chipper Jones formed a bond of mutual respect earlier this season when they found themselves among the candidates for the final spot on this year's All-Star team in the Final Vote. Both eventually made th…

Share Tweet

Fredi making sure key relievers remain fresh

After last September's collapse, Braves manager Fredi Gonzalez vowed he would keep his key relievers fresh for this season's pennant race. Gonzalez stuck to his plan, and closer Craig Kimbrel and left-handed setup men Eric O'Flaherty and Jonny Venters e…

Share Tweet

Brian McCann will be available to pinch-hit, but because he is still dealing with some discomfort on the left side of his right knee, the veteran catcher will be out of the Braves' starting lineup for at least a couple of more days.

Share Tweet

Sports Columnists

Don Banks: Seahawks punish Cowboys physically in Wilson's first win

Sep 16

SEATTLE -- At its most fundamental and basic, football is about imposing your will on an opponent. You can do that at times schematically or mentally in the course of a game, but it's always the most fun, players say, when you do it physically. At least…

Hollinger: 2012-13 Bulls Player Profiles

Sep 16

Check out John Hollinger's player scouting reports and 2012-13 projections for the Bulls.