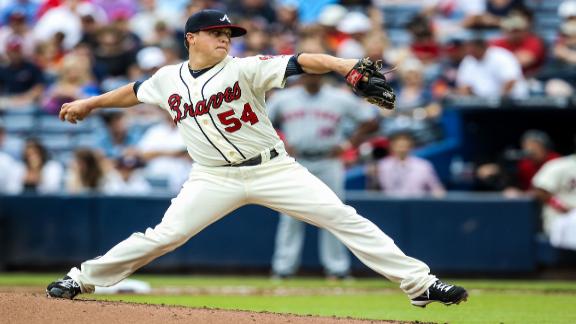 Braves' Path to the Postseason: Oct. 1, 2012

For at least one more day, the Braves kept their hopes for a National League East title alive. Their 6-2 victory against the Mets on Sunday, combined with the Cardinals' 10-4 win over the Nationals, kept Washington's magic number for clinching the divis…

Share Tweet

Bourn returns to lineup after missing past week

Center fielder Michael Bourn was a late addition to the Braves' lineup Sunday afternoon. When the lineup was first posted, Bourn was not listed. But about 80 minutes before the first pitch, the Braves announced Bourn would start, replacing Jose Constanz…

Share Tweet

Minor turns attention to potential postseason start

Left-hander Mike Minor walked off the mound in the seventh inning Saturday night to a rousing ovation from the 48,310 fans at Turner Field. He hadn't allowed the Mets to score in 6 1/3 innings, and the Braves went on to secure his 11th victory. Now, his…

Share Tweet

Braves Win 23rd Straight With Medlen As Starter

Sep 30

The Braves beat the Mets 6-2 on Sunday. The win marks the 23rd straight time Atlanta has won with pitcher Kris Medlen as the starter, the longest streak in modern-era major league history.