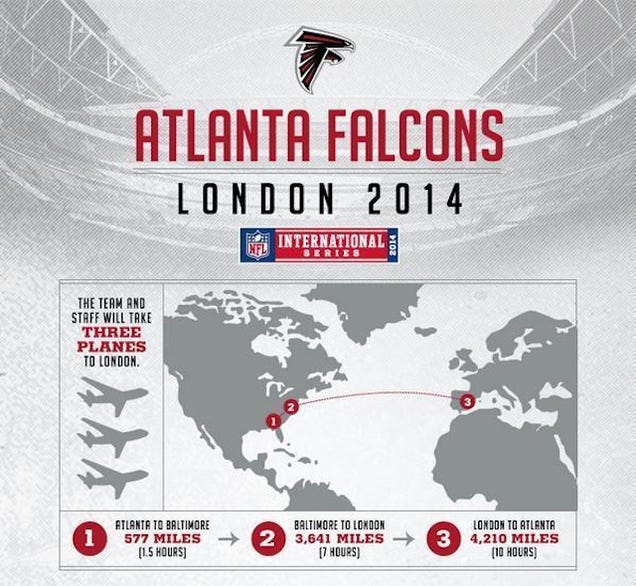 deadspin.com
yahoo.com
Updated 17 hours ago
To give Falcons fans an inside look on the team's journey across the pond for this weekend's game against the Lions, the team has posted an infographic detailing the travel schedule. It ... has at least a couple mistakes.Read more...
Upvote
Share
Tweet
Julio Jones (ankle) limited as practice begins in London

ESPN.com

16 hours ago

Atlanta Falcons wide receiver Julio Jones, still recovering from an ankle injury, continued his usual routine of being limited to start the week during Wednesday's practice in London. Jones' ankle typically is sore early in the week and fine by game tim…

Upvote Share Tweet

Julio Jones: Offensive turnaround "starts with me"

profootballtalk.com

18 hours ago

The Falcons are in London for a date with a very stingy Lions defense, which is hardly what the doctor ordered after Atlanta managed to score just two touchdowns in the last two weeks. That's not going to cut it for a team that isn't very good on the de…

Upvote Share Tweet

Matt Ryan remains optimistic but knows offense must get back on track

ESPN.com

19 hours ago

Matt Ryan addressed the media in London Wednesday as the Atlanta Falcons began preparation for Sunday's matchup against the Detroit Lions. And Ryan expressed optimism despite the team's 2-5 record and current four-game losing streak. "We're in a po…

Upvote Share Tweet

Roddy White still not happy with his play

One would have figured Atlanta Falcons receiver Roddy White would feel a little bit more comfortable with his performance after an nine-catch, 100-yard, one-touchdown outing against Baltimore last week. But that wasn't the case. White, who said leading …

Upvote Share Tweet

The Film Don't Lie: Falcons

A weekly look at what the Atlanta Falcons must fix: As the Falcons prepare to face the league's top-ranked defense in the Detroit Lions Sunday in London, they know pressure will come at Matt Ryan from every direction. Ryan was pressured on a season-high…

Upvote Share Tweet

A couple games ago, Atlanta Falcons coach Mike Smith talked about how winning the NFC South would be the "cleanest" way for his team to make the playoffs despite a slow start. Well, now the Falcons sit at 2-5 and are in the midst of a four-gam…

Upvote Share Tweet

ESPN.com profootballtalk.com

Oct 20 (2 days ago)

This was supposed to be the season Matt Ryan got the type of protection he needed to be the elite quarterback he's capable of being. Instead, it's become a next-man-up scenario almost every week along the offensive line. The Atlanta Falcons shelved yet …

Upvote Share Tweet

Lions add Kellen Davis

profootballtalk.com

Oct 20 (3 days ago)

Kellen Davis will continue his NFL career in London. Technically. As the Lions prepare to face the Falcons at Wembley Stadium on Sunday, Detroit has added the veteran tight end to the roster. A pair of tight ends missed Sunday's win over the Saints. Jos…

Upvote Share Tweet

nytimes.com ESPN.com profootballtalk.com

Oct 19 (4 days ago)

The Baltimore Ravens showed they can still win games with their defense.

Upvote Share Tweet

Ravens rolling the Falcons 20-0 to start the second half

The Ravens haven't been good, but the Falcons can't get out of their own way. The Ravens just went up 20-0 to start the third quarter, thoroughly dominating the Falcons throughout the day. The Falcons gained just 61 yards and four first downs in the fir…

Upvote Share Tweet

Earlier this season, the Falcons were forced to use tight end Levine Toilolo as their right tackle after injuries ate up all of their depth on the offensive line. The Vikings are playing without two of their starting offensive linemen in the first quart…

Upvote Share Tweet

Every week we'll bring you all the inactives from the early games in one post, constantly updated with the latest information. So check back often to see the full list as it becomes available. Falcons at Ravens Falcons: WR Harry Douglas Ravens: DE Chris…

Upvote Share Tweet

It's a Ryan-Flacco Reunion for Falcons vs Ravens

nytimes.com

Oct 18 (5 days ago)

Joe Flacco and Matt Ryan, the two best quarterbacks to come out of the 2008 draft, see more of each other on the dinner circuit than on the football field.

Upvote Share Tweet

Harry Douglas (foot) ruled out again

ESPN.com

Oct 17 (6 days ago)

FLOWERY BRANCH, Ga. -- Atlanta Falcons receiver Harry Douglas was ruled out of Sunday's game at Baltimore as he continues to recover from a deep bruise in his left foot. Douglas suffered the injury in a Week 3 win over Tampa Bay and now will miss his fo…

Upvote Share Tweet

Steven Jackson mindful of milestones as he nears 11,000 rushing yards

ESPN.com

Oct 17 (6 days ago)

FLOWERY BRANCH, Ga. -- Atlanta Falcons running back Steven Jackson would take a win over any individual accomplishment, but he is mindful of new milestones. With Jackson just 56 yards away from 11,000 rushing yards, he reflected on some of the other mar…

Upvote Share Tweet

profootballtalk.com

Oct 16 (6 days ago)

Ravens special teams coordinator Jerry Rosburg says that as he prepares to face the Falcons and Devin Hester on Sunday, he's not planning to wave the white flag of surrender and kick high and short or out of bounds to avoid giving Hester a chance to run…

Upvote Share Tweet

FLOWERY BRANCH, Ga. -- Roddy White didn't make any excuses. Instead, the veteran Atlanta Falcons wide receiver pointed the finger at himself. White knows he hasn't been the same player so far this season. He hasn't gotten into a rhythm. He's had some un…

Upvote Share Tweet

Arthur Blank wants Antone Smith to be a Falcon for years to come

Antone Smith's outstanding performance has caught the eye of the most important person in the Atlanta Falcons organization. Team owner Arthur Blank couldn't stop raving about Smith, who has a team-leading five touchdowns while averaging 51 yards per sco…

Upvote Share Tweet

When the Atlanta Falcons play at the Baltimore Ravens, it will mark only the second time that the two most accomplished Class of 2008 quarterbacks go head-to-head. The Ravens' Joe Flacco has a Super Bowl ring and the most victories of any quarterback (7…

Upvote Share Tweet

NFL Live Prediction: Lions-Falcons

Oct 22

The NFL Live crew make their picks for Detroit at Atlanta.

Falcons Lose Another Lineman

Oct 20

Eric Allen discusses the injury to Falcons backup center Peter Konz and how difficult it is to make a replacement at that position.

Game Balls: Atlanta at Baltimore

Oct 19

Ravens reporter Jamison Hensley's game ball goes to pass-rusher Pernell McPhee, who forced a fumble on a sack of Matt Ryan in the red zone. Jonathan Massaquoi gets the honor from Vaughn McClure after his six tackles.

Sunday Blitz: Falcons-Ravens Recap

Oct 19

Jim Basquil and Merril Hodge break down the Ravens' 29-7 win over the Falcons.