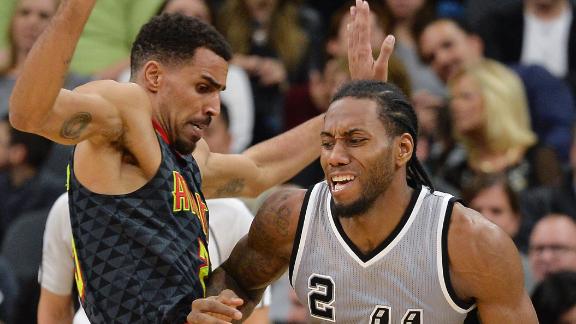 yahoo.com

Nov 26 (4 days ago)

NBA referees do not like to have their personal space invaded by coaches and players. That became perfectly obvious earlier this week, when the National Basketball Referee's Association criticized the NBA for punishing Atlanta Hawks head coach Mike Bude…

Share Tweet

When you're honoring a player and personality as outsized as Dikembe Mutombo — excuse me: Dikembe Mutombo Mpolondo Mukamba Jean-Jacques Wamutombo — you've got to break out the big guns. The Atlanta Hawks did just that Tuesday, not only retiring the No. …

Share Tweet

yahoo.com

Nov 24 (5 days ago)

The New York City Civilian Complaint Review Board ruled Monday that the New York Police Department officers who arrested Atlanta Hawks swingman Thabo Sefolosha outside of a Manhattan nightclub in April had no cause to do so. The board, however, stopped …

Share Tweet

Hawks coach Mike Budenholzer apologized Monday for bumping an official, an incident that drew a $25,000 fine from the NBA and led to a call from the referees' union that he be suspended.

Share Tweet

The Sacramento Kings will be without their best player for Thursday's matchup with the Miami Heat at American Airlines Arena. The NBA announced Thursday afternoon that DeMarcus Cousins has been suspended one game for "hitting Atlanta Hawks forward …

Share Tweet

Hawks again without Teague, Bazemore vs. Kings

nba.com

Nov 18

The Atlanta Hawks were again short-handed Wednesday night, going against the Sacramento Kings without starters Jeff Teague and Kent Bazemore.

Share Tweet

Hawks coach Mike Budenholzer was back with the team Sunday night after missing one game because of his wife's undisclosed medical emergency.

Share Tweet

Pelicans' Davis (hip injury) sits out vs Hawks

nba.com

Nov 11

New Orleans star Anthony Davis is sitting out Wednesday night's game against the Atlanta Hawks because of a bruised right hip.

Share Tweet

For most of its runtime, Monday night's matchup between the Minnesota Timberwolves and Atlanta Hawks at Philips Arena looked headed for arguably the most unlikely result of the NBA season so far. The young and talented Wolves dominated the Hawks in the …

Share Tweet

yahoo.com

Nov 7

The New Orleans Pelicans entered this season tabbed by many to jump up the West standings, but early injuries, two games against the Golden State Warriors, and just plain-old bad performances helped them to a disappointing 0-4 start. Friday's home game …

Share Tweet

yahoo.com

Nov 4

Miami Heat swingman Gerald Green was hospitalized early Wednesday morning. The reasons why are not yet clear. The Heat issued a statement Wednesday afternoon confirming that the 29-year-old Green, who missed Tuesday's 98-92 loss to the Atlanta Hawks wit…

Share Tweet

yahoo.com

Nov 4

The Atlanta Hawks entered the 2015-16 NBA season facing questions about what kind of encore they had in store after a magical campaign that featured a franchise-record 60 wins, the first Eastern Conference finals trip in team history, and an improbable …

Share Tweet

Westbrook, Thunder Topple Hawks

Mar 20

Russell Westbrook recorded his ninth triple-double of the season and the Thunder defeated the Hawks 123-115.

Birdmen

Mar 18

The Unexpected Virtue of Being Ignored

Shorthanded Warriors Rout Hawks

Mar 18

Highlight Of The Night: Playing without Klay Thompson, the Warriors improved to 31-2 at home with a 114-95 victory over the Hawks.

Iguodala Slams A One-Hand Dunk

Mar 18

Golden State Warriors forward Andre Iguodala led a fast break and dropped a crushing one-handed dunk.