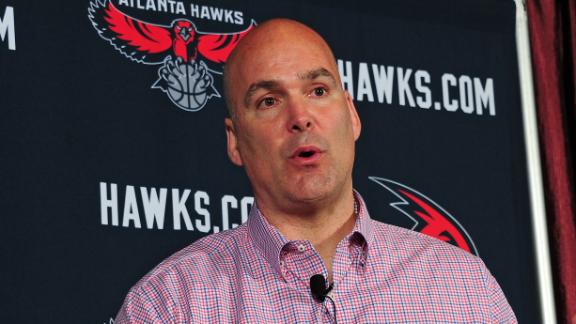 Mayor Kasim Reed said Tuesday he has already talked with six potential buyers of the Atlanta Hawks and expects a sale of the team to move quickly after racially charged comments by owner Bruce Levenson and general manager Danny Ferry.
Upvote
Share
Tweet
nba.com ESPN.com dimemag.com yahoo.com

Sep 13

The Atlanta Hawks released an open letter of apology to fans and city of Atlanta on Saturday, saying the organization ''did not do the right thing'' to correct racially inflammatory words and innuendos ''over a period of years.''

Upvote Share Tweet

Carmelo Anthony Says Nobody Would Want To Play For The Hawks

deadspin.com

Sep 13

The Atlanta Hawks haven't exactly been a free agent hot spot for NBA stars, and their recent scandal doesn't look like it will help, at least according to Carmelo Anthony:Read more...

Upvote Share Tweet

yahoo.com

Sep 10

The Atlanta Hawks, as Yahoo Sports' Adrian Wojnarowski reported in great detail on Wednesday afternoon, are an abject mess. The majority owner has announced plans to sell the team in the days following a corporate seppuku that resulted from the release …

Upvote Share Tweet

Report: The Hawks Front Office Is Eating Itself

deadspin.com

Sep 10

Yahoo's Adrian Wojnarowski has done some fantastic reporting that gives a much clearer look at just what the hell is going on with the Atlanta Hawks, a team that's seen owner Bruce Levenson ousted after sending a racist email , and minority owner Michae…

Upvote Share Tweet

The Atlanta Hawks cancelled a scheduled meeting between their CEO and city civil rights leaders Wednesday, prompting one of the group's leaders to say his community was greatly offended.

Upvote Share Tweet

Hawks GM Danny Ferry Takes Indefinite Leave Of Absence

Sep 12

Stephen A. Smith discusses Danny Ferry taking an indefinite leave of absence as general manager of the Atlanta Hawks.

The Atlanta Dilemma

Sep 10

Bomani Jones stops by to unpack this Atlanta Hawks scandal and what it means in the broader NBA picture.

Silver: Ferry's Comments Not Fireable

Sep 10

ESPN.com NBA writer Brian Windhorst breaks down NBA commissioner Adam Silver's statement that Hawks GM Danny Ferry should be fired for his comments about Luol Deng.

Hawks Owner To Sell Over Remarks

Sep 8

Stephen A. Smith and Skip Bayless react to Hawks owner Bruce Levenson planning on selling his controlling interest in the team over a racially insensitive email he sent in 2012.

Sports Columnists

All signs pointing upward for Chicago Bears, now 2-1 after beating New Yor…

Sep 22

At 2-1 after beating the New York Jets on the road, Chicago is winning now ... and could well get good later, Michael Wilbon writes.

Dirk Nowitzki of Dallas Mavericks experiments with faster shot release

Sep 22

Dirk Nowitzki's latest summer project has been speeding up his shot release.

Documentary on Dallas Mavericks star Dirk Nowitzki draws a big crowd in Ge…

Sep 19

The premiere of a documentary on Dirk Nowitzki drew teammates, ex-teammates, coaches and more all the way to Germany.