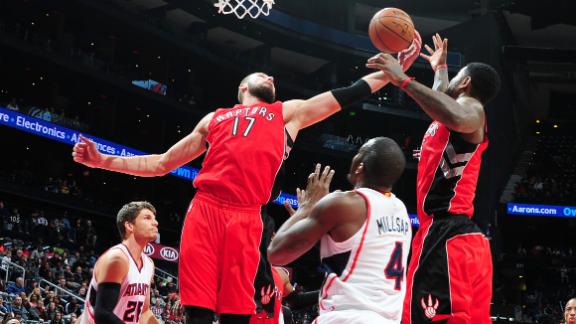 Ferguson protesters march at Hawks' game

nba.com

13 hours ago

Ten fans staged a peaceful protest of the Ferguson grand jury decision during the first half of Toronto's game at Atlanta.

Upvote Share Tweet

The NBA has changed several numbers after a rough night for the stats crew at the game between the Atlanta Hawks and Washington Wizards.

Upvote Share Tweet

yahoo.com

Nov 20 (7 days ago)

Dating back nearly one decade, when the Atlanta Hawks franchise wrapped its well-heeled arms around him, Joe Johnson's isolation-heavy style of play has been an NBA staple. "Iso Joe" plays on the Brooklyn Nets now, and though he's on his sixth coach in …

Upvote Share Tweet

Nick Young On Lakers Win: "It's Like My Swag Just Rubbed Off On Everybody"

dimemag.com

Nov 18

It's great to have you back, Nick Young. After helping the Los Angeles Lakers to 54 percent shooting in their 114-109 road win over the Atlanta Hawks in his 2014-2015 debut, Swaggy P said what we all were thinking: "It's like my swag just rubbed off on …

Upvote Share Tweet

Watch Paul Millsap Shake Carlos Boozer, Dunk On Top Of Jordan Hill

dimemag.com

Nov 18

Paul Millsap is the only Atlanta Hawk who showed up in the first half against the Los Angeles Lakers. Perhaps this awesome play will inspire his teammates to get going. Watch Millsap lose Carlos Boozer with a slick crossover and rise for a dunk on Jorda…

Upvote Share Tweet

Lakers' Young (thumb) will return vs. Hawks

ESPN.com

Nov 18

Los Angeles Lakers guard Nick Young will make his season debut Tuesday against the Hawks after missing nearly six weeks with a torn ligament in his right thumb.

Upvote Share Tweet

dimemag.com

Nov 16

The Cavs hit nine in a row to start their game against visiting Atlanta last night. They ended up hitting 11 in a row and 13-for-17 in the first half of their 127-94 cakewalk at home. LeBron James had three of them, Kevin Love and Joe Harris had two api…

Upvote Share Tweet

Dwyane Wade has been ruled out for Miami's game at Atlanta due to a strained left hamstring.

Upvote Share Tweet

nba.com

Nov 12

Atlanta Hawks forwards DeMarre Carroll and Mike Scott are sitting out against the Utah Jazz because of injuries.

Upvote Share Tweet

ESPN.com

Nov 8

Lance Stephenson made a 33-foot jump shot off the glass in double overtime to lift the Charlotte Hornets to a 122-119 victory over the Atlanta Hawks on Friday night.

Upvote Share Tweet

GIF: Block Of The Season? Cody Zeller Rises To Reject Jeff Teague With Two Hands

dimemag.com

Nov 7

Cody Zeller doesn't exactly protect the rim like Alonzo Mourning used to for the Charlotte Hornets, but that hardly means he's a traffic cone. Not only is the sophomore big man 6-11, but he's a remarkably explosive leaper from a stand-still – according …

Upvote Share Tweet

Hornets coach Steve Clifford says forward Michael Kidd Gilchrist will be back in the starting lineup Friday night when Charlotte faces the Atlanta Hawks.

Upvote Share Tweet

Spurs get 17th straight home win vs. Hawks

ESPN.com

Nov 6

Tim Duncan had 17 points and 13 rebounds, and the San Antonio Spurs held on to capture their 17th straight win at home over the Atlanta Hawks, 94-92 on Wednesday night.

Upvote Share Tweet

GIF: Josh Childress Levels Jesse Wagstaff With Airborne Elbow

dimemag.com

Oct 24

Former Hawks and Suns forward Josh Childress, who spurned an NBA contract to sign a $20 million contract in July of 2008 to play in Greece, is now playing for the Sydney Kings of the National Basketball League (NBL) in Australia. During a game against t…

Upvote Share Tweet

Hawks waive Eddie, Pittman, trim roster to 15

nba.com

Oct 21

The Atlanta Hawks have trimmed their roster to 15 players by waiving forward Jarell Eddie and center Dexter Pittman.

Upvote Share Tweet

GIF: Andre Drummond Twice Rejects Al Horford

dimemag.com

Oct 19

Andre Drummond brought the ruckus yesterday against in Atlanta. He had 19 points and 17 rebounds in 38 minutes of action as the Pistons won 104-100. With Al Horford making his return to the court from a pectoral tear, Dre decided to re-introduced himsel…

Upvote Share Tweet

yahoo.com dimemag.com

Oct 17

With 1.5 seconds remaining and the Chicago Bulls trailing by two, Jimmy Butler lost his defender, and Stacey King lost his mind. It's entirely acceptable to be amped up after watching Butler shed Atlanta Hawks guard John Jenkins (thanks, in part, to a J…

Upvote Share Tweet

Webber's group making play to buy Hawks

ESPN.com

Oct 16

A group led by Chris Webber has expressed interest in buying the Atlanta Hawks.

Upvote Share Tweet

yahoo.com

Oct 15

Mike Scott entered last season as a little-known reserve forward on the Atlanta Hawks, but began to earn some minutes and recognition midway through the campaign for his hand-in-glove fit as a defense-stretching, perimeter-shooting big man in head coach…

Upvote Share Tweet

Horford's return to Hawks comes Tuesday

ESPN.com

Oct 14

Forward Al Horford will return for the Hawks in Tuesday's preseason game against the Heat.

Upvote Share Tweet

Horford joins 5-on-5 drills, likes Hawks' depth

nba.com

Oct 8

Atlanta Hawks management had to spend too much of the offseason saying "We're sorry."

Upvote Share Tweet

yahoo.com

Oct 7

Let it never be said that Atlanta Hawks head coach Mike Budenholzer doesn't take after his old boss. After spending 17 years as an assistant with the San Antonio Spurs, serving the last six as the lead assistant and sounding-board for legendary coach Gr…

Upvote Share Tweet

Hawks Stun Wizards

Nov 25

The Hawks topped the Wizards 106-102 for their second straight win.

Teague Takes Flight

Nov 19

Hawks guard Jeff Teague drives in the lane and finishes with a slam versus the Lakers.

Kobe Happy To Have Young Back

Nov 18

After defeating the Hawks to capture their first road win of the season, Lakers guard Kobe Bryant said it felt good to have Nick Young back on the court.

Kobe Makes History In Lakers' Win

Nov 18

Kobe Bryant reached 32,000 career points in the Lakers' 114-109 win over the Hawks.