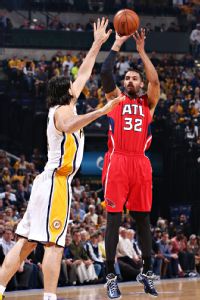 The Atlanta Hawks have re-signed guard Shelvin Mack, who general manager Danny Ferry says proved to be a good fit for coach Mike Budenholzer's system.

Upvote Share Tweet

Danny Ferry And The Transformation Of The Atlanta Hawks

dimemag.com

Aug 22

The Atlanta Hawks of the late 2000s and early 2010s were the laughing stock of the NBA. Entrenched in the dark confines of mediocrity, General Manager Rick Sund made one ill-timed move after another to maintain his big-name, slightly-above-average core …

Upvote Share Tweet

Comedian Creates NBA Team Names By Word Association. Now, There Are Logos.

dimemag.com

Aug 11

Last week, comedian Joe Mande decided to change the name of every NBA team based on the first thing he could think of for each city. He's posted them all on his website. Here's a sampling of what he came up with: Atlanta Stripclubs, Brooklyn Bloggers, C…

Upvote Share Tweet

ESPN.com dimemag.com

Aug 4

Team USA will on Tuesday formally announce the release of Washington Wizards guards John Wall and Bradley Beal and Atlanta Hawks forward Paul Millsap from its FIBA World Cup roster, sources with knowledge of the moves say.

Upvote Share Tweet

dimemag.com nba.com ESPN.com

Jul 28

Suddenly playing without LaMarcus Aldridge, Blake Griffin, and Kevin Love, USA Basketball desperately needed a viable interior presence capable of stretching the floor. Enter Paul Millsap. 24 hours after saying Team USA had no plans to make any last min…

Upvote Share Tweet

Hawks sign first-round pick Payne

nba.com

Jul 25

The Atlanta Hawks have signed power forward Adreian Payne, the team's first-round pick last month.

Upvote Share Tweet

Hawks acquire Sefolosha in sign-and-trade

nba.com

Jul 15

The Atlanta Hawks completed a sign-and-trade deal with the Oklahoma City Thunder that will bring guard/forward Thabo Sefolosha to Atlanta, as well as the draft rights to Giorgos Printezis, in exchange for the draft rights to Sofoklis Schortsanitis, it w…

Upvote Share Tweet

Kent Bazemore agrees to terms with the Atlanta Hawks

ESPN.com

Jul 11

Free-agent swingman Kent Bazemore has agreed to terms on a new deal with the Atlanta Hawks, according to sources close to the process.

Upvote Share Tweet

Hawks request waivers on Salmons to clear cap room

nba.com

Jul 11

The Atlanta Hawks have requested waivers on forward John Salmons.

Upvote Share Tweet

Hawks sign swingman Sefolosha

nba.com

Jul 10

The Atlanta Hawks opened free agency by formally announcing the signing of swingman Thabo Sefolosha.

Upvote Share Tweet

The Atlanta Hawks have reached an agreement with small forward Thabo Sefolosha on a deal that leaves the team sufficient salary cap room for additional offseason moves.

Upvote Share Tweet

nba.com ESPN.com dimemag.com

Jun 30

The Raptors have traded forward John Salmons to Atlanta for guard Lou Williams and the draft rights to center Lucas Nogueira.

Upvote Share Tweet

dimemag.com

Jun 24

LeBron James and Carmelo Anthony have been making national headlines together since ESPN aired a matchup between St. Vincent St. Mary's and Oak Hill Academy in February 2002. Carmelo's team beat LeBron's 72-66 in their first ever matchup, but James has …

Upvote Share Tweet

'Melo Expected To Meet With Long List Of Teams

dimemag.com

Jun 24

On Monday, Carmelo Anthony opted out of his contract with the New York Knicks. Teams cannot conduct official recruiting business until the clock turns midnight on July 1st, but that's not stopping them from getting a head start. According to reports, th…

Upvote Share Tweet

Magazine: How Heat, Spurs are playing in 3-D

CNNSI.com

Jun 12

The Lakers captured the 1983 Western Conference crown in San Antonio on May 20 and flew directly to Philadelphia the next morning. They had only a day to prepare for Game 1 of the NBA Finals, and coach Pat Riley put his players through a cram session at…

Upvote Share Tweet

CNNSI.com

Jun 12

This story appears in the June 16, 2014, issue of Sports Illustrated. To subscribe to the magazine here and purchase the digital edition, go here.

Upvote Share Tweet

Dime Q&A: The Teague Brothers Shine A Light On The City They Love

dimemag.com

Jun 9

The Teague brothers, Marquis and Jeff, provided a high level free basketball camp for boys grades 4-8 this past Saturday, June 7 at their Indianapolis Pike High School alma mater. Coming from the inner city, Jeff and Marquis Teague have banded together …

Upvote Share Tweet

Team USA Makes Cuts

Aug 4

ESPN's Brian Windhorst breaks down Team USA cutting John Wall, Bradley Beal and Paul Millsap from the team's roster.

Team USA Invites Paul Millsap

Jul 27

Amin Elhassan discusses Paul Millsap's invitation to join Team USA's training camp in Las Vegas.

Hawks Hold Off Warriors

Jul 16

Dennis Schroder scored a game-high 17 points in the Hawks' 68-65 win over the Warriors in summer league action.

Blazers Burn Hawks

Jul 15

C.J. McCollum scored a game-high 28 points in the Trail Blazers' 91-76 win over the Hawks.