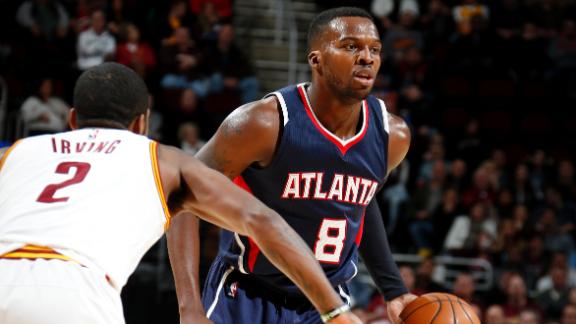 Watch LeBron James Drop Thabo Sefolosha With Ankle-Breaking Crossover

dimemag.com

Dec 17 (yesterday)

Thabo Sefolosha was bothering LeBron James, and The King didn't like it. How he reacted was flat-out cruel. Watch LeBron drop Sefolosha to the floor with an ankle-breaking crossover before finding Matthew Dellavedova for a three-pointer. We realize Jame…

Upvote Share Tweet

Cavs' Love to play; Hawks' Teague out

nba.com

Dec 17 (yesterday)

Cavaliers forward Kevin Love, who missed the team's morning shootaround with flu-like symptoms, will play against Atlanta.

Upvote Share Tweet

The Atlanta Hawks have hired Nzinga Shaw as the team's first chief diversity and inclusion officer.

Upvote Share Tweet

Hawks recall rookie Payne from Fort Wayne

nba.com

Dec 6

The Atlanta Hawks have recalled rookie center Adreian Payne from Fort Wayne of the NBA Development League.

Upvote Share Tweet

Deng injures hand, questionable for road trip

ESPN.com

Dec 3

Heat starting forward Luol Deng is considered questionable heading into the team's five-game road trip after he sustained a right hand injury during Wednesday's loss to the Atlanta Hawks.

Upvote Share Tweet

yahoo.com dimemag.com

Dec 3

After a promising 3-3 start capped by a victory over the Chicago Bulls a month ago, the Boston Celtics began blowing big leads on a near nightly basis. Their inability to close games has translated into eight losses in their last nine games, punctuated …

Upvote Share Tweet

Father & All-Star, Elton Brand, Has Seen It All During His 15-Year Career

dimemag.com

Nov 27

It's impossible not to picture the regal bearing of Elton Brand every time he drops another gem of knowledge on us. Whether it's about the game, or about life in general, there aren't many people — let alone professional athletes — who can offer up such…

Upvote Share Tweet

DeRozan, Raptors top Hawks for 6th straight

ESPN.com

Nov 26

DeRozan, Williams lead Raptors to 6th straight win

Upvote Share Tweet

Ferguson protesters march at Hawks' game

nba.com

Nov 26

Ten fans staged a peaceful protest of the Ferguson grand jury decision during the first half of Toronto's game at Atlanta.

Upvote Share Tweet

The NBA has changed several numbers after a rough night for the stats crew at the game between the Atlanta Hawks and Washington Wizards.

Upvote Share Tweet

yahoo.com

Nov 20

Dating back nearly one decade, when the Atlanta Hawks franchise wrapped its well-heeled arms around him, Joe Johnson's isolation-heavy style of play has been an NBA staple. "Iso Joe" plays on the Brooklyn Nets now, and though he's on his sixth coach in …

Upvote Share Tweet

Nick Young On Lakers Win: "It's Like My Swag Just Rubbed Off On Everybody"

dimemag.com

Nov 18

It's great to have you back, Nick Young. After helping the Los Angeles Lakers to 54 percent shooting in their 114-109 road win over the Atlanta Hawks in his 2014-2015 debut, Swaggy P said what we all were thinking: "It's like my swag just rubbed off on …

Upvote Share Tweet

Watch Paul Millsap Shake Carlos Boozer, Dunk On Top Of Jordan Hill

dimemag.com

Nov 18

Paul Millsap is the only Atlanta Hawk who showed up in the first half against the Los Angeles Lakers. Perhaps this awesome play will inspire his teammates to get going. Watch Millsap lose Carlos Boozer with a slick crossover and rise for a dunk on Jorda…

Upvote Share Tweet

Lakers' Young (thumb) will return vs. Hawks

ESPN.com

Nov 18

Los Angeles Lakers guard Nick Young will make his season debut Tuesday against the Hawks after missing nearly six weeks with a torn ligament in his right thumb.

Upvote Share Tweet

dimemag.com

Nov 16

The Cavs hit nine in a row to start their game against visiting Atlanta last night. They ended up hitting 11 in a row and 13-for-17 in the first half of their 127-94 cakewalk at home. LeBron James had three of them, Kevin Love and Joe Harris had two api…

Upvote Share Tweet

Dwyane Wade has been ruled out for Miami's game at Atlanta due to a strained left hamstring.

Upvote Share Tweet

nba.com

Nov 12

Atlanta Hawks forwards DeMarre Carroll and Mike Scott are sitting out against the Utah Jazz because of injuries.

Upvote Share Tweet

ESPN.com

Nov 8

Lance Stephenson made a 33-foot jump shot off the glass in double overtime to lift the Charlotte Hornets to a 122-119 victory over the Atlanta Hawks on Friday night.

Upvote Share Tweet

GIF: Block Of The Season? Cody Zeller Rises To Reject Jeff Teague With Two Hands

dimemag.com

Nov 7

Cody Zeller doesn't exactly protect the rim like Alonzo Mourning used to for the Charlotte Hornets, but that hardly means he's a traffic cone. Not only is the sophomore big man 6-11, but he's a remarkably explosive leaper from a stand-still – according …

Upvote Share Tweet

Hornets coach Steve Clifford says forward Michael Kidd Gilchrist will be back in the starting lineup Friday night when Charlotte faces the Atlanta Hawks.

Upvote Share Tweet

Spurs get 17th straight home win vs. Hawks

ESPN.com

Nov 6

Tim Duncan had 17 points and 13 rebounds, and the San Antonio Spurs held on to capture their 17th straight win at home over the Atlanta Hawks, 94-92 on Wednesday night.

Upvote Share Tweet

GIF: Josh Childress Levels Jesse Wagstaff With Airborne Elbow

dimemag.com

Oct 24

Former Hawks and Suns forward Josh Childress, who spurned an NBA contract to sign a $20 million contract in July of 2008 to play in Greece, is now playing for the Sydney Kings of the National Basketball League (NBL) in Australia. During a game against t…

Upvote Share Tweet

LeBron's Crossover Breaks Ankles

Dec 17

Cleveland Cavaliers forward LeBron James broke ankles with a crossover and dished the ball to guard Matthew Dellavedova for the open 3.

Hawks Fly By Cavs

Dec 17

Shelvin Mack made six 3-pointers in the Hawks' 127-98 win over the Cavaliers.

Hawks Fly By Bulls

Dec 15

Al Horford scored 21 points and grabbed 10 rebounds in the Hawks' 93-86 win over the Bulls.

Horford Getting In Groove

Dec 15

Following a win over the Bulls, Hawks center Al Horford said he is starting to get in a good rhythm on the floor.

Sports Columnists

Rajon Rondo trade from Boston Celtics to Dallas Mavericks 'on course' to h…

Dec 18

A source with knowledge of the Rajon Rondo trade talks says a "deal is on course to happen tonight."

Every NBA Team's Chance Of Winning A Title By 2019

Dec 18

I can see Madison Square Garden from my Manhattan apartment. This year, the arena installed along the exterior columns of the building -- blue, red a...

Rajon Rondo subject of Boston Celtics-Dallas Mavericks trade talks

Dec 17

The Boston Celtics, after years of flirting with potential Rajon Rondo deals, are in substantive discussions on a trade that would send Rondo to the Dallas Mavericks, according to league sources.