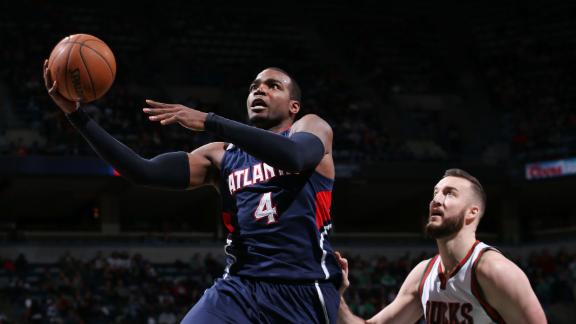 Paul Millsap helps Hawks beat Bucks 97-86
ESPN.com
Updated Feb 22 (6 days ago)
Paul Millsap had 23 points and 16 rebounds, Kyle Korver added 12 points and the Atlanta Hawks avoided their first three-game losing streak of the season with a 97-86 victory over the Milwaukee Bucks on Sunday.
Upvote
Share
Tweet
Leak in roof delays Mavericks-Hawks game

nba.com

Feb 25 (3 days ago)

A leaking roof at Philips Arena has caused a short delay in the first quarter of the game between the Dallas Mavericks and Atlanta Hawks.

Upvote Share Tweet

Raptors rout Hawks in meeting of East's best

ESPN.com

Feb 20

The matchup of the Eastern Conference's top teams was a rout as Toronto opened the second half of the season with a surprisingly lopsided 105-80 win over the Atlanta Hawks on Friday night.

Upvote Share Tweet

Ex-Atlanta mayor: Restore Ferry as Hawks GM

ESPN.com

Feb 17

Civil rights leader and former Atlanta mayor Andrew Young on Tuesday told an Atlanta television station that Danny Ferry should be allowed to rejoin the organization in his capacity as general manager.

Upvote Share Tweet

Hawks' Millsap replaces Pelicans' Davis in Degree Shooting Stars

nba.com

Feb 12

Atlanta Hawks All-Star forward Paul Millsap will replace injured All-Star forward Anthony Davis of the New Orleans Pelicans in the Degree® Shooting Stars during State Farm® All-Star Saturday Night on Feb. 14 at Barclays Center in Brooklyn, N.Y. In addit…

Upvote Share Tweet

The first time the Atlanta Hawks and Boston Celtics squared off this season, the Hawks came back from a 23-point deficit to beat Boston at Philips Arena behind stellar second halves from Kyle Korver, Al Horford and Dennis Schröder. After falling behind …

Upvote Share Tweet

yahoo.com

Feb 11

Despite the resurgence (or just surgence?) of the Cleveland Cavaliers and generally very impressive play of the Atlanta Hawks, the NBA's Eastern Conference remains fairly wide open. The East's eventual representative in the NBA Finals could depend on ma…

Upvote Share Tweet

yahoo.com

Feb 10

Mere hours after Dwyane Wade announced he'd miss the 2015 NBA All-Star Game due to injury, NBA Commissioner Adam Silver named his replacement on the Eastern Conference All-Star roster — Kyle Korver of the Atlanta Hawks. (Good thing he was going to be in…

Upvote Share Tweet

Hawks' Budenholzer suddenly becomes NBA's hottest coach

nba.com

Feb 10

Mike Budenholzer may coach one of the best teams in the NBA.

Upvote Share Tweet

nba.com

Feb 10

Adreian Payne came to Minnesota on Monday as a seldom-used member of the powerful Atlanta Hawks, languishing on the bench for one of the league's best teams.

Upvote Share Tweet

yahoo.com

Feb 9

With his rampaging Atlanta Hawks in Boston on Wednesday to meet the rebuilding Boston Celtics, Hawk legend Dominique Wilkins thought it as good a time as any to share a few Hawks/Celtics anecdotes with the Boston Herald. Wilkins, who currently serves as…

Upvote Share Tweet

dimemag.com

Feb 9

Tony Allen, Damian Lillard (Spruce Derden–USA TODAY Sports) The Memphis Grizzlies have the second best record in the brutally difficult Western Conference at 37-13 after knocking off the East-leading Hawks on Sunday. But Marc Gasol is the only player on…

Upvote Share Tweet

Grizzlies score final 8 points to topple Hawks

ESPN.com

Feb 8

Mike Conley had 21 points and six assists, Marc Gasol finished with 16 points and 10 rebounds and the Memphis Grizzlies beat the Atlanta Hawks 94-88 on Sunday.

Upvote Share Tweet

ESPN.com

Feb 7

The Hawks' showdown win over the Warriors kept the team riding one improbable and happy train in the ATL, Michael Wallace writes.

Upvote Share Tweet

yahoo.com

Feb 6

"Welcome to the Finals," joked Steve Kerr on Friday, when the Golden State Warriors' morning shootaround was crammed to the gills with a crush of media members much more commonly seen in mid-June than in early February. While you can understan…

Upvote Share Tweet

Watch Steve Kerr Video Bomb SportsCenter In Advance Of 'Dubs-Hawks

dimemag.com

Feb 6

We're so excited for tonight's matchup between the league's two best teams that we've grown something close to nervous. You'd think that first-year coach Steve Kerr, then, might be a bit on edge just hours before his 39-8 Golden State Warriors take on t…

Upvote Share Tweet

5-on-5: Hawks-Warriors NBA Finals preview?

ESPN.com

Feb 6

Is Friday's Hawks-Warriors matchup an NBA Finals preview? Our 5-on-5 panel weighs in.

Upvote Share Tweet

ESPN.com

Feb 5

The Atlanta Hawks were rewarded for the first 17-0 month in NBA history with another first on Wednesday -- all five starters were selected Eastern Conference players of the month for January.

Upvote Share Tweet

Shorthanded Hawks Edge Heat

Feb 28

Despite missing multiple starters, the Hawks held off the Heat 93-91 behind 22 points from Paul Millsap.

Hawks or Cavs?

Feb 28

Kevin Arnovitz and Amin Elhassan discuss which team is the best in the East, the Hawks or Cavs.

Hawks Hold Off Magic

Feb 27

Al Horford had 17 points and 13 rebounds in the Hawks' 95-88 victory over the Magic.

Jump Shots Win Championships

Feb 26

The opposite is the conventional wisdom, but teams like the Spurs and the Hawks are part of an evolving NBA where good shooting wins.