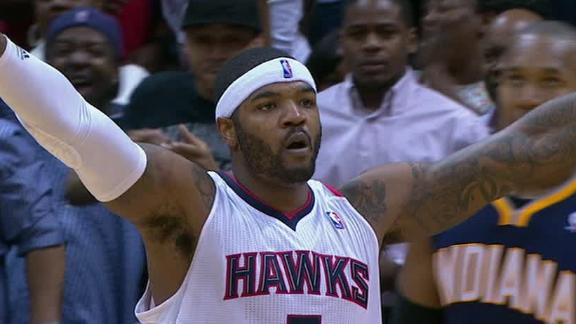 Hawks douse Pacers' rally to even series
ESPN.com
Updated Apr 29, 2013
Josh Smith scored 29 points as the Atlanta Hawks built a 17-point lead at halftime, then withstood an Indiana comeback over the final two quarters to even the series with a 102-91 victory in Game 4 on Monday night.
Upvote
Share
Tweet
Center Johan Petro has rejoined the Atlanta Hawks for Game 4 of the playoffs against the Indiana Pacers after witnessing the birth of his first child.

Upvote Share Tweet

P.J. Carlesimo on Joe Johnson's critics: 'I would call them uninformed or basketball unintelligent'

yahoo.com

Apr 29, 2013

It's hard to think of a time in NBA history when Joe Johnson hasn't been criticized for what he was making, or his potentially overstated value to a team. In 2005, when Johnson was a free agent being courted by the Atlanta Hawks, the contract and trad

Upvote Share Tweet

Hawks Even Series

Apr 29

Josh Smith's double-double of 29 points and 11 boards leads the Hawks to a 102-91 win over the Pacers.