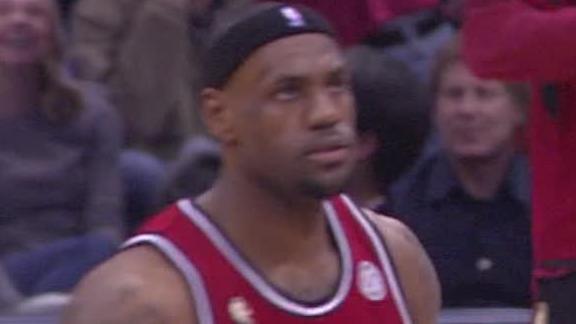 LeBron, Heat down Hawks for 8th straight win
Updated Feb 20
Share
Tweet
Miami scored the first 13 points of the fourth quarter to erase Atlanta's 10-point lead and the Heat, led by LeBron James' 24 points, beat the Hawks 103-90 on Wednesday night to extend their season-best winning streak to eight games.
Source:
ESPN.com
This Hawks Bro Is So Amped He Can Barely Move

Updated Feb 20

Share Tweet

Goldthwaitian is the only way I can describe this guy. He is so psyched he cannot properly form the usual manifestations of joy so he just kind of vibrates. More »

Source:

deadspin.com

Updated Feb 20

Share Tweet

Josh Smith is starting against the Miami Heat Wednesday night in what could be his final game with the Atlanta Hawks if any of the trade deadline talks involving the star forward become reality.

Sources:

nba.com ESPN.com dimemag.com

Updated Feb 20

Share Tweet

The NBA is one day ahead of its trade deadline. The featured prize is Atlanta Hawks forward Josh Smith. And I just don't get it. Smith is an unrestricted free agent this summer. He is a fantastic athlete with superb all-around skills and drive, and he"

Source:

yahoo.com

Heat Burn Hawks, 103-90

Feb 20

Heat down Hawks for eighth straight win.

Josh Smith Drawing Interest

Feb 20

Chris Broussard discusses which teams are interested in trading for Hawks SF Josh Smith and Tim Legler discusses which team is the best fit for Smith.