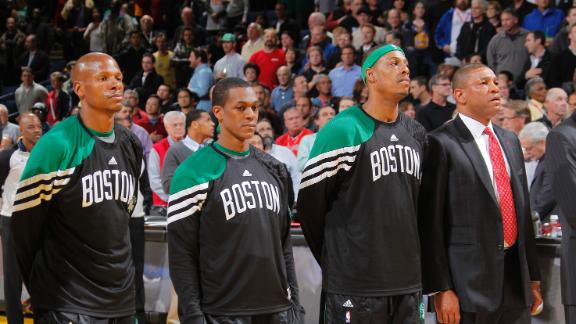 The NBA says a foul against Boston with 3.1 seconds left in Atlanta's season-ending loss on Thursday should have been called sooner, which would have given the Hawks a free throw instead of just the ball out of bounds.
Share
Tweet
nba.com yahoo.com dimemag.com

May 11, 2012

The Atlanta Hawks on Friday entered a painfully early start to their offseason of uncertainty.

Share Tweet

dimemag.com yahoo.com

May 11, 2012

Ivan Johnson doesn't go out quietly. When he played professionally in Korea, he was banned for life for making an "obscene gesture at a referee." That is a nice way of saying he dropped a middle finger on a ref over there and was subsequently the la

Share Tweet

KG to Hawks co-owner: Thanks for 'extra gas'

ESPN.com

May 11, 2012

Boston Celtics center Kevin Garnett opened his post-Game 6 news conference by firing a shot across the bow of Hawks co-owner Michael Gearon Jr. for derogatory comments he made about Garnett on Wednesday.

Share Tweet

Hawks vs. Celtics: Game 6

May 11

The Boston Celtics hang on to beat the Atlanta Hawks in Game 6 and will advance to face the Sixers in Round Two.