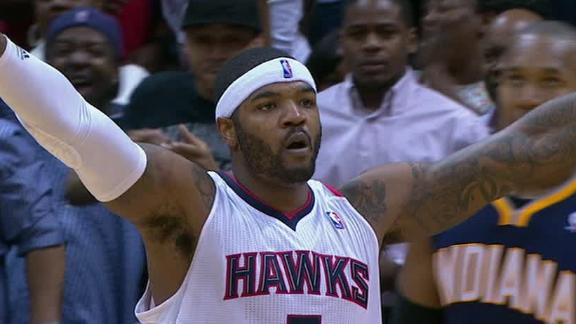 Andrelton Simmons hit a tiebreaking sacrifice fly in the seventh inning, then made an eye-popping play to start the ninth as the Atlanta Braves beat the Washington Nationals 3-2 on Monday night and ended their four-game losing streak.

Share Tweet

Simmons' sac fly pushes Braves past Nats

Andrelton Simmons' seventh-inning sacrifice fly proved decisive for the Braves as they snapped a four-game losing streak and remained perfect against the Nationals with Monday night's 3-2 win at Turner Field.

Share Tweet

After Minnesota's Mike Pelfrey spent five innings flustering the same Tigers offense that beat up on the Braves for three days, Prince Fielder changed the theme with one dramatic sixth-inning swing. His three-run home run put the Tigers on track for the…

Share Tweet

Ravens among nine teams starting rookie minicamps Friday

profootballtalk.com

Apr 29, 2013

The NFL's version of freshman orientation commences Friday for nine clubs, each of whom will have its rookies in for minicamp practices at its facilities. The Ravens, Falcons, Jaguars, Dolphins, Vikings, Patriots, Steelers, Buccaneers and Redskins will

Share Tweet

Center Johan Petro has rejoined the Atlanta Hawks for Game 4 of the playoffs against the Indiana Pacers after witnessing the birth of his first child.

Share Tweet

Heyward still feeling effects of appendectomy

Jason Heyward returned to Turner Field on Monday feeling sore, fatigued and fortunate that members of the Braves medical staff took him to a Denver hospital last week before his appendix burst.

Share Tweet

P.J. Carlesimo on Joe Johnson's critics: 'I would call them uninformed or basketball unintelligent'

yahoo.com

Apr 29, 2013

It's hard to think of a time in NBA history when Joe Johnson hasn't been criticized for what he was making, or his potentially overstated value to a team. In 2005, when Johnson was a free agent being courted by the Atlanta Hawks, the contract and trad

Share Tweet

Draft review: Atlanta Falcons

profootballtalk.com

Apr 29, 2013

After analyzing the draft needs of all 32 teams, PFT will review how well each team addressed those needs. Up next: The Atlanta Falcons. What they needed: Defensive end, cornerback, linebacker, offensive tackle, guard. Who they got: Round 1: Desmond Tru…

Share Tweet

The NFL draft has come and gone. Overall, the NFC South teams did a good job of addressing their needs. But no team is perfect. Let's take a look at one area for each team that still could use some work: Atlanta Falcons: They fortified the situation at

Share Tweet

Braves Slip Past Nationals 3-2

Apr 29

The Braves beat the Nationals for the eighth straight time, dating back to last season.

Hawks Even Series

Apr 29

Josh Smith's double-double of 29 points and 11 boards leads the Hawks to a 102-91 win over the Pacers.

NFC South draft grades

Apr 29

Shaun O'Hara and Donovan McNabb evaluate how the NFC South did in the 2013 NFL Draft and hand out grades.

Baseball Tonight Spotlight

Apr 29

The Braves beat the Nationals for the eighth straight time, dating back to last season.