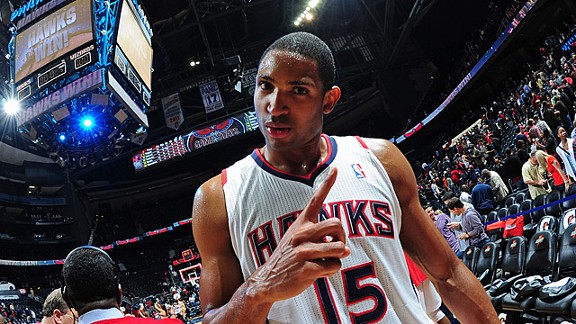 ESPN.com
Updated Dec 4, 2012
After a summer of moves, Atlanta is off to a surprising start, writes Brian Windhorst.
Share
Tweet
Atlanta Falcons: Ex-Chief Mike Cox was friend of Belcher, coping with events

ajc.com

Dec 4, 2012

Atlanta Falcons running back Mike Cox comes off the field after cutting his nose during the first half of an NFL preseason football game against the Jacksonville Jaguars, Thursday, Aug. 30, 2012, in Jacksonville, Fla. (AP Photo/Stephen Morton) FLOWERY B…

Share Tweet

Braves on the lookout for outfielder, bat off bench

MLB.com

Dec 4, 2012

While the baseball world continues to wonder where free-agent outfielders Josh Hamilton and Michael Bourn might land, the Braves feel even better about the fact that they signed their new center fielder, B.J. Upton, before arriving for this year's Winte…

Share Tweet

Depth Chart: Falcons could be at full strength for Carolina

ajc.com

Dec 4, 2012

081612 ATLANTA: Falcons defensive tackle Peria Jerry puts pressure on Bengals quarterback Andy Dalton at the Georgia Dome in Atlanta on Thursday, August 16, 2012. CURTIS COMPTON / FLOWERY BRANCH - Defensive tackle Peria Jerry, who missed the last two ga

Share Tweet

CNNSI.com

Dec 4, 2012

Tom Brady is in the midst of one of the great seasons any quarterback has ever produced -- yet again.

Share Tweet

ESPN.com

Dec 4, 2012

Let's take a look at some odds and ends from around the division: ATLANTA FALCONS After playing a Thursday night game, the Falcons altered their schedule. Coach Mike Smith gave the players the weekend and Monday off before returning to practice Tuesday.…

Share Tweet

yahoo.com profootballtalk.com

Dec 4, 2012

Long before the Falcons scrambled Drew Brees and the Saints last Thursday night, someone at the Atlanta's Hartsfield-Jackson Airport threw a little hot sauce on the Atlanta-New Orleans rivalry by egging the Saints' bus. Most of the Saints looked on the …

Share Tweet

Bucs, Falcons make most of injuries

ESPN.com

Dec 4, 2012

When a team's season goes bad, one common response is to point to injuries. Sometimes that holds merit and sometimes it doesn't. We don't have to look any further than the Carolina Panthers and Tampa Bay Buccaneers to see that. At least at the momen

Share Tweet

CNNSI.com

Dec 4, 2012

LANDOVER, Md. -- A few minutes after Washington's 17-16 victory over the Giants on Monday night made the NFC East a competition instead of a rout with four games to play, the raucous crowd of 80,000 at FedEx Field couldn't get enough of its hero. "…

Share Tweet

TrueHoop TV: Specialists

Dec 4

Amin Elhassan on some of the best specialists in the NBA today, including Tony Allen and Omer Asik.

TrueHoop TV: With Jeff Teague

Dec 4

Kevin Arnovitz chats with Atlanta Hawks point guard Jeff Teague about the Hawks' surprising start, Teague's increased production and Teague's sneaker obsession.