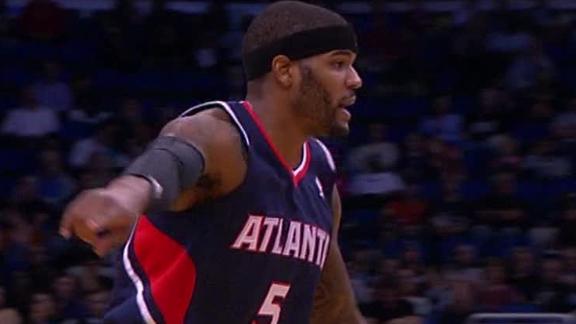 FLOWERY BRANCH - Pro Bowl wide receiver Roddy White suffered a minor knee injury and was held out of practice on Wednesday. He's expected to return to practice on Thursday, according to head coach Mike Smith. White, defensive tackle Jonathan Babineaux

Share Tweet

Greg Hardy not done with Falcons

ESPN.com

Dec 12, 2012

Carolina defensive end Greg Hardy missed an opportunity to gloat Sunday when he left the locker room before the media entered. But Hardy made up for it Wednesday. Hardy said last week the Panthers were a better team than the Falcons and he and his teamm…

Share Tweet

Atlanta Falcons: Giants QB Eli Manning Q-and-A

FLOWERY BRANCH—Excerpts from Giants quarterback Eli Manning's conference call today with Atlanta reporters. Q: What is about this team in December? It seems you turn it on. A: A lot of times we are in that situation where need to win games to get into

Share Tweet

Wren, Fredi take evaluation trip to Dominican

MLB.com

Dec 12, 2012

Braves general manager Frank Wren has been encouraged to hear and read about the success many of his players have experienced in winter leagues this year. This past weekend, he took manager Fredi Gonzalez and a few of his top front-office officials to t…

Share Tweet

profootballtalk.com ESPN.com

Dec 12, 2012

Panthers linebacker Luke Kuechly has been named the NFC's defensive player of the week, and it might not be the last honor coming his way. Kuechly had a career-high 16 tackles in the Panthers' 30-20 win over the Falcons, and leads the league with 130

Share Tweet

ESPN.com

Dec 12, 2012

New York Giants running back Ahmad Bradshaw has a sprained knee, which could keep him out of Sunday's game against the Atlanta Falcons.

Share Tweet

Time for a run through the Wednesday morning headlines from around the NFC South: ATLANTA FALCONS Mark Bradley makes an excellent point when he writes that the fact the Falcons already have clinched the NFC South title essentially puts them into another…

Share Tweet

By MICHAEL CUNNINGHAM FLOWERY BRANCH - All of a sudden payback is far down the list of motives for the Falcons when they play the Giants on Sunday at the Georgia Dome. After NFC also-ran Carolina smacked them last Sunday, the Falcons are just trying to

Share Tweet

NFL32OT: Redskins On Playoff Push

Dec 12

Episode 236: Robert Flores and Chris Mortensen discuss the Redskins playoff chances. Steve Young breaks down the biggest concerns for the Texans. The NFL32 crew discuss which wide receiver tandem will impact Sunday's Giants-Falcons game.

Road To The Superdome: Atlanta Falcons

Dec 12

Dan Graziano and Pat Yasinskas discuss what the Falcons need to do in order to reach the Super Bowl

Blogger Blitz: Giants-Falcons Preview

Dec 12

NFC East blogger Dan Graziano talks with NFC South blogger Pat Yasinskas about this weekend's game between the Giants and Falcons

Bradshaw May Miss Sunday's Game

Dec 12

ESPNNewYork.com's Ohm Youngmisuk discusses Ahmad Bradshaw's knee injury and the chances he'll play Sunday against the Falcons.