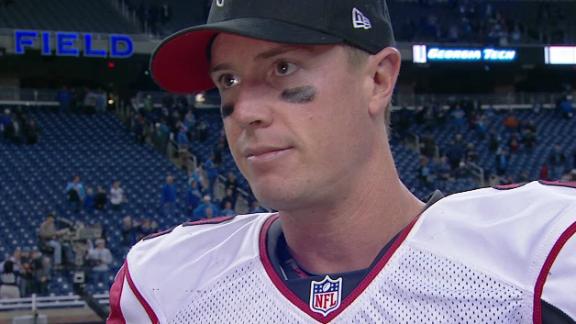 Updated Dec 22, 2012
Share
Tweet
The Atlanta Falcons have earned home-field advantage throughout the NFC playoffs.
Sources:
ESPN.com
profootballtalk.com
Megatron Breaks The Record And Lions Fans Aren't Sure How To Feel: Saturday Night Football, In Four GIFs

Updated Dec 22, 2012

Share Tweet

Atlanta 31, Detroit 18: The above moment of celebratory uncertainty came before Calvin Johnson broke Jerry Rice's single-season receiving yards record-it came during a Falcons timeout while the Lions were down, in fact, which meant the confusion was sor

Updated Dec 22, 2012

Share Tweet

DETROIT-Any opponent coming to the Georgia Dome in the playoffs will have to deal with the Falcons and their sizzling quarterback. Matt Ryan staggered the Lions early and finished them off late for a 31-18 Falcons victory Saturday night at Ford Field. T

Sources:

ajc.com profootballtalk.com ESPN.com

Updated Dec 22, 2012

Share Tweet

DETROIT -- Thoughts on the Atlanta Falcons' 31-18 victory against the Detroit Lions on Saturday night at Ford Field: What it means: The Falcons improved to 13-2 and clinched the home-field advantage in the NFC playoffs. I know what you're thinking -- th

Sources:

ESPN.com CNNSI.com profootballtalk.com

Updated Dec 22, 2012

Share Tweet

Times wires Saturday, December 22, 2012 DETROIT - Matt Ryan got what he wanted, helping the Falcons clinch homefield for the NFC playoffs. Calvin Johnson had to settle for a record-breaking night in another Lions loss.Ryan matched a career high with fou

Source:

tampabay.com

Hawks rout Bulls, snap two-game losing skid

Updated Dec 22, 2012

Share Tweet

Al Horford had 20 points and 10 rebounds, and every Atlanta starter scored in double figures as the Hawks routed the Chicago Bulls 92-75 on Saturday night to snap a two-game losing streak.

Updated Dec 22, 2012

Share Tweet

DETROIT -- I think I've just witnessed the most efficient half ever by an NFL quarterback. Matt Ryan was one throw away from being flawless. He completed 15 of 16 passes for 184 yards and three touchdowns as the Atlanta Falcons cruised to a 21-6 halftim

Updated Dec 22, 2012

Share Tweet

The Detroit Lions and Atlanta Falcons honored the victims of the shootings at Sandy Hook Elementary School with decals on their helmets Saturday night.

Saturday Night Football Open Thread: Drunk Off Eggnog Edition

Updated Dec 22, 2012

Share Tweet

There's football tonight! No, no-not Tivo'd Las Vegas Bowl, though that was a good game-NFL football, where they wear pads and get paid. Watch it with us, talk trash about the family members you see once every year on Christmas (*cough*), count the ma

Atlanta Falcons at Lions: Falcons safety William Moore to miss third straight game

Updated Dec 22, 2012

Share Tweet

DETROIT—Falcons safety William Moore (hamstring) will miss his third consecutive game. Chris Hope is starting in his place. The rest of Atlanta's inactives: Dominque Davis, Tim Toone, Phillipkeith Manley, Harland Gunn, Chase Coffman and Cliff Matthews

Source:

ajc.com

Blank Says Falcons Ready For 'Second Season'

Updated Dec 22, 2012

Share Tweet

It sounds already like Falcons owner Arthur Blank is proclaiming that his football team needs to get ready for the postseason — starting with their game vs the Lions. In this interview with 790 The Zone in Atlanta, Falcons owner Arthur Blank sounded ver

Source:

falconsgab.com

Live from Ford Field

Updated Dec 22, 2012

Share Tweet

DETROIT -- I'm here in the press box high above Ford Field. There are only a handful of Atlanta Falcons out on the field loosening up. Two other buses were waiting for more players and coaches when I left the team hotel. I'll be back with inactives (a

Updated Dec 22, 2012

Share Tweet

Every time the 76ers score over 100 points or more, each fan in attendance at the Wells Fargo center gets a free Big Mac. Last night, Doug Collins's team got the ball back with just under 24 seconds left in the game, up on the Hawks 99-80. The conundrum…

Dale Murphy Is Into LCD Soundsystem And Has No Idea How He Ended Up On The Rockies

Updated Dec 22, 2012

Share Tweet

Dale Murphy dropped by reddit yesterday to answer a few fan questions (perhaps as a way of rallying support before the December 31 Hall of Fame ballot, the last on which his name will appear, perhaps because he felt like it). Convivial and honest as usu…

Waiting for Saturday night

Updated Dec 22, 2012

Share Tweet

DETROIT -- I'm counting down the hours to Saturday night's game and so are the Atlanta Falcons. By pure coincidence, I'm staying at the same hotel as the Falcons. I was just downstairs and had a brief chat with quarterback Matt Ryan as he headed to

Lions Cut Falcons Lead

Dec 22

Tune to ESPN for live action.

Atlanta Falcons cornerback Asante Samuel picks off Matthew Stafford

Dec 22

Detroit Lions QB Matthew Stafford's pass intended for wide receiver Calvin Johnson is intercepted by Atlanta Falcons cornerback Asante Samuel at the Lions 42 yard line.

Atlanta Falcons quarterback Matt Ryan 1-yard touchdown pass

Dec 22

Atlanta Falcons QB Matt Ryan finds tight end Michael Palmer for a 1-yard touchdown, Ryan's fourth passing score of the game.

Hawks Cruise Past Bulls

Dec 22

Al Horford registered a double-double in Atlanta's 92-75 win against Chicago.

Sports Columnists

Dallas Mavericks, Derek Fisher agree to part ways, sources say

Dec 22

The Dallas Mavericks and Derek Fisher are parting company by mutual consent, team sources told ESPN.