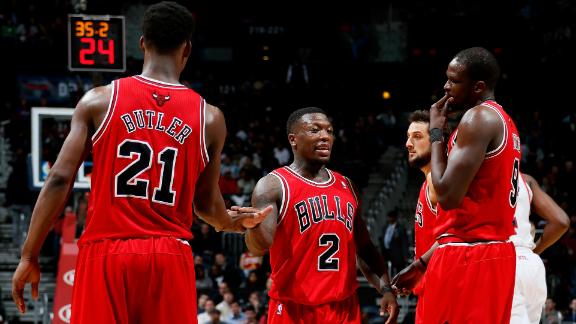 The Chicago Bulls will be without at least two starters against the Atlanta Hawks.
Share
Tweet
Earl Williams, 1971 NL Rookie of Year, dies at 64

CNNSI.com

Feb 2, 2013

Earl Williams, the 1971 National League Rookie of the Year, has died. He was 64.

Share Tweet

falconsgab.com ESPN.com

Feb 2, 2013

Falcons owner Arthur Blank didn't seem to take seriously a report that the Falcons would be moved to Los Angeles. Blank arrived in New Orleans Thursday night for a series of Super Bowl-related functions. In an interview with Jeff Schultz of the Atlanta

Share Tweet

White Says Falcons Will Use 'Bret Favre Tactics' to Lure Back Gonzlaez

falconsgab.com

Feb 2, 2013

During training camp in 2010, Vikings players Steve Hutchinson, Ryan Longwell and Jared Allen went to Hattiesburg, Miss. to convince Brett Favre to another season after they had lost to theSaints in the 2009 NFC Championship game. Chris Mortensen of ESP…

Share Tweet

The Atlanta Hawks have signed guard Jannero Pargo to a second 10-day contract.

Share Tweet

Short-handed Bulls Cruise Past Hawks

Feb 2

With starters Joakim Noah, Carlos Boozer, and Kirk Hinrich all sidelined due to injury, Luol Deng's double-double leads Bulls to 93-76 win over Hawks.