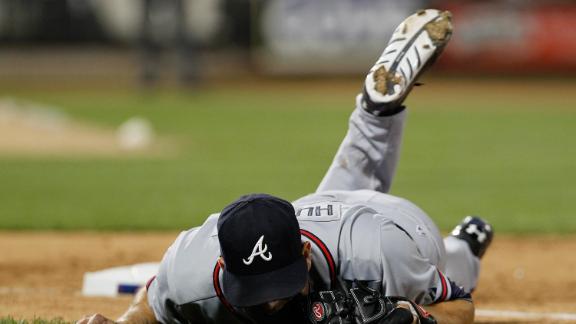 Any list of favorites for the 2013 NFL season includes the Falcons somewhere near the top of the list. It's nice for a coach to have a team like that in his locker, but Mike Smith also has to deal with the consequences should the Falcons fail to live up…

Share Tweet

NFC South afternoon update

FLOWERY BRANCH, Ga. -- I'm about to head out to watch the Atlanta Falcons practice. But, first, let's take a quick trip through the headlines from around the division: ATLANTA FALCONS Michael Cunningham writes that rookie cornerback Desmond Trufant had …

Share Tweet

FLOWERY BRANCH, Ga. -- One of the last hurdles for the Atlanta Falcons' proposed new stadium is deciding on an exact site. It's down to two locations, both near the Georgia Dome. The Falcons have said all along that the South site is the one they prefer…

Share Tweet

Considering he's admittedly a fan of the Falcons (at least 14 games per season), Panthers quarterback Cam Newton had to notice the contract fellow quarterback Matt Ryan signed yesterday. But noticing was about the extent of his reaction. "I didn't think…

Share Tweet

One key positional battle for each NFC South team as training camps get underway. Atlanta Falcons. The Falcons are pretty well set at the offensive skill positions, but one guy to keep an eye on in training camp and the preseason is running back Jacquiz…

Share Tweet

Julio Jones will be the next Falcon to get a big deal

Now that Matt Ryan has signed a long-term deal to remain with the Falcons, G.M. Thomas Dimitroff and company won't have to worry about giving out any more huge contracts. Until after the 2013 season. When the coming campaign ends, receiver Julio Jones w…

Share Tweet

Tony Gonzalez will be in and out of camp

FLOWERY BRANCH, Ga. -- Don't count on seeing much of Tony Gonzalez during training camp. The veteran tight end for the Atlanta Falcons was on the field as the team kicked off training camp Thursday, but he's not sticking around. Coach Mike Smith said he…

Share Tweet

nytimes.com

Jul 26, 2013

Quarterback Matt Ryan, 28, is entering the sixth and final season of his original rookie contract.

Share Tweet

Braves Snap Cardinals' Streak

Jul 26

The Cardinals' four-game winning streak ended with a 4-1 loss to the Braves.

'NFL AM' discusses Atlanta Falcons Matt Ryan's new contract, keeping him protected

Jul 26

Wes Durham joins "NFL AM" to talk how feelings were after Atlanta Falcons quarterback Matt Ryan signed his new contract and also how to address the issues at offensive line.

'NFL AM' talks Atlanta Falcons QB Matt Ryan's new contract

Jul 26

Atlanta Falcons play-by-play announcer Wes Durham joins "NFL AM" to discuss the mood after Matt Ryan signed his new contract, as well as how the team can address the issues on offensive line.

Atlanta Falcons QB Matt Ryan goes up against cornerback Asante Samuel

Jul 26

Brain Baldinger takes you through Atlanta Falcons individual drills as the wide receivers go up against the corners.