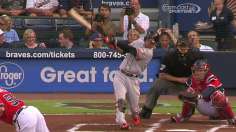 Braves general manager Frank Wren says Brandon Beachy is a little tender and won't make his 2013 debut on Tuesday as had been planned.

Share Tweet

nytimes.com

Jun 14, 2013

The 23-year-old Zack Wheeler, a Georgia native, will pitch the second game of a split doubleheader in Atlanta.

Share Tweet

Falcons sign second-round pick Robert Alford

profootballtalk.com

Jun 14, 2013

The number of unsigned 2013 draft picks continues to drop. The Falcons announced Friday that they have reached agreement on a contract with cornerback Robert Alford. Alford was the 60th overall pick in April and one of eight picks overall by the Falcons…

Share Tweet

Chandler Parsons talks to Dwight Howard 'a lot,' thinks his Rockets can sign him, isn't tampering

yahoo.com

Jun 14, 2013

The Atlanta Hawks, Houston Rockets, and Sacramento Kings were all recently fined by the NBA for tampering. Various outlets under each team's umbrella (a ticket promoter, a team website, the new coach of your Sacramento Kings) mentioned upcoming free age

Share Tweet

Tony Gonzalez excused from next week's minicamp

profootballtalk.com

Jun 14, 2013

The Falcons were willing to slow-play the recruitment of veteran tight end Tony Gonzalez, careful to give him time to make a decision to come back for another year. Likewise, they're going to give him even more time off. According to the team's offici

Share Tweet

ESPN.com

Jun 14, 2013

The major question facing each team in the division as summer break looms. Atlanta Falcons. Is the pass rush good enough? The Falcons replaced John Abraham with Osi Umenyiora. That might end up being something close to an even trade. But, just like when…

Share Tweet

CNNSI.com

Jun 14, 2013

Yasiel Puig has been dominating the batter-pitcher chess match, so Ben Reiter checked with a scout for the answer to one of the season's early mysteries: how to pitch to Puig.

Share Tweet

ESPN.com

Jun 14, 2013

Just a reminder that our weekly NFC South chat will be held Friday at 1 p.m. ET. This will be our last chat for a few weeks because I'll be taking a little time off before gearing up for training camps. Bring your questions on the Buccaneers, Falcons, P

Share Tweet

32 in 32: Atlanta Falcons

Jun 14

Will the addition of running back Steven Jackson help take the Atlanta Falcons' offense to the next level? Heath Evans breaks it down on "NFL Total Access."

Bumgarner Shuts Down Braves

Jun 14

Madison Bumgarner struck out 10 batters over seven scoreless innings to lead the Giants past the Braves 6-0.