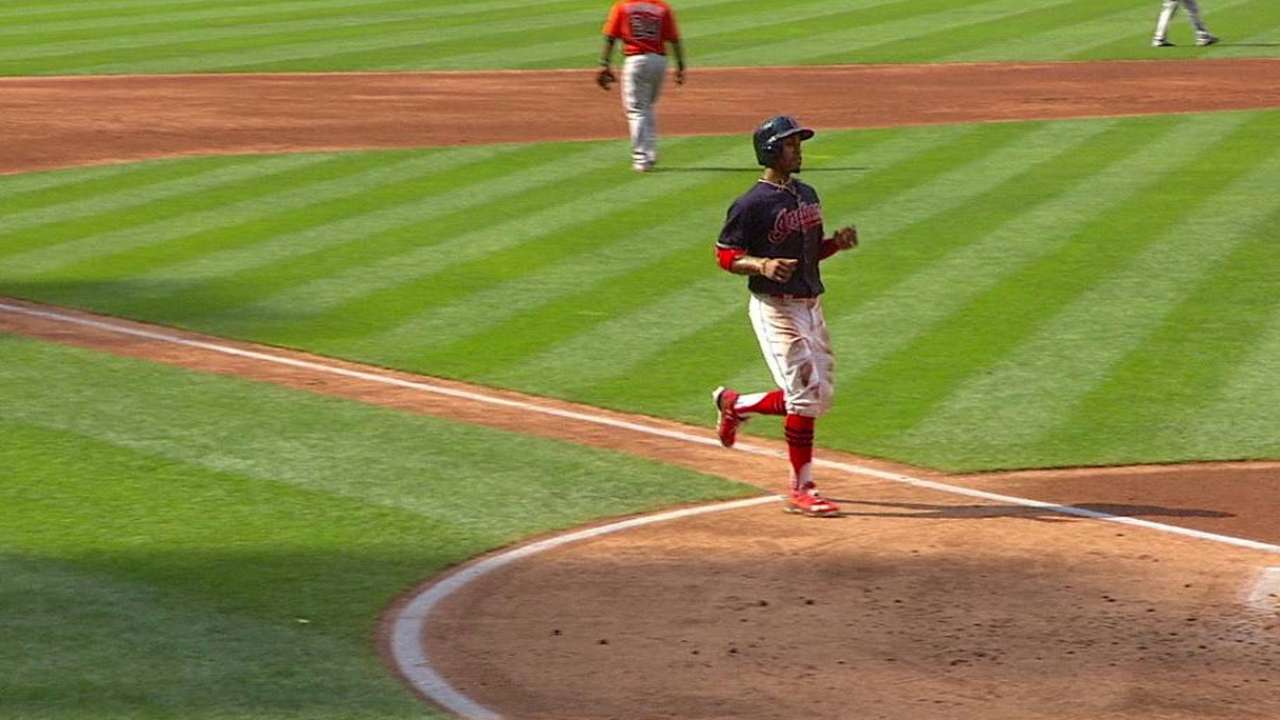 Tribe evens series with big singles, steals
MLB.com
Updated 19 hours ago
The Indians used a strong start from Danny Salazar and an all-around offensive attack to claim a 11-4 victory over the Orioles on Saturday at Progressive Field. With the win, Cleveland moved into first place in the American League Central for the first …
Share
Tweet
Gomes, Salazar Lead Indians Past Orioles 11-4

nytimes.com

20 hours ago

Yan Gomes drove in three runs, Danny Salazar allowed two runs in six innings and the Cleveland Indians beat the Baltimore Orioles 11-4 on Saturday.

Share Tweet

Gallardo throws first simulated game

MLB.com

23 hours ago

Orioles starter Yovani Gallardo began the next step in his rehabilitation process on Saturday. The 30-year-old righty threw a simulated game at Progressive Field in the morning prior to the start of game two between Baltimore and Cleveland.

Share Tweet

Extra Bases: Jim Palmer, at 70, Is Still Talking Pitching

nytimes.com

May 28 (yesterday)

The Orioles Hall of Famer, a three-time A.L. Cy Young Award winner, remains a fixture in Baltimore.

Share Tweet

MLB.com nytimes.com

May 27 (yesterday)

Manny Machado collected four hits and Mark Trumbo launched a critical home run for the Orioles, holding off a late Indians rally in a 6-4 victory in the opener of a three-game weekend set at Progressive Field.

Share Tweet

yahoo.com MLB.com nytimes.com

May 27 (3 days ago)

Welcome to The Walk Off, the nightly MLB recap from Big League Stew. Here we'll look at the top performers of the night, show you a must-see highlight and rundown the scoreboard. First, we start with a game you need to know about. Houston Astros outfiel…

Share Tweet

MLB.com

May 27 (3 days ago)

Astros manager A.J. Hinch said prior to Thursday's 4-2 win over the Orioles at Minute Maid Park that he wanted center fielder Jake Marisnick in the game for his defense, even though the outfielder has been struggling at the plate.

Share Tweet

MLB.com

May 27 (3 days ago)

Despite all the great strikeout pitchers the Astros have had through the years -- J.R. Richard, Nolan Ryan, Mike Scott, Roger Clemens, Billy Wagner and Roy Oswalt, to name a few -- they've never had a staff achieve what it did in sweeping the Orioles.

Share Tweet

Homers help Astros lock up series win vs. O's

MLB.com

May 26 (4 days ago)

The Astros got big blasts from Luis Valbuena and Evan Gattis, and capitalized on four Orioles errors, to edge Baltimore, 4-3, on Wednesday night at Minute Maid Park, securing a series win in the three-game set.

Share Tweet

Manny Machado Dinged A Dong Straight Out Of The Yard

deadspin.com

May 25 (4 days ago)

Observe a moment of silence for the baseball destroyed by Manny Machado last night. The Orioles infielder bashed it to the train tracks at the Astros' park.Read more...

Share Tweet

MLB.com nytimes.com

May 25 (5 days ago)

Carlos Correa snapped an 0-for-15 slump by hitting a line-drive single to center field with the bases loaded in the 13th inning to score Tony Kemp, who had led off the inning with a triple, to send the Astros to a 3-2 win over the Orioles on Tuesday nig…

Share Tweet

O's add second lefty, call up Tolliver from Double-A

MLB.com

May 24 (5 days ago)

After dealing Brian Matusz to the Braves, the Orioles called up left-hander Ashur Tolliver from Bowie to fill the final spot on the 25-man roster.

Share Tweet

The Baltimore Orioles are sitting on top of the American League East division right now, functionally tied with the Boston Red Sox. Things are definitely going better for them now than a year ago, when they were in fourth place in the division. And duri…

Share Tweet

Attention to detail is what makes Showalter tick

MLB.com

May 23 (6 days ago)

One of the best ways to appreciate Buck Showalter's genius is to show up early one morning in Spring Training and watch him run a couple of drills with his Baltimore Orioles. On Showalter's 60th birthday, this is a path to understanding one of baseball'…

Share Tweet

Five-run third lifts Angels over Orioles

MLB.com

May 22 (7 days ago)

The Angels scored five runs in the third inning Sunday, preventing a sweep at the hands of the Orioles at Angel Stadium

Share Tweet

yahoo.com

May 22

Los Angeles Angels starter Matt Shoemaker had an impressive outing Saturday night in a 3-1 loss to Baltimore. [Elsewhere: George Springer decided to play some football dressed as a T-Rex] Shoemaker struck out 12 Orioles and gave up only three hits over …

Share Tweet

MLB.com nytimes.com

May 22

Matt Wieters hit a three-run home run in the ninth inning Saturday to lift the Orioles to a victory over the Angels -- and did so on his 30th birthday.

Share Tweet

MLB.com

May 21

The Orioles hit four home runs Friday as they pulled away late for a victory over the Angels.

Share Tweet

deadspin.com

May 20

This is part of an occasional series of slightly belated MLB season previews.Read more...

Share Tweet

Wieters Getting Closer To Return

Feb 24

Orioles catcher Matt Wieters discusses both his recovery from Tommy John surgery and his expectations for the season.

Chris Davis Looking Forward To New Season

Feb 24

Orioles first baseman Chris Davis discusses his frustrating 2014 season, which saw him battle injury and a 25-game suspension for testing positive for amphetamines.

Players To Watch For The Orioles

Feb 24

Chris Davis and Manny Machado are two of the Orioles who need to bounce back and fill in for the power lost during the offseason.

Orioles' X Factor: Kevin Gausman

Feb 24

The Orioles' rotation could hinge on Kevin Gausman as the X factor for the entire team.