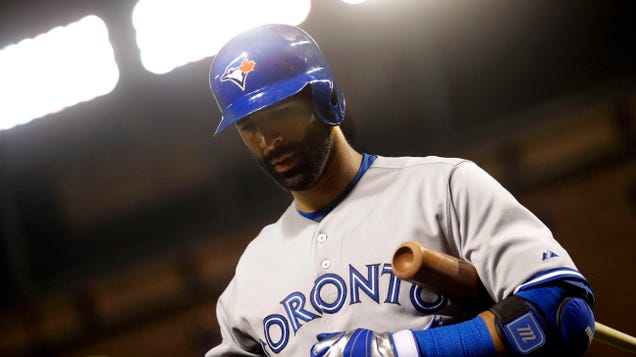 deadspin.com
yahoo.com
Updated 5 hours ago
This isn't the greatest free agent pool, but there are still some sluggers on the board. One of those—though not as marquee a name as he was, say, 12 months ago, is outfielder Jose Bautista. And one of the teams looking for an outfielder (and, historica…
Share
Tweet
MLB.com

20 hours ago

Is it possible that Mark Trumbo could return to the Mariners after leading the Major Leagues in home runs last year for the Orioles? According to a source, Seattle has had discussions with the free-agent first baseman's representatives during the Winter…

Share Tweet

yahoo.com

Dec 3 (4 days ago)

Orioles' star Adam Jones presents David Ortiz with a dugout phone, which Ortiz smashed during a game in 2013. (AP) The David Ortiz farewell tour was filled with many memorable moments. Most of those happened during games, as the retiring superstar nearl…

Share Tweet

O's non-tender Worley; 9 arb-eligibles tendered

MLB.com

Dec 2 (5 days ago)

The Orioles did not offer Vance Worley a contract for next year, making the right-hander a free agent in advance of Friday's non-tender deadline.

Share Tweet

O's, Braves pitching staffs have strong ties

MLB.com

Nov 25

The Orioles continued their rise in the American League East by hiring Roger McDowell as pitching coach for an improving rotation and an already efficient bullpen.

Share Tweet

O's hire McDowell as new pitching coach

MLB.com

Nov 22

The Orioles named Roger McDowell as Major League pitching coach and Alan Mills as bullpen coach Tuesday afternoon, replacing the departed duo of Dave Wallace and Dom Chiti.

Share Tweet

Duquette: Britton's value in 'pen, not starting

MLB.com

Nov 21

Could Zach Britton be a potential rotation candidate next spring? "That's something we've discussed internally, but I'm not sure it's something we are really interested in pursuing," Orioles executive vice president of baseball operations Dan …

Share Tweet

Showalter finishes 3rd in AL Manager of the Year voting

MLB.com

Nov 15

Orioles manager Buck Showalter finished third in the American League Manager of the Year Award voting, as chosen by members the Baseball Writers' Association of America.

Share Tweet

Machado, Jones, Schoop set for '17 Classic

MLB.com

Nov 9

The Orioles will be well-represented at next year's World Baseball Classic. Manny Machado, Jonathan Schoop and Adam Jones will participate in the fourth edition of the tournament this March.

Share Tweet

Orioles express interest in Desmond

MLB.com

Nov 8

The Orioles are interested in adding versatile free agent Ian Desmond as a corner outfielder, a source told MLB.com's Jon Morosi on Tuesday.

Share Tweet

Buck shocked Britton not a Cy Young finalist

MLB.com

Nov 7

Orioles manager Buck Showalter expressed disbelief when he found out closer Zach Britton was not among the three finalists for the American League Cy Young Award, which were announced Monday night on MLB Network.

Share Tweet

Wieters reportedly not expected to receive QO

MLB.com

Nov 7

The Orioles are unlikely to extend a qualifying offer to free-agent catcher Matt Wieters, according to MLB Network insider Jon Heyman. The club has not commented on or confirmed the report.

Share Tweet

Britton, Jansen earn Reliever of Year honors

MLB.com

Oct 29

Zach Britton of the Orioles and Kenley Jansen of the Dodgers were named winners of the Mariano Rivera American League Reliever of the Year Award and the Trevor Hoffman National League Reliever of the Year Award.

Share Tweet

nytimes.com

Oct 17

A can of beer was thrown toward an Orioles outfielder during Toronto's home victory in the American League wild-card game, and racial abuse of two Orioles players was also reported.

Share Tweet

yahoo.com

Oct 8

The 2016 made it far…. but not far enough. (Yahoo Sports) Sorry, Baltimore Orioles, your World Series trophy is in another castle. Maybe call the bullpen to see if your lonely closer has seen it. The Orioles journey ended in heartbreak, as they fell to …

Share Tweet

nytimes.com yahoo.com

Oct 6

The baseball fan who threw a beer can at Baltimore Orioles outfielder Kim Hyun-soo during Tuesday's wildcard playoff game turned himself into Toronto authorities on Thursday, local media reported.

Share Tweet

Orioles Pitching Coach Dave Wallace Retires

nytimes.com

Oct 6

Dave Wallace is retiring as the Baltimore Orioles pitching coach.

Share Tweet

Wieters Getting Closer To Return

Feb 24

Orioles catcher Matt Wieters discusses both his recovery from Tommy John surgery and his expectations for the season.

Chris Davis Looking Forward To New Season

Feb 24

Orioles first baseman Chris Davis discusses his frustrating 2014 season, which saw him battle injury and a 25-game suspension for testing positive for amphetamines.

Players To Watch For The Orioles

Feb 24

Chris Davis and Manny Machado are two of the Orioles who need to bounce back and fill in for the power lost during the offseason.

Orioles' X Factor: Kevin Gausman

Feb 24

The Orioles' rotation could hinge on Kevin Gausman as the X factor for the entire team.