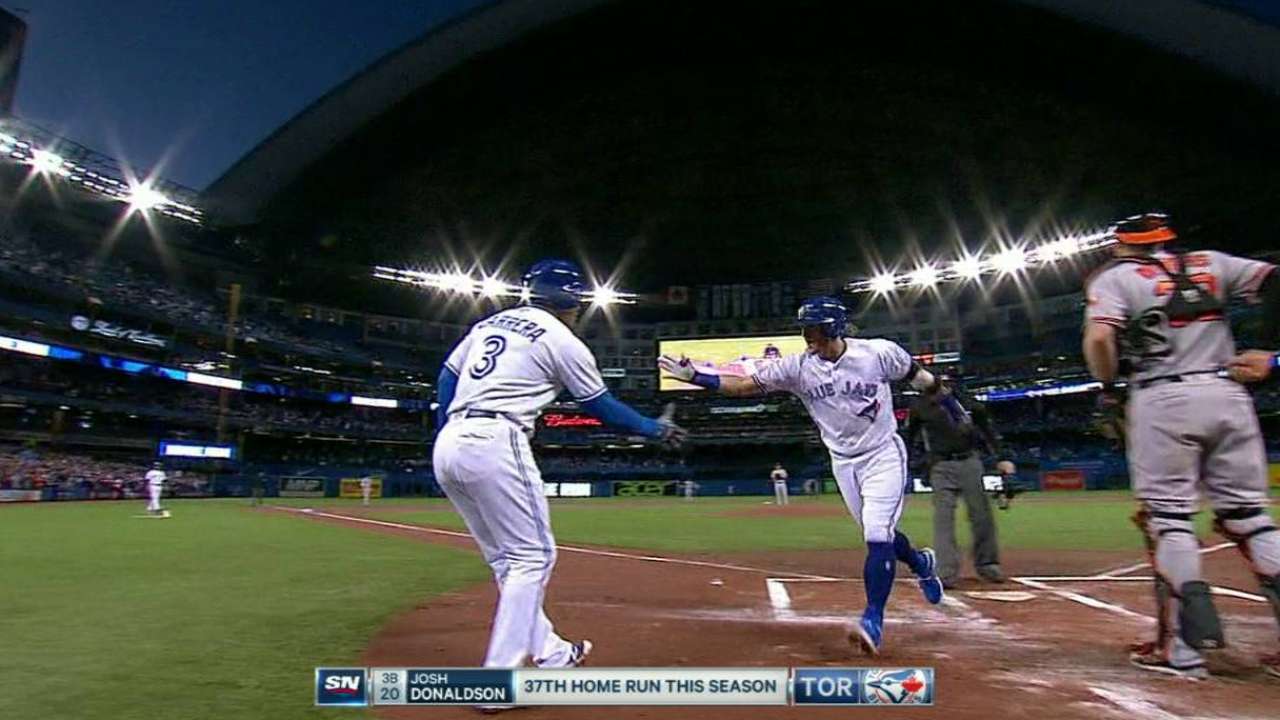 nytimes.com
MLB.com
ESPN.com
Updated 15 hours ago
Josh Donaldson hit a two-run homer, Aaron Sanchez struck out 10 and the Toronto Blue Jays beat the Baltimore Orioles 5-1 on Tuesday night in the opener of their AL wild-card showdown.
Share
Tweet
Davis, Showalter ejected for arguing strike zone

MLB.com

16 hours ago

Orioles first baseman Chris Davis and manager Buck Showalter were both ejected with two outs in the top of the seventh inning of Tuesday's game against the Blue Jays.

Share Tweet

MLB.com

Sep 25 (3 days ago)

The Orioles' bullpen has been as reliable as they come in September. They showed why again Sunday. Called on in the sixth inning to protect a one-run lead, the bullpen shut down the D-backs in a 2-1 win.

Share Tweet

nytimes.com MLB.com

Sep 24 (4 days ago)

Trey Mancini hit his third homer in nine major league at-bats, Mark Trumbo connected for his league-leading 45th homer and the Baltimore Orioles beat the Arizona Diamondbacks 6-1 on Saturday night.

Share Tweet

HRs back Miley's gem to put O's into 2nd WC

MLB.com

Sep 24 (4 days ago)

The Orioles came out swinging to back Wade Miley's gem in a 6-1 win over the D-backs on Saturday, vaulting Baltimore into the American League's second Wild Card. Trey Mancini hit his third career homer and Mark Trumbo hit his MLB-leading 45th home run f…

Share Tweet

Improving Gausman hoping to start Tuesday

MLB.com

Sep 24 (4 days ago)

Kevin Gausman's intercostal injury is improving and Orioles manager Buck Showalter said Saturday that if the right-hander feels good on Sunday, he will get the start in Toronto on Tuesday.

Share Tweet

nytimes.com MLB.com

Sep 24 (5 days ago)

Mark Trumbo breathed some life into the Baltimore Orioles' postseason hopes.

Share Tweet

yahoo.com ESPN.com nytimes.com MLB.com deadspin.com

Sep 23 (5 days ago)

It's been an utterly disastrous nine days for the Baltimore Orioles. On Wednesday, September 14, they won a 1-0 game against the Boston Red Sox that put them just one game back in the AL East. They had a one-game lead in the wild-card race. There were 1…

Share Tweet

yahoo.com

Sep 22 (6 days ago)

David Ortiz's highlight reel with the Boston Red Sox is full of clutch hits and monster home runs. He's left his mark on road stadiums across the majors over his career, but nowhere is that more true than at Camden Yards. After striking out during a gam…

Share Tweet

In key start, Tillman doesn't make it out of 2nd

MLB.com

Sep 22 (6 days ago)

Orioles manager Buck Showalter emerged from the dugout far sooner than he would've liked in the crucial series finale with the Red Sox on Thursday night. With two outs in the second inning, Showalter removed ace Chris Tillman after the righty issued bac…

Share Tweet

yahoo.com

Sep 22 (6 days ago)

Welcome to The Walk Off, the nightly MLB recap from Big League Stew. Here we'll look at the top performers of the night, show you a must-see highlight and rundown the scoreboard. First, we start with a game you need to know about. The atmosphere for thi…

Share Tweet

Wieters Getting Closer To Return

Feb 24

Orioles catcher Matt Wieters discusses both his recovery from Tommy John surgery and his expectations for the season.

Chris Davis Looking Forward To New Season

Feb 24

Orioles first baseman Chris Davis discusses his frustrating 2014 season, which saw him battle injury and a 25-game suspension for testing positive for amphetamines.

Players To Watch For The Orioles

Feb 24

Chris Davis and Manny Machado are two of the Orioles who need to bounce back and fill in for the power lost during the offseason.

Orioles' X Factor: Kevin Gausman

Feb 24

The Orioles' rotation could hinge on Kevin Gausman as the X factor for the entire team.