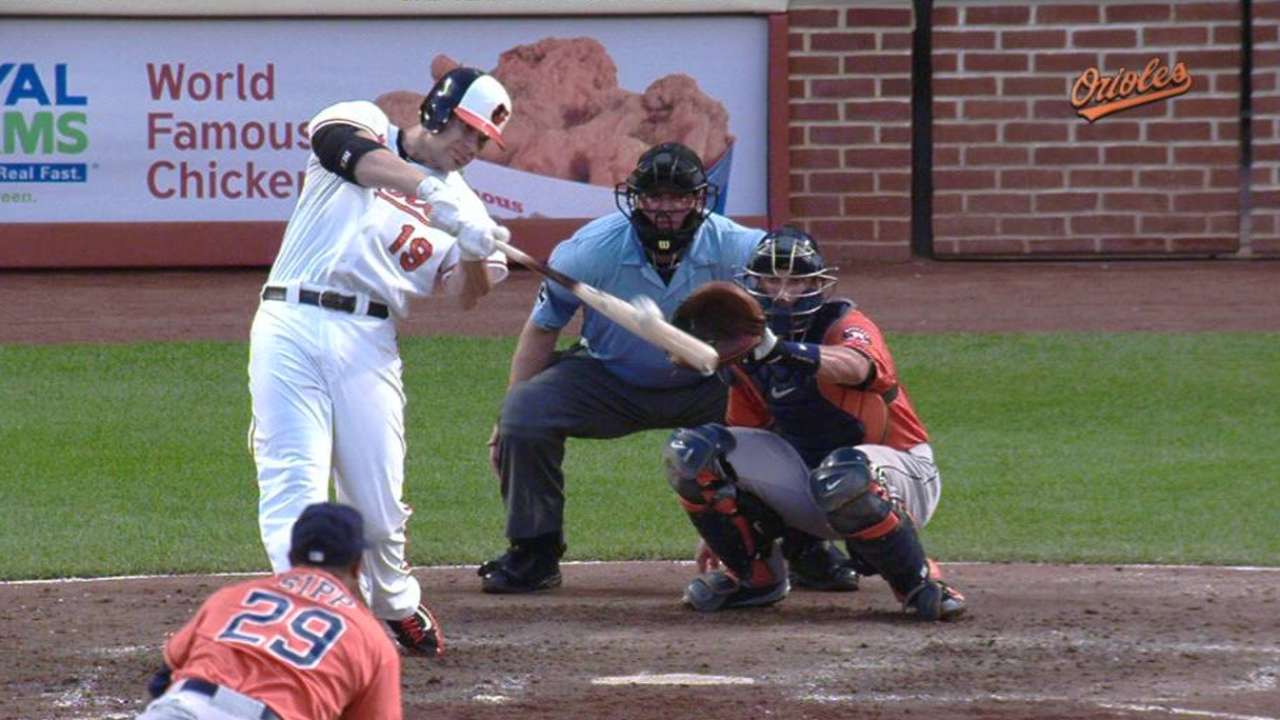 MLB.com
nytimes.com
Updated 16 hours ago
Chris Davis hit his second homer of the game in the eighth inning off of reliever Tony Sipp, giving the Orioles a 5-4 win over the Astros on Wednesday night, and two of three games in the series.
Share
Tweet
Lightning strikes as O's Parades steals home

MLB.com

19 hours ago

Jimmy Parades made a mad dash for home plate in the fourth inning of Wednesday's game against the Astros, giving the Orioles their first steal of home since Aug. 28.

Share Tweet

MLB.com nytimes.com

May 26 (yesterday)

Houston, off to the best start in franchise history, used a solid start from Scott Feldman and two RBIs from Luis Valbuena to record a 4-1 series-evening win over the Orioles Tuesday night.

Share Tweet

MLB.com

May 25 (3 days ago)

Caleb Joseph and Steve Pearce each hit two-run home runs to send Astros ace Dallas Keuchel to his first loss since last August in the Orioles' 4-3 win in the series opener on Monday afternoon at Oriole Park at Camden Yards.

Share Tweet

MLB.com

May 25 (3 days ago)

J.J. Hardy left Monday's 4-3 win against the Astros after the seventh inning with back tightness, according to the Orioles.

Share Tweet

MLB.com nytimes.com deadspin.com yahoo.com

May 25 (3 days ago)

Orioles pitcher Brian Matusz has been suspended for eight games by Major League Baseball for having a foreign substance on his arm during Saturday's game against the Marlins. He has appealed the penalty.

Share Tweet

nytimes.com MLB.com

May 24 (4 days ago)

Martin Prado homered to cap a 12-pitch at-bat and drove in two runs, helping the Miami Marlins beat the Baltimore Orioles 5-2 Sunday to win a series for the first time since May 3.

Share Tweet

O's said to agree with Cuban lefty Miranda

MLB.com

May 23 (5 days ago)

The Orioles have agreed to a Minor League contract with Cuban left-hander Ariel Miranda, a source confirmed to MLB.com's Jesse Sanchez. The deal is pending a physical. The team has not commented.

Share Tweet

MLB.com

May 23 (6 days ago)

After a slow start, the Orioles scored eight runs from the fifth inning on as they defeated Miami, 8-5, in the series opener at Marlins Park on Friday. It was the eighth straight loss for the Marlins, while Baltimore has won four of its last five.

Share Tweet

nytimes.com

May 22 (6 days ago)

The Miami Marlins made a costly error, repeatedly squandered scoring chances and remained winless after five games under new manager Dan Jennings, losing to the Baltimore Orioles 8-5 Friday.

Share Tweet

Machado excited for homecoming in Miami

Orioles third baseman Manny Machado graduated with a class of 32 students at Brito Miami Private High School in 2010, and he is thrilled to have an opportunity to play in his backyard in front of family.

Share Tweet

Wieters targets early June for return to Majors

With the finish line near on his rehabilitation, all things are going according to plan for Orioles catcher Matt Wieters. Wieters has been playing in extended spring training games in Sarasota, Fla., and he joined the big league club for workouts over t…

Share Tweet

O's activate Cabrera from DL, option Navarro

Orioles infielder Everth Cabrera was reinstated from the 15-day disabled list on Friday, with infielder Rey Navarro being optioned to Triple-A Norfolk.

Share Tweet

Pearce Slam, Hardy's RBI Lift Orioles Past Mariners 5-4

nytimes.com

May 21 (7 days ago)

Steve Pearce hit his first career grand slam, J.J. Hardy singled in the tiebreaking run in the eighth inning and the Baltimore Orioles weathered a lengthy rain delay and a comeback by the Seattle Mariners in a 5-4 victory Thursday.

Share Tweet

MLB.com

May 20

Orioles manager Buck Showalter still remembers the first time he got the call to be on "Late Show with David Letterman." He was in Fort Lauderdale, Fla., for Spring Training, and the show wanted to know if Showalter could do an interview over the phone.

Share Tweet

Wilson excited for chance to pitch on big league stage

MLB.com

May 20

Wilson was recalled from Triple-A Norfolk on Monday to fill a roster spot when the Orioles placed Bud Norris on the disabled list due to a case of bronchitis. He was moved to the bullpen once in Baltimore after being named the Orioles' Minor League Pitc…

Share Tweet

Paredes' HR, 4 RBIs Power Orioles Past Mariners 9-4

nytimes.com

May 19

Jimmy Paredes homered and had a career-high four RBIs, and the Baltimore Orioles overcame a home run by former teammate Nelson Cruz in a 9-4 victory over the Seattle Mariners on Tuesday night.

Share Tweet

Smith belts shot, brings one back in big 1st

MLB.com

May 19

Mariners left fielder Seth Smith had a first inning to remember in Tuesday's series-opener against the Orioles, impressing with both his bat and his glove.

Share Tweet

O's place Norris on DL due to bronchitis

MLB.com

May 18

The Orioles placed right-hander Bud Norris on the disabled list Monday due to a case of bronchitis. Norris had his move backdated to May 11 and will be eligible to return next week. Baltimore recalled Tyler Wilson from Triple-A Norfolk to fill the spot …

Share Tweet

Wieters Getting Closer To Return

Feb 24

Orioles catcher Matt Wieters discusses both his recovery from Tommy John surgery and his expectations for the season.

Chris Davis Looking Forward To New Season

Feb 24

Orioles first baseman Chris Davis discusses his frustrating 2014 season, which saw him battle injury and a 25-game suspension for testing positive for amphetamines.

Players To Watch For The Orioles

Feb 24

Chris Davis and Manny Machado are two of the Orioles who need to bounce back and fill in for the power lost during the offseason.

Orioles' X Factor: Kevin Gausman

Feb 24

The Orioles' rotation could hinge on Kevin Gausman as the X factor for the entire team.