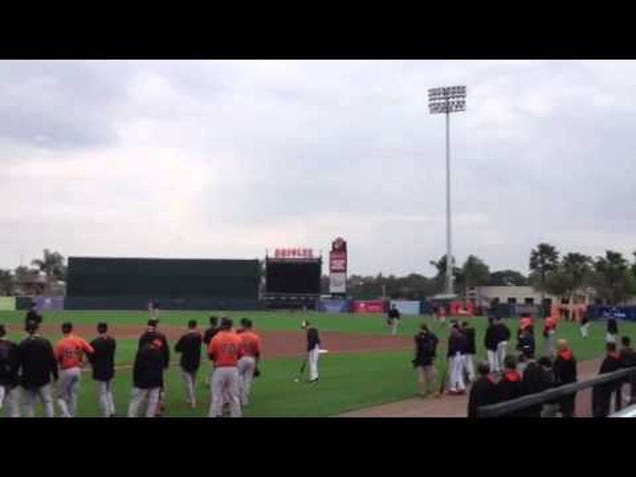 Orioles Augment Drills With Fake Crowd Noise; Neighbors Call The Cops
deadspin.com
Updated Feb 27 (yesterday)
Baltimore Orioles manager Buck Showalter came up with a fun new spring training drill by forcing his players to field pop-ups while piping loud-ass fake crowd noise through the stadium's PA system. Unfortunately, some sensitive baby called the cops on t…
Upvote
Share
Tweet
Ubaldo tabbed for Grapefruit League opener

MLB.com

Feb 26 (2 days ago)

Ubaldo Jimenez will start the Orioles' first Grapefruit League game on Tuesday in Lakeland, Fla., against the Detroit Tigers, manager Buck Showalter announced on Thursday.

Upvote Share Tweet

nytimes.com ESPN.com MLB.com

Feb 25 (3 days ago)

Former All-Star infielder Everth Cabrera and the Baltimore Orioles have finalized their $2.4 million, one-year contract.

Upvote Share Tweet

yahoo.com

Feb 24 (4 days ago)

Baltimore Orioles legend Cal Ripken Jr. says the recently made public tales of him as an abusive clubhouse hazer are completely false, a stance corroborated by other Orioles of the era. Journeyman catcher Gregg Zaun, who played with the Orioles in 1995 …

Upvote Share Tweet

Machado's right knee OK, a full-go in camp

MLB.com

Feb 24 (4 days ago)

Manny Machado was one of numerous Orioles who arrived in camp early, and the 22-year-old is incredibly anxious for Spring Training to begin. Coming off his second consecutive season-ending knee surgery, Machado is a full-go in camp this time around and …

Upvote Share Tweet

There were rumblings a few days ago that the Baltimore Orioles were close to a deal with free agent infielder Everth Cabrera. On Monday, Jon Heyman of CBS Sports confirmed that the two sides had come to terms on a one-year contract for $2.4 million. Cab…

Upvote Share Tweet

MLB.com

Feb 22 (6 days ago)

Orioles manager Buck Showalter does everything for a reason. So, it's highly unlikely it's a coincidence that veteran pitchers Darren O'Day and Tommy Hunter have been in pitching prospect Hunter Harvey's group during Spring Training's early workouts.

Upvote Share Tweet

nytimes.com

Feb 21 (7 days ago)

In the final case of a busy year, Seattle bested pitcher Tom Wilhelmsen, and major league teams went 8-6 over all.

Upvote Share Tweet

Orioles' Wieters (elbow) eyes Opening Day

ESPN.com

Feb 21

Matt Wieters has a definite goal this spring. He wants to be ready to catch on Opening Day.

Upvote Share Tweet

Baltimore has beaten outfielder Alejandro de Aza in salary arbitration.

Upvote Share Tweet

Ubaldo looking for success with simplified delivery

MLB.com

Feb 21

Ubaldo Jimenez was among the Orioles pitchers who threw a bullpen session on Friday, and the right-hander is sticking with the simplified delivery he incorporated last year.

Upvote Share Tweet

Orioles report to camp, ready to get jump on spring

MLB.com

Feb 19

The Orioles have officially started Spring Training, with pitchers and catchers reporting as the first sign of a new camp. There will be an informal workout Thursday, as there has been the past few days, with the first actual practice on Friday.

Upvote Share Tweet

Orioles on verge of signing Cabrera to one-year deal

MLB.com

Feb 18

The Orioles are on the verge of signing infielder Everth Cabrera to a one-year deal, a source confirmed to MLB.com. Cabrera, who has already taken his physical, will be part of the O's 40-man roster, and he presents a speedy option that could alter how …

Upvote Share Tweet

yahoo.com

Feb 17

Jeffrey Maier's glove used to corral Derek Jeter's infamous home run in Game 1 of the 1996 ALCS between the New York Yankees and Baltimore Orioles can be yours, if you're willing to pay a hefty price. The Associated Press reports that the glove is going…

Upvote Share Tweet

No Hitter Has Ever Been More Terrifying Than Albert Belle In This Game

deadspin.com

Feb 16

July 25, 1999. Orioles versus Angels in Turn Ahead the Clock Day at Oriole Park at Camden Yards, hence the hideous monochrome sleeveless trashbag novelty jerseys. Albert Belle batting cleanup. Read more...

Upvote Share Tweet

yahoo.com

Feb 15

While new commissioner Rob Manfred ponders eliminating extreme defensive shifts from MLB all together, Baltimore Orioles slugger Chris Davis is considering his own strategy to beat the analytically based strategy that tortured him throughout the 2014 se…

Upvote Share Tweet

Orioles in position to prove us wrong once again

MLB.com

Feb 8

Have you seen the projections? They're not kind to your defending American League East champion Orioles. The big question we encounter as we enter 2015 is how much benefit of the doubt Baltimore deserves for past precedent -- the '12 Wild Card berth, a …

Upvote Share Tweet

Manfred expects resolution in MASN dispute

ESPN.com

Feb 4

New baseball commissioner Rob Manfred predicts an end to the long-running dispute between the Nationals and Baltimore Orioles over payments to Washington from the Mid-Atlantic Sports Network, which the teams co-own.

Upvote Share Tweet

MLB.com

Feb 4

The Orioles and closer Zach Britton have avoided arbitration by coming to terms on a one-year contract, a source told MLB.com's Brittany Ghiroli on Wednesday.

Upvote Share Tweet

Cards land catcher Ohlman in deal with Orioles

MLB.com

Feb 3

The Cardinals acquired 24-year-old Minor League catcher Michael Ohlman from the Orioles on Tuesday in exchange for cash considerations.

Upvote Share Tweet

Slimmer Schoop seeking to increase speed on bases

MLB.com

Feb 3

Asked at last weekend's FanFest to name a few under-the-radar players on the roster, Orioles manager Buck Showalter's first thought was infielder Jonathan Schoop.

Upvote Share Tweet

Sports Briefing | Baseball: Blue Jays Pursued Executive

nytimes.com

Feb 1

Dan Duquette, the Baltimore Orioles' president for baseball operations, acknowledged that "there was substance" to reports that the Toronto Blue Jays were in pursuit of him this off-season to be their club president.

Upvote Share Tweet

"You Have Caught The Tater": Buck Showalter Joins Olbermann

Feb 20

Orioles manager Buck Showalter joins Keith Olbermann to reveal the real reason behind the MLB rule changes: his bad knees.

Nick Markakis, Braves Reach 4-Year Deal

Dec 3

Jerry Crasnick discusses the four-year deal between Nick Markakis and the Atlanta Braves.

Buster's Blog: AL East Outlook

Dec 2

Despite the moves by the Red Sox and Blue Jays, Buster Olney explains why there are still major holes to fill with those and every team in the AL East.

Nelson Cruz Gives Mariners A Much-Needed Bat

Dec 1

ESPN senior baseball writer Jayson Stark discusses the Mariners' deal with OF Nelson Cruz.