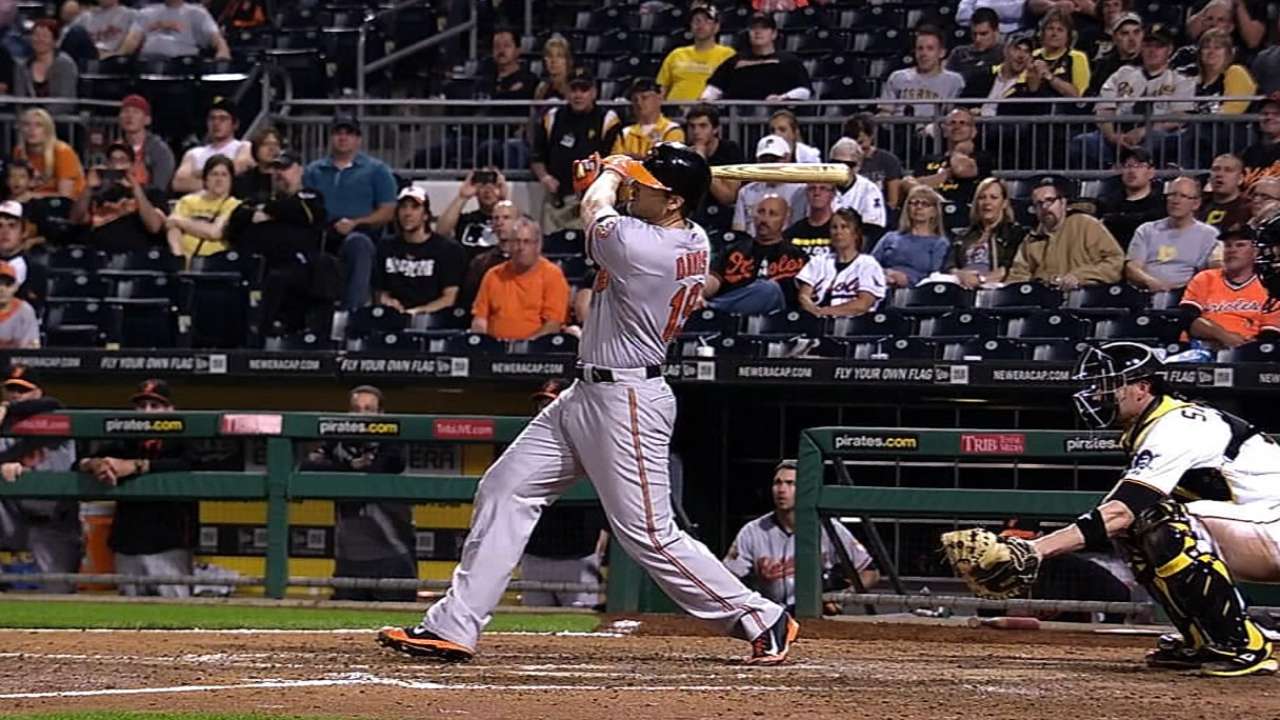 Davis discusses his suspension for the first time
MLB.com
Updated 4 hours ago
Orioles first baseman Chris Davis wants people to know he didn't take Adderall for an edge at the plate. Davis, who spoke for nearly 10 minutes on Saturday at FanFest for the first time since he received a 25-game suspension on Sept. 12 for violating ba…
Upvote
Share
Tweet
Duquette acknowledges Jays rumors, focused on O's

MLB.com

5 hours ago

Orioles executive vice president of baseball operations Dan Duquette addressed season-ticket holders this morning at the club's annual FanFest convention and acknowledged there had been some substance to the Toronto rumors, though his "sole and sin…

Upvote Share Tweet

Pearce, O's agree to $3.7M, 1-year contract

ESPN.com

21 hours ago

Baltimore Orioles first baseman Steve Pearce has agreed to a $3.7 million, one-year contract and avoided a salary arbitration hearing.

Upvote Share Tweet

Having lost outfielders Nelson Cruz and Nick Markakis in free agency, the Orioles swung a trade with the Pirates on Tuesday to help fill that void. Source: Travis Snider deal to Baltimore believed to be done. Class A pitcher Stephen Tarpley one of the p…

Upvote Share Tweet

Orioles avoid arbitration with Norris, Flaherty

ESPN.com

Jan 26 (5 days ago)

Right-hander Bud Norris has agreed to an $8.8 million, one-year contract with Baltimore, and infielder Ryan Flaherty settled with the Orioles on a one-year deal for $1,075,000.

Upvote Share Tweet

O's land Minor League lefty Rodriguez from Braves

MLB.com

Jan 23

The Orioles acquired left-handed pitcher Daniel Rodriguez from the Braves on Friday in exchange for cash considerations.

Upvote Share Tweet

Sources: Duquette close to leaving O's for Jays

ESPN.com

Jan 22

Orioles executive vice president Dan Duquette and the Blue Jays are closing in on a much-discussed deal that would send Duquette to Toronto, sources told ESPN.

Upvote Share Tweet

O's reportedly bring back righty Johnson on Minors deal

MLB.com

Jan 22

The Orioles have reportedly come to an agreement on a one-year Minor League deal with reliever Steve Johnson, according to a report from MASN. The pact includes an invitation to Major League Spring Training.

Upvote Share Tweet

Davis, Wieters agree to deals with Orioles

ESPN.com

Jan 16

First baseman Chris Davis and the Baltimore Orioles reached agreement Friday on a $12 million contract for next season and catcher Matt Wieters got a one-year deal for $8,275,000.

Upvote Share Tweet

Recovery progressing smoothly for Webb, Harvey

MLB.com

Jan 16

In a little more than a month, the Orioles will report to Sarasota, Fla., to officially kick off Spring Training, but the club got a head start of sorts with a three-day minicamp earlier this week. The O's also got good news on reliever Ryan Webb and pi…

Upvote Share Tweet

yahoo.com

Jan 15

The city of San Diego will host the 2016 MLB All-Star game, the league announced Thursday, giving Padres fans another checkmark for their "reasons to be excited about baseball in the future" chart. The Padres — already one of the most intrigui…

Upvote Share Tweet

Manny Machado arrived at Ed Smith Stadium complex Wednesday morning and greeted a few familiar faces in the Orioles' clubhouse. He walked out to the back fields, took batting practice and ran the bases. Afterward, he spoke excitedly about how long it's …

Upvote Share Tweet

Showalter: Minicamp important to O's success

MLB.com

Jan 14

After a few days of organized activity this week, the Ed Smith Stadium complex will be relatively empty until Spring Training gets underway in five weeks. But manager Buck Showalter felt the Orioles got quite a bit out of this week's voluntary three-day…

Upvote Share Tweet

Blue Jays, Orioles reportedly discussing Duquette deal

MLB.com

Jan 14

The ongoing story surrounding the Blue Jays' presidency took yet another twist on Wednesday when a report said the club has been engaged in talks with the Orioles about Dan Duquette. Neither club has commented on or confirmed the report.

Upvote Share Tweet

deadspin.com yahoo.com

Jan 14

Is there anything better than a good comeback attempt, especially one where everybody involved recognizes the minuscule chance of it being successful, yet wants to give it a shot anyway because what the hell, why not? Hope springs eternal in Orioles min…

Upvote Share Tweet

The Orioles and right-hander Tommy Hunter have agreed to a one-year contract to avoid arbitration, and according to The Associated Press, the deal is worth $4.65 million.

Upvote Share Tweet

O's evaluate young, rehabbing arms at minicamp

MLB.com

Jan 12

A little more than a month before the start of Spring Training, there were Orioles pitchers throwing bullpen sessions and players working out on the back fields at Ed Smith Stadium.

Upvote Share Tweet

yahoo.com

Jan 11

Adam Jones of the Baltimore Orioles and David Ortiz of the Boston Red Sox extended their AL East rivalry to the gridiron on Saturday. Not literally, of course, though that would definitely be a story in its own regard, but rather in the form of a friend…

Upvote Share Tweet

O's announce signing of Delmon to 1-year deal

MLB.com

Jan 9

The Orioles officially announced Friday that Delmon Young will return next season, as the outfielder/designated hitter passed his physical. Young will make a base salary of $2.25 million in 2015 that could reach $3 million if he hits all of the incentiv…

Upvote Share Tweet

Source: O's agree to Minors deal with Arencibia

MLB.com

Jan 8

Seeking to add another catcher before Spring Training, the Orioles have agreed to a Minor League deal with J.P. Arencibia, a baseball source told MLB.com on Thursday. The contract isn't finalized, but it is expected to include an invite to Major League …

Upvote Share Tweet

Hank Peters, 90, Dies; Built Baseball Winners in Baltimore and Cleveland

nytimes.com

Jan 6

Mr. Peters won a World Series as general manager of the Baltimore Orioles and helped rejuvenate the Cleveland Indians.

Upvote Share Tweet

MLB.com

Jan 5

Stu Miller, who will be remembered more for committing history's most famous balk than for his formidable pitching, died Sunday at his home in Cameron Park, Calif. He was 87.

Upvote Share Tweet

Nick Markakis, Braves Reach 4-Year Deal

Dec 3

Jerry Crasnick discusses the four-year deal between Nick Markakis and the Atlanta Braves.

Buster's Blog: AL East Outlook

Dec 2

Despite the moves by the Red Sox and Blue Jays, Buster Olney explains why there are still major holes to fill with those and every team in the AL East.

Nelson Cruz Gives Mariners A Much-Needed Bat

Dec 1

ESPN senior baseball writer Jayson Stark discusses the Mariners' deal with OF Nelson Cruz.

Buck Showalter Named AL Manager Of The Year

Nov 11

Jerry Crasnick discusses Baltimore Orioles manager Buck Showalter winning the American League Manager of the Year award.