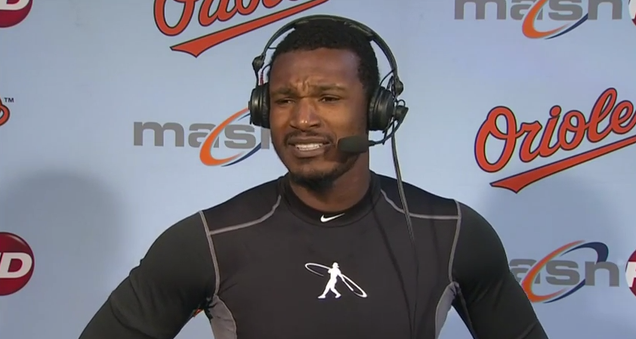 Adam Jones Flawlessly Reacts To Red Sox Fans Talking About His Mom
deadspin.com
Updated 8 hours ago
Orioles outfielder Adam Jones had a home run and five RBIs in Sunday's win over the Red Sox, so he was feeling pretty good. Even Boston's jeering crowd couldn't bring him down, as he alluded to in his postgame interview.Read more...
Share
Tweet
Masterson leads Sox over O's at rainy Fenway

MLB.com

8 hours ago

Fueled by a four-run inning and solid pitching from Justin Masterson, the Red Sox ousted the Orioles in a 7-1 Patriots' Day victory in a rain-shortened game at Fenway Park.

Share Tweet

Red Sox Get 5 Unearned Runs in 7-1 Win Over Orioles

nytimes.com

10 hours ago

Justin Masterson benefited from five unearned runs, and the Boston Red Sox beat the Baltimore Orioles 7-1 Monday in a soggy Patriots' Day game shortened by rain to 6 1/2 innings.

Share Tweet

Hanley exits finale vs. O's due to illness

MLB.com

13 hours ago

The Red Sox removed outfielder Hanley Ramirez from Monday's series finale with the Orioles due to illness, according to a team spokesman.

Share Tweet

Red Sox mark special Marathon Monday at Fenway

MLB.com

13 hours ago

Before the Red Sox took the field against the Orioles for their traditional 11:05 a.m. ET start time on Patriots' Day, Boston police officer Stephen McNulty belted a stirring rendition of the national anthem. Four-time Boston Marathon winner Bill Rodger…

Share Tweet

Adam Jones Powers Orioles Past Red Sox 8-3

nytimes.com

Apr 19 (yesterday)

Adam Jones went 4 for 5 with a three-run double and two-run homer to match his career high with five RBIs, carrying the Baltimore Orioles past the Boston Red Sox 8-3 on Sunday.

Share Tweet

Boston's healing continues on Patriots' Day

MLB.com

Apr 19 (yesterday)

When the Red Sox face the Orioles today, the already significant Patriots' Day matchup will take on added meaning in the wake of the Boston Marathon bombing's two-year anniversary.

Share Tweet

Tillman outduels Buchholz as Orioles clip Red Sox

MLB.com

Apr 18 (2 days ago)

Right-hander Chris Tillman allowed one run in 5 1/3 innings and Chris Davis belted a late two-run homer to lead the Orioles to a 4-1 win over the Red Sox on Saturday at Fenway Park. David Ortiz and Brock Holt had three hits for Boston.

Share Tweet

Orioles second baseman Jonathan Schoop has been placed on the 15-day disabled list after an MRI exam revealed a partial PCL tear and a mild MCL sprain in his right knee.

Share Tweet

Ubaldo Jiménez Ejected From No-Hitter Attempt

deadspin.com

Apr 17 (3 days ago)

Ubaldo Jiménez left tonight's game against the Red Sox without surrendering a base hit after umpire Jordan Baker ejected the Orioles pitcher for allegedly hitting Boston third baseman Pablo Sandoval with a pitch on purpose in the fourth inning. The pitc…

Share Tweet

O's Cabrera gets clearance to travel to Canada

MLB.com

Apr 17 (3 days ago)

Infielder Everth Cabrera will be eligible to travel with the Orioles to Toronto next week, despite some previous legal issues.

Share Tweet

Guy Gets Punched In The Face At Orioles Game, Finds It Pretty Amusing

deadspin.com

Apr 17 (4 days ago)

This happened during this week's series between the Yankees and Orioles, and it provides a good lesson on how to become the "crazy one" in your group of friends.Read more...

Share Tweet

Orioles' Early-Season Schedule Is a Throwback to the '30s

nytimes.com

Apr 16 (4 days ago)

The Baltimore Orioles' early-season schedule is a journey into the past, exclusively on East Coast time.

Share Tweet

Five-run sixth sends O's to series win over Yanks

MLB.com

Apr 15 (5 days ago)

Chris Davis drove in three runs, including a two-run double during a five-run sixth, and Delmon Young broke a 3-3 tie in that inning with a pinch-hit RBI single in the Orioles' 7-5 win over the Yankees over Jackie Robinson Day Wednesday.

Share Tweet

Orioles Rally Against Yankees Bullpen for 7-5 Victory

nytimes.com

Apr 15 (5 days ago)

Jonathan Schoop homered to spark a five-run sixth inning, Chris Davis had three RBIs and the Baltimore Orioles defeated the New York Yankees 7-5 Wednesday night.

Share Tweet

MLB.com

Apr 15 (5 days ago)

Orioles center fielder Adam Jones reflected on how Jackie Robinson affects his life, and will continue to impact him for a very long time.

Share Tweet

nytimes.com

Apr 14 (6 days ago)

Two Yankees ripped the ball deep into the outfield in the first inning, but the Orioles' Miguel Gonzalez cooled off the team like the intermittent drizzle, retiring 10 in a row at one point.

Share Tweet

Orioles Fan Pointedly Turns Back On A-Rod, Figuratively Shows His Ass

deadspin.com

Apr 14 (7 days ago)

At some point in his life, every man has to decide what he stands for. Who is he really, deep inside? What are his values? Last night at Camden Yards, while the Baltimore Orioles took on the New York Yankees, 56-year-old Tolbert Rowe reached that point …

Share Tweet

yahoo.com

Apr 14

Last week was pretty big for the Alex Rodriguez comeback tour. Rodriguez received a "warm hand" during his first at-bat, hit his first home run since September 2013 and stayed away from controversy. Lost in all of that was the fact that Rodrig…

Share Tweet

MLB.com

Apr 14

The Yankees expect to be without Brett Gardner's services for at least one game after the outfielder was hit on the right wrist by a pitch in Monday night's 6-5 victory over the Orioles at Camden Yards.

Share Tweet

MLB.com nytimes.com

Apr 13

Facing an Orioles club that entered Monday leading the Major Leagues in homers, the Yankees went deep three times, most notably with Stephen Drew's pinch-hit grand slam, to capture a 6-5 series-opening win.

Share Tweet

Whoa, Nellie! Cruz's homer streak to 3 games with Nos. 200, 201

MLB.com

Apr 13

Nelson Cruz, last year's Major League home run leader while with the Orioles, has picked up where he left off for his new Mariners club. The big slugger went deep in his first two at-bats in Monday night's 6-5, 10-inning loss to the Dodgers and now has …

Share Tweet

Jose Bautista's Home-Run Skip Was Part Of A Two-Year-Old Grudge

deadspin.com

Apr 13

After Orioles reliever Darren O'Day threw behind Jose Bautista Sunday, the Blue Jays outfielder slapped a two-run home run as Toronto won, 10-7. Bautista started his trot by skipping for a few seconds. Though it was enjoyable enough without context, the…

Share Tweet

nytimes.com

Apr 12

Jose Bautista hit the last of Toronto's three home runs, and the Blue Jays beat the Baltimore Orioles 10-7 Sunday to complete a solid season-opening road trip.

Share Tweet

Wieters Getting Closer To Return

Feb 24

Orioles catcher Matt Wieters discusses both his recovery from Tommy John surgery and his expectations for the season.

Chris Davis Looking Forward To New Season

Feb 24

Orioles first baseman Chris Davis discusses his frustrating 2014 season, which saw him battle injury and a 25-game suspension for testing positive for amphetamines.

Players To Watch For The Orioles

Feb 24

Chris Davis and Manny Machado are two of the Orioles who need to bounce back and fill in for the power lost during the offseason.

Orioles' X Factor: Kevin Gausman

Feb 24

The Orioles' rotation could hinge on Kevin Gausman as the X factor for the entire team.