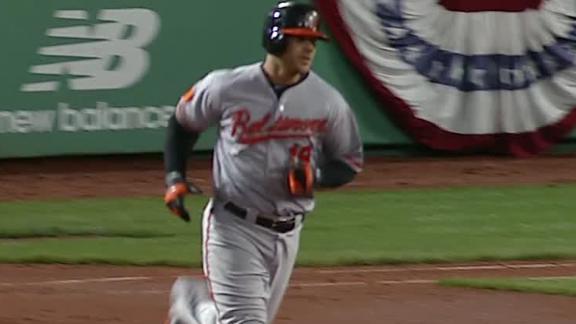 Yanks-Indians postponed

CNNSI.com

Apr 11, 2013

CLEVELAND (AP) The New York Yankees and Cleveland Indians have been postponed by rain for the second straight day.

Upvote Share Tweet

Return in two weeks will be tough for Roberts

MLB.com

Apr 11, 2013

Orioles second baseman Brian Roberts (right hamstring strain) is walking without a limp, but manager Buck Showalter said it will be "a challenge" for him to be ready within two weeks.

Upvote Share Tweet

As much as Red Sox closer Joel Harnahan was eager to get back on the mound to erase the bitter taste of his blown save one night earlier, the righty will likely be rested for Thursday night's game against the Orioles.

Upvote Share Tweet

Bird-Flipping Red Sox Fan Is Less Than Impressed By Chris Davis's Homer

deadspin.com

Apr 11, 2013

The Red Sox are surprising fans and pundits with their quick start in the AL East, though the Orioles cut into that lead thanks in part to a ninth inning Chris Davis homer that sparked a five run rally. Davis's performance so far this season has been im…

Upvote Share Tweet

Chris Davis and Manny Machado went deep as the Orioles rallied for five runs in the ninth inning to secure an 8-5 win over the Red Sox on Wednesday night.

Upvote Share Tweet

Orioles Win Second Straight Against Red Sox

Apr 11

Orioles hold off Red Sox 3-2.