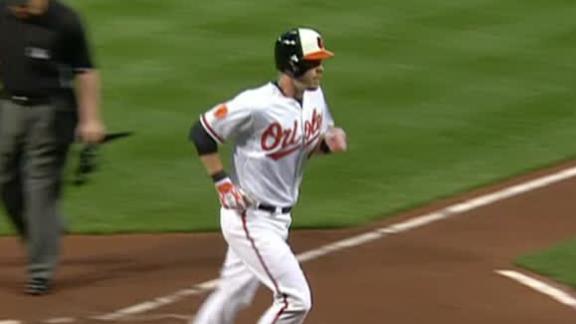 O's pull out tight victory after celebrating Jackie

MLB.com

Apr 16, 2013

Jake Arrieta struck out seven, Matt Wieters hit a solo homer and eight Orioles either drove in a run or reached base in a 5-4 victory as they celebrated Jackie Robinson in Baltimore on Tuesday.

Share Tweet

Chris Davis angrily breaks a bat over his knee, Bo Jackson style

yahoo.com

Apr 16, 2013

Opposing pitchers aren't the only ones who should fear the power of Chris Davis. So should his bats. Ohhhh, his poor bats. Here's Davis channeling Bo Jackson by breaking his bat across his knee after striking out in the third inning of Tuesday's Baltimo…

Share Tweet

CNNSI.com

Apr 16, 2013

The Marathon and the Red Sox have long been a vital part of the Boston fabric on Patriots' Day. In the aftermath of tragedy, the Sox will take on a new role, writes Tom Verducci.

Share Tweet

Orioles Hang On To Top Rays 5-4

Apr 16

Matt Wieters homers in Orioles' win.