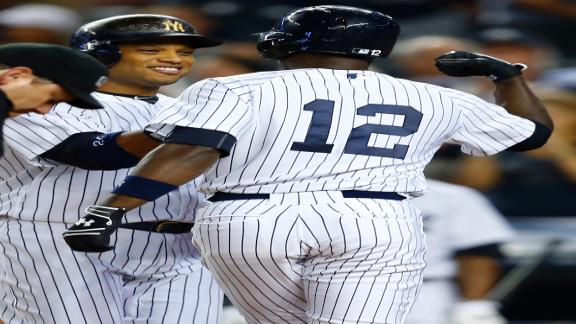 Yankees ramp up playoff push with win over Orioles
Share
Tweet
Yankees Keep Hughes in Rotation, Just Not Against Orioles

nytimes.com

Aug 30, 2013

The Yankees tweaked their rotation Friday so that the slumping Phil Hughes would avoid facing the Baltimore Orioles, a team the Yankees trail in the wild-card chase, in a crucial series this weekend.

Share Tweet

As Mike Oz reported earlier this afternoon, the Seattle Mariners traded slugger Michael Morse to the Baltimore Orioles on Friday. But what would the news look and sound like in Morse Code, the preferred blogging language of the telegraph culture of a ce…

Share Tweet

Baltimore's blueprint for putting the O's back in October

CNNSI.com

Aug 30, 2013

How will the O's get back to October? All they have to do is follow these four easy steps (and go 20-10).

Share Tweet

For sale — underwear autographed by Hall of Famer pitcher/model Jim Palmer

yahoo.com

Aug 30, 2013

How much would you pay for a pair of tighty-whities autographed by a Hall of Fame pitcher? What if the pitcher in question is Baltimore Orioles legend and underwear icon Jim Palmer? He's the six-time All-Star and three-time Cy Young winner who America g…

Share Tweet

MLB.com

Aug 30, 2013

Prospect. All-Star. Ace? Chris Tillman's breakthrough season has brought him to the edge of baseball stardom, and he reached a milestone Thursday night unequalled by any Orioles starter in the past six seasons.

Share Tweet

Yankees Battle Past Orioles

Aug 30

Alfonso Soriano and Ichiro Suzuki each hit two-run homers in the Yankees' 8-5 win over the Orioles.