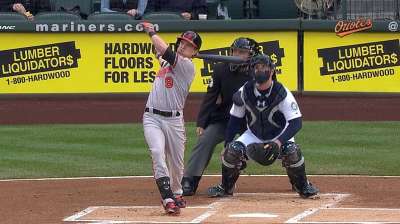 O's to promote veteran Garcia for Saturday's start

As expected, the Orioles will promote right-hander Freddy Garcia to make Saturday's start against the Angels.

Share Tweet

Madson has scar tissue removed, feels better

On Thursday, Angels reliever Ryan Madson -- who spent the past week in Arizona getting treatment -- planned to play catch prior to the game against the Orioles.

Share Tweet

Davis honored as AL Player of the Month

Orioles first baseman Chris Davis was voted the Budweiser Presents American League Player of the Month for April, following his powerful start to the season.

Share Tweet

CNNSI.com

May 2, 2013

One year removed from a 93-loss, drama-plagued season, the Red Sox have the best record in the majors. How have they done it? It's actually very simple, writes Joe Sheehan.

Share Tweet

Tillman Leads Orioles Past Angels

May 2

Chris Tillman tosses eight scoreless innings to lead the Orioles to a 5-1 win over the Angels.

Sports Columnists

NBA Playoffs 2013 - Chicago Bulls' resolve amazing, but can only take them…

May 2

Wilbon: The Bulls' resolve is amazing, but can only take them so far.

Phil Jackson to help Detroit Pistons find next head coach

May 2

Phil Jackson will help the Detroit Pistons search for a coach.