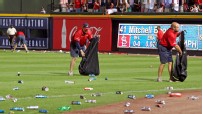 ESPN.com
Updated Oct 4, 2012
Baltimore Orioles veteran Joe Saunders will start Friday's American League wild-card game against the Texas Rangers, manager Buck Showalter announced Thursday.
Share
Tweet
Rangers, Orioles on opposite emotional planes

MLB.com

Oct 4, 2012

Beyond the numbers and the matchups, emotion could play a huge role in Friday's Orioles-Rangers American League Wild Card Game.

Share Tweet

A.L. Wild Card: Same Record, Vastly Different Talent

nytimes.com

Oct 4, 2012

The Orioles and Rangers both finished with the same record to land in the American League wild-card game, but from entirely different directions.

Share Tweet

How The Crazy-Ass AL Division Races Unfolded: Visualizing Momentum

deadspin.com

Oct 4, 2012

The Athletics and the Yankees clinched their respective division titles on the same day, but the paths they took to get there were very different. The A's budget freight train slammed through a Rangers squad that had sat atop the AL West for over 170 co…

Share Tweet

yahoo.com

Oct 4, 2012

The Juice has concluded its fifth season of fun! Remember to stop by each weekday next season for an ample serving of news from the action, plus great photos, stats and video highlights. Easier this way: Even if the Orioles hadn't fallen at Tampa Bay ea…

Share Tweet

No cause for disappointment in Baltimore

MLB.com

Oct 4, 2012

On Wednesday night the Orioles' slim chance of winning the American League East went up in flames. But shed no tears for this giddy band of overachievers. Applaud their Herculean achievement. They need not pop corks to celebrate this remarkable season.

Share Tweet

ESPN.com

Oct 4, 2012

Evan Longoria homered three times and the Tampa Bay Rays beat Baltimore 4-1 Wednesday, ending the Orioles' bid to force a one-game tiebreaker for the AL East title.

Share Tweet

Keys For Wild Card Games

Oct 4

Baseball Tonight previews Cardinals at Braves and Orioles at Rangers Friday.