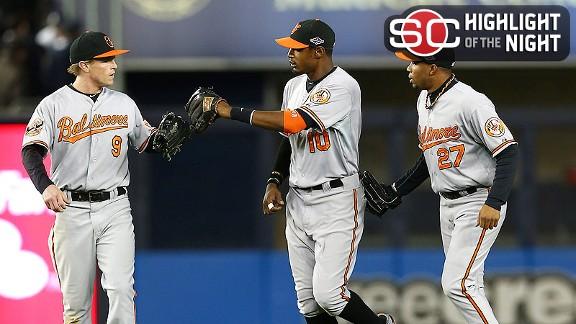 ESPN.com
Updated Oct 11, 2012
New York Yankees reliever Joba Chamberlain has left Game 4 of the AL division series against the Baltimore Orioles in the 12th inning after being hit on the right elbow by a broken bat.
Share
Tweet
Joe Saunders was asked to keep the Orioles' season alive on Thursday night with the team down, 2-1, in its matchup with the New York Yankees.

Share Tweet

CNNSI.com nytimes.com

Oct 11, 2012

The Orioles and Yanks are in the 12th inning as they decide Game 4 in the Bronx. Nate McLouth's home run had given Baltimore the lead, but Robinson Cano and New York countered in sixth.

Share Tweet

Ibanez's heroics prompt social media eruption

The bedlam that broke out in the Bronx on Wednesday with Raul Ibanez's pair of home runs to lift the Yankees to a 3-2 win in 12 innings over the Orioles in Game 3 of the American League Division Series spilled over into social media.

Share Tweet

O's will give ball back to Johnson in save situation

If the Orioles are in a save situation for Game 4 of the American League Division Series on Thursday night, closer Jim Johnson will get the ball.

Share Tweet

Oakland announced that the team will remove the tarps that covered the seats on the third deck of the main grandstand for Games 1 and 2, opening up 11,698 new seats for a potential ALCS matchup against the Yankees or Orioles.

Share Tweet

nytimes.com MLB.com

Oct 11, 2012

Alex Rodriguez will be in the lineup and be playing third base while Derek Jeter, who had started 155-straight playoff games at shortstop, will still be leading off but as the designated hitter.

Share Tweet

nytimes.com

Oct 11, 2012

Yankees Manager Joe Girardi did Wednesday night what would have been unthinkable just a few years back: he pinch hit for Alex Rodriguez and it paid off.

Share Tweet

Adam Jones' bubble-blowing habit finally goes prime time -though not in a good way (Video)

yahoo.com

Oct 11, 2012

It was easy on Wednesday night to tell the people who are new to watching the Baltimore Orioles from those of us who have watched their games the past few years. There were those who saw Adam Jones as he pursued Derek Jeter's triple in center field and …

Share Tweet

Leading Off: Coast to Coast, Comeback Fever

nytimes.com

Oct 11, 2012

Ninth-inning comebacks by the A's and the Yankees on Wednesday night provided sportswriters with many story lines.

Share Tweet

ESPN.com

Oct 11, 2012

Manager Joe Girardi said right-hander Phil Hughes would start Game 4 against the Baltimore Orioles even if the New York Yankees were facing elimination.

Share Tweet

Baltimore Orioles headed up by Dan Duquette and Buck Showalter may not have enough to beat Yankees, but they are on right track

nydailynews.com

Oct 11, 2012

When he was named Oriole GM a little less than a year ago - the last man standing after a half-dozen execs declined to be interviewed, and one, Toronto Blue Jays scouting director Tony LaCava, turned down the job - Dan Duquette knew what he had to do.

Share Tweet

nydailynews.com

Oct 11, 2012

Honestly, did anybody really think Joe Girardi had it in him? The Yankee manager has come to be known, not so fondly, as Joey Looseleafs, for his devotion to the statistics in his famous binder on the bench.

Share Tweet

Loss ends Orioles' extra-innings win streak at 16

The Orioles entered the ALDS with a 74-0 record when leading after seven innings and, more appropriate for Wednesday night, as winners of 16 straight extra-inning games. Both streaks are now over.

Share Tweet

Jones 'not satisfied' that misplay cost O's run

Orioles center fielder Adam Jones said making excuses about missing Derek Jeter's RBI triple in Game 3 on Wednesday wouldn't be his style.

Share Tweet

Highlight Of The Night

Oct 11

Orioles top Yankees in 13 innings to force Game 5.