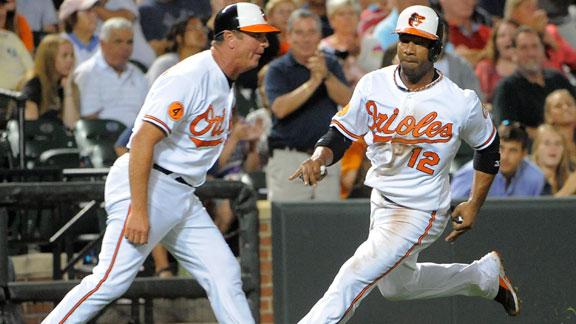 The Orioles capped a drama-filled contest with a series-opening 4-2 win over the Yankees to move to within 1 1/2 games of the second American League Wild Card spot. Chris Tillman went seven-plus innings for the win.
Share
Tweet
Beat the Streak leader's run halted

MLB.com

Sep 9, 2013

Clement Uduk woke up Monday as the Beat the Streak leader with 46 straight successful selections, 11 away from the game's $5.6 million grand prize. But Robinson Cano's 0-for-4 game against the Orioles halted his run.

Share Tweet

MLB.com

Sep 9, 2013

As the playoff races heat up, emotions boiled over between the Orioles and Yankees on Monday night, with managers Buck Showalter and Joe Girardi engaging in a heated on-field exchange that involved accusing Baltimore of sign stealing.

Share Tweet

Baltimore's Chris Dickerson buys Alexei Ramirez fakeout, gets doubled off first base for last out

yahoo.com

Sep 9, 2013

Just before he took off running for second base on a hit and run in the bottom of the ninth inning, Chris Dickerson of the Baltimore Orioles could be seen talking with Jeff Keppinger of the White Sox at first base. What did Keppinger say? With runners a…

Share Tweet

Orioles Double Up Yankees

Sep 9

Nick Markakis had three hits in the Orioles' 4-2 win over the Yankees.