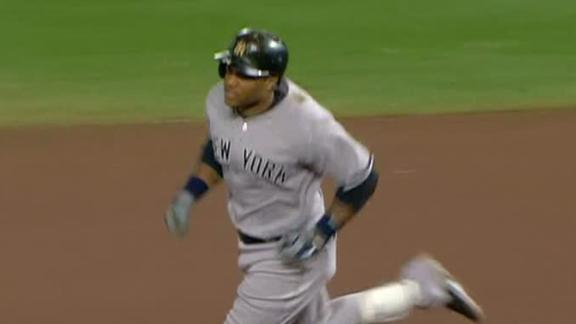 A night removed from surrendering four late-game runs, the Orioles 'pen again caved after Scott Feldman's strong outing, with two ninth-inning scores sinking Baltimore's hopes of making up Wild Card ground in Wednesday's 5-4 loss to the Yankees.
Share
Tweet
Orioles commemorate Sept. 11 anniversary

MLB.com

Sep 11, 2013

The Orioles joined the rest of Major League Baseball on Wednesday night in commemorating the 12th anniversary of the Sept. 11, 2001, terrorist attacks with special American flag caps for their contest against the Yankees.

Share Tweet

Adam Jones' banana-tossing man arrested after Jersey Shore incident

yahoo.com

Sep 11, 2013

The man who threw a banana in the direction of Baltimore Orioles slugger Adam Jones has been biding his time at the Cape May County (N.J.) Correctional Center after being arrested at the Jersey Shore on Saturday. No, you cannot make this stuff up. His i…

Share Tweet

Who Will Make Playoffs From AL East?

Sep 11

Baseball Tonight Minute: The Baseball Tonight crew looks at which teams from the AL East will make the playoffs.

Yankees Fight Off O's

Sep 11

Robinson Cano, Alex Rodriguez and Curtis Granderson all homered in the Yankees' 5-4 win over the Orioles.