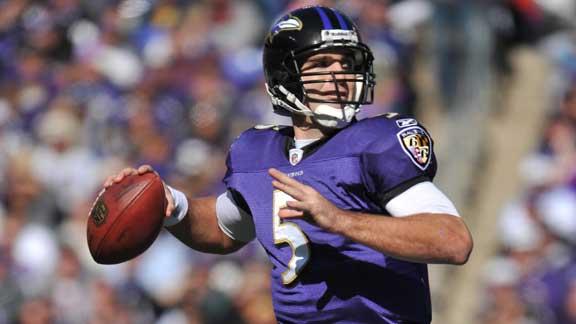 nytimes.com
ESPN.com
yahoo.com
profootballtalk.com
baltimoresun.com
Updated Mar 22, 2013
The N.F.L. usually stages its season opener at the home of the Super Bowl champion, but a Ravens-Orioles scheduling conflict will keep that from happening.
Share
Tweet
When the news broke that the Baltimore Ravens are opening the 2013 season on the road, you had to wonder what did they do to anger the football gods. For five weeks in the postseason, everything went right for the Ravens. For the past two weeks, everyth…

Share Tweet

baltimoresun.com ESPN.com profootballtalk.com yahoo.com

Mar 22, 2013

Reed: "Eleven years is a great book and the way it ended, you can't write a better script."The sight couldn't have been easy for Ravens fans: Ed Reed wearing a Houston Texans' hat and later holding up a blue No. 20 jersey.

Share Tweet

profootballtalk.com ESPN.com

Mar 22, 2013

We've heard plenty about interest from the Broncos, Ravens and Steelers in signing defensive end Elvis Dumervil since the Broncos put Dumervil on the market after the fax machine's most high-profile moment in at least a decade. Mike Klis of the Denver

Share Tweet

A look at whether each AFC North team has been a winner or a loser in free agency. Baltimore Ravens: Losers. No debate here. The Super Bowl champions have been among the biggest losers in free agency. The Ravens have parted ways with seven starters (inc…

Share Tweet

Ed Reed: By the numbers

A look back at Ed Reed's career with the Ravens: 1 -- Super Bowl ring, which Reed won in his hometown of New Orleans last month. 4 -- Career blocked punts, three of which have been returned for touchdowns. 7 -- Consecutive trips to the Pro Bowl, includi…

Share Tweet

Though focused on draft, Ravens still hope for a couple free-agent bargains

baltimoresun.com

Mar 22, 2013

Ravens officials made it clear at this week's NFL meetings that their primary focus over the next month is not what remains on the free-agent market.

Share Tweet

Brendon Ayanbadejo speaks out

Mar 22

Ravens linebacker Brendon Ayanbadejo joins "NFLAM" to discuss his efforts to improve gay rights in the NFL and across the country, as well as changes to the Ravens' defense.

Ed Reed 1-on-1 as a Houston Texan

Mar 22

Houston Texan safety Ed Reed talks with Andrew Siciliano shortly after his introductory press conference with the team.

Ed Reed Signs With Texans

Mar 22

Adam Schefter discusses Ed Reed's three-year, $15 million deal with the Texans.

Ravens Offer Dumervil A Contract

Mar 22

Herm Edwards discusses Baltimore's plans for the 2013 NFL draft and the report that the Ravens offered DE Elvis Dumervil a contract.