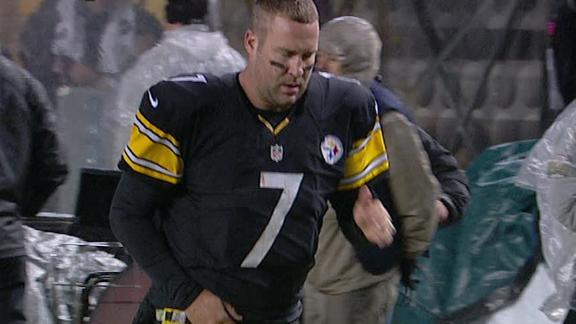 ESPN.com
Updated Nov 12, 2012
PITTSBURGH -- My thoughts on the Pittsburgh Steelers' 16-13 overtime win over the Kansas City Chiefs: What it means: Whether they were looking ahead to Sunday's game against Baltimore or simply unfocused, the Steelers (6-3) barely beat one of the NFL's …
Share
Tweet
Next stretch of games could have major implications for Ravens

Like most, if not all, NFL teams, the Ravens cling tightly to the tenets of the 24-hour rule, allowing them only one day to celebrate victories while briefly pushing back the arduous task of preparing for the next challenge that lies ahead.

Share Tweet

Harbaugh praises Dean Pees' defensive alignments

Defensive coordinator utilized new-look schemes in win over RaidersRavens' defensive coordinator Dean Pees' creative tendencies drew praise from his players, and coach John Harbaugh.

Share Tweet

Ravens went all Dikembe Mutombo on the Raiders

In Sunday's 55-20 win over the Oakland Raiders, Ravens defenders channeled their inner Dikembe Mutombo, swatting six of quarterback Carson Palmer's passes at the line. All that was missing was the finger-wagging.

Share Tweet

ESPN.com baltimoresun.com

Nov 12, 2012

Revisiting the Baltimore Ravens' 55-20 win over the Oakland Raiders at M&T Bank Stadium: A big reason for the Ravens' offense breaking out of its recent funk was the reemergence of the tight ends. Dennis Pitta and Ed Dickson once again became factors Su

Share Tweet

baltimoresun.com profootballtalk.com

Nov 12, 2012

Every week, blogger Matt Vensel breaks down a critical play, sometimes with the help of Ravens players, from that week's game. Today he looks at Sam Koch's touchdown run on a fake field goal against the Raiders.

Share Tweet

profootballtalk.com

Nov 12, 2012

Ravens defensive tackle Haloti Ngata said last week that injuries to his knee and shoulder have kept him from playing the way he'd like this season. The injuries weren't enough to force Ngata, who didn't record a tackle in the Week 10 win over the B

Share Tweet

ESPN.com baltimoresun.com

Nov 12, 2012

The only major concern coming from the Ravens' 55-20 win over the Raiders was the play of Ed Reed. The Pro Bowl safety's missed tackle led to Darrius Heyward-Bey's 55-yard touchdown. Another Raiders touchdown -- a 30-yard pass to Denarius Moore -- came …

Share Tweet

Wake-up: AFC North enjoys 'Rout Weekend'

ESPN.com

Nov 12, 2012

I'm heading to catch my morning flight to Pittsburgh, where I'll be covering the Steelers-Chiefs on Monday night. The pressure is on the Steelers to continue "Rout Weekend" in the AFC North. The Ravens and Bengals won by a combined score of 86…

Share Tweet

Don Banks: Texans prove they're ready for the elements

CNNSI.com

Nov 12, 2012

CHICAGO -- Covering a Ravens-Texans game last month on a beautiful sun-splashed Sunday afternoon in Houston, I couldn't help but notice the powers that be elected to keep the roof at Reliant Stadium closed, even though the weather couldn't have been muc…

Share Tweet

'The Coaches Show': Was Baltimore Ravens head coachJohn Harbaugh running up the score?

Nov 12

Brian Billick and Dennis Green discuss whether Baltimore Ravens head coach John Harbaugh ran up the score on the Raiders, along with discussions on call made by Greg Schiano and Marvin Lewis.