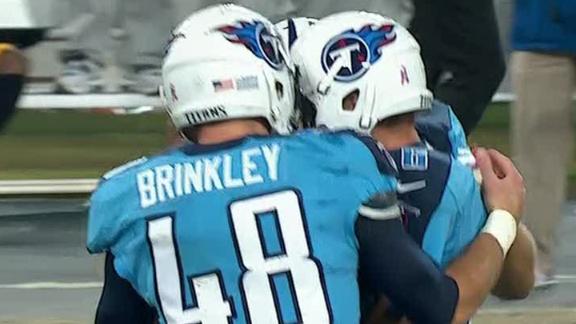 ESPN.com
Updated Oct 11, 2012
NASHVILLE, Tenn. -- Thoughts on the Pittsburgh Steelers' 26-23 loss at the Tennessee Titans: What it means: The Steelers (2-3) fell two games back of the division-leading Ravens because they fell short on the road again. This marked the second time they…
Share
Tweet
baltimoresun.com profootballtalk.com

Oct 11, 2012

Chiefs offensive line pushed veteran around the field, but team adjusted to pick up 9-6 winA helmet to the chest from Kansas City Chiefs center Ryan Lilja rudely greeted Ravens middle linebacker Ray Lewis, a punishing blow reinforced by Lilja shoving th…

Share Tweet

Week 6 picks: The Pats' offense is a juggernaut, but unstoppabl…

CNNSI.com

Oct 11, 2012

The Pats' offense is a juggernaut, but unstoppable? The Seattle crowd, and a crazed pass rush, will have something to say about that, Peter King writes as he picks Week 6's games.

Share Tweet

Breaking down Sunday's game between the Ravens and Cowboys with Dallas reporter Rainer Sabin

Every week, I hope to bring you a quick Q&A with someone who covers the Ravens' opponent that week. On Sunday, the Ravens will take on the Dallas Cowboys at M&T Bank Stadium. Rainer Sabin covers the Cowboys for The Dallas Morning News, and he was kind e

Share Tweet

profootballtalk.com

Oct 11, 2012

Every Thursday morning, we unveil the respective picks from MDS and yours truly.  Every Thursday afternoon, MDS joins PFT Live to discuss the games on which we disagree - and other games that make us nervous. Today, we talked Vikings-Redskins, Broncos-

Share Tweet

As he prepares for 200th game, Ravens' Matt Birk reflects on career

Veteran center was a sixth-round draft pick, had a rough time early in his career before turning into Pro Bowl linemanMatt Birk's goals at first were simple. There was no thought of having a long and productive NFL career. He had no visions of making Pr…

Share Tweet

Facing Cowboys defensive coordinator Rob Ryan, Ravens will see familiar defense

Rob Ryan is the identical twin brother of former Ravens defensive coordinator Rex RyanWhenever Ravens Pro Bowl offensive guard Marshal Yanda looks across the line of scrimmage at the Dallas Cowboys' front seven or tilts his gaze toward their sideline

Share Tweet

Ravens' O-line faces another test vs. Cowboys LBs

Ravens offensive tackles Michael Oher and Kelechi Osemele thought they had it tough last week.

Share Tweet

Although Dallas Cowboy is averaging just 6.4 yards on returns, Ravens punt coverage unit eager to contain himDez Bryant is averaging just 6.4 yards on seven punt returns thus far for the Dallas Cowboys, but the Ravens are treating the starting wide rece…

Share Tweet

Ravens' nose guards had a long day in Kansas City

Rough day for Kemoeatu, CodyBulldozed by the Kansas City Chiefs' running game in the first half prior to a halftime adjustment salvaged a 9-6 victory, the Ravens' defense was particularly susceptible to the zone-stretch play.

Share Tweet

baltimoresun.com ESPN.com

Oct 11, 2012

Defense wary of Dallas Cowboys quarterback's ability to scramble and buy time to find receivers downfieldWhen Tony Romo escapes pressure, darts away from an opponent, and finds a receiver for a gain, the Ravens see similarities between the Dallas Cowboy…

Share Tweet

ESPN.com

Oct 11, 2012

Dallas Cowboys starting outside linebacker Anthony Spencer said he expects to play in Sunday's game at the Baltimore Ravens. Spencer missed the Week 4 loss to the Chicago Bears with a pectoral muscle injury.

Share Tweet

Every morning, Monday through Friday, blogger Matt Vensel will hook you up with reading material -- mostly on the Ravens but with some other Baltimore sports stuff, too -- to skim through as you slug down coffee and slack off at the start of your workda…

Share Tweet

Tommy Streeter: 'I want to be an all-around receiver'

Out for the season, injured rookie is trying to improve for next yearFor lanky Ravens rookie wide receiver Tommy Streeter, now is the time to work on his weaknesses.

Share Tweet

Preview: Dallas Cowboys vs. Baltimore Ravens

Oct 11

NFL Films previews the Week 6 matchup between the Dallas Cowboys and the Baltimore Ravens.

Countdown Daily Prediction: Cowboys-Ravens

Oct 11

The NFL Live crew makes their picks for Dallas at Baltimore

Sports Columnists

John Clayton's Last Call

Oct 11

Upsets. Crazy plays. Debatable play calls. Incredible kicks. Week 6 had it all, writes John Clayton.

Peter King: Week 6 Picks

Oct 11

Last week: 12-2, .857. Year to date: 43-34, .558 Pittsburgh 27, Tennessee 14. The talk in Pittsburgh will be about Ben Roethlisberger?s shot at breaking Terry Bradshaw?s record for career passing yards?he needs a 300-yard game in Nashville to do it?but …

Biggest NFL games of Week 6 -- John Clayton's First & 10

Oct 11

It's a crucial weekend for three slumping NFC teams, writes John Clayton.