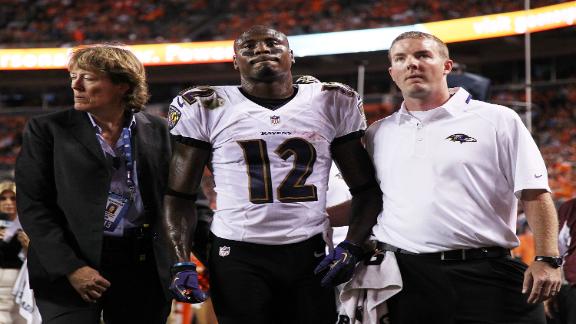 ESPN.com
baltimoresun.com
profootballtalk.com
Updated Sep 6, 2013
Baltimore Ravens wide receiver/returner Jacoby Jones could miss four to six weeks with a sprained medial collateral ligament in his right knee, according to a Baltimore Sun report.
Share
Tweet
Taking stock at wide receiver for the Ravens

Jacoby Jones' sprained right knee means the Ravens will probably need short-term assistance on offense and special teams.

Share Tweet

We're only one game into the NFL season, and we've already seen Major League Baseball affect the schedule, as the Ravens opened on the road instead of at home because of a scheduling conflict with the Baltimore Orioles. Now baseball may cause another ch…

Share Tweet

Ravens remove LaQuan Williams from injured reserve with injury settlement

Former Maryland, Poly player is now a free agent, dealing with minor hamstring issueFormer Maryland and Poly wide receiver LaQuan Williams has been removed from the Ravens' injured reserve list as the team brokered an injury settlement with him.

Share Tweet

baltimoresun.com ESPN.com

Sep 6, 2013

'We didn't expect to open the season and play this bad,' safety Huff says of 49-27 defeatJimmy Smith called it a complete embarrassment. Michael Huff acknowledged that he needs to play way better. Corey Graham said it was probably one of the worst games…

Share Tweet

Broncos' season-opening win viewed by 25.1 million people

The NFL's dominance over the American television landscape continues. Thursday night's Ravens-Broncos NFL opener was watched by 25.1 million viewers, a 5 percent increase over the Cowboys-Giants game that kicked off the season last year. The 25.1 millio…

Share Tweet

baltimoresun.com profootballtalk.com ESPN.com

Sep 6, 2013

Five for Friday: Ravens' most lopsided losses under John Harbaugh

Share Tweet

The Ravens and Broncos had the stage to themselves on Thursday night, but now it is time to turn our attention to the rest of the league. Mike Florio and Michael David Smith will discuss their picks for all the games in Week One — both picked the Bronco…

Share Tweet

Ravens snap count observations from Thursday

We knew the Ravens would be in the nickel a lot against Peyton Manning and the Denver Broncos, who have a formidable trio of wide-outs in Demaryius Thomas, Eric Decker and Wes Welker. They probably had to use it even more than expected as the Broncos we…

Share Tweet

ESPN.com

Sep 6, 2013

Newspaper says John Elway, not Peyton Manning, threw seven touchdown passes against Baltimore Ravens.

Share Tweet

One of the first signs that things might not wind up going the Ravens' way on Thursday night came in the second quarter when Jacoby Jones was wiped out by teammate Brynden Trawick while trying to field a punt. Jones immediately went to the locker room, …

Share Tweet

Even After Seven TDs, Peyton Manning Can't Escape John Elway's Shadow

According to the Columbus Dispatch, it was ol' No. 7 who put a historic hurting on the Baltimore Ravens last night. There's never really a good excuse for mistaking John Elway for Peyton Manning, but this definitely shouldn't happen the morning after a …

Share Tweet

Maybe that vigilante Denver sportscaster had it right—Ravens banners didn't belong anywhere near the same city as Peyton Manning. After a seven-touchdown performance, the 37-year-old made an early statement that Denver would like to host the season open…

Share Tweet

Smaller-than-normal crowd for Orioles last night

Even with the enticement of a free Keith Urban concert (googles Keith Urban, realizes he's a thing), the crowds in Baltimore weren't quite what they could have been last night. With the Ravens playing their first game since winning the Super Bowl nearly…

Share Tweet

'Embarrassing' game for Ravens' secondary as Peyton Manning picks them apart

Defensive backs endured long night as Broncos QB tied NFL single-game record with seven touchdown passesThe nightmare never halted for the Ravens' secondary, mercilessly torched by the Broncos' talented array of receivers.

Share Tweet

profootballtalk.com baltimoresun.com

Sep 6, 2013

While it's hard to imagine Dennis Pitta coming back from a dislocated hip this season, we may have found out last night why the Ravens are willing to wait for him. They opened the door for Pitta to return by placing him on IR/designated for return inste…

Share Tweet

Outside linebacker left Broncos under unusual circumstancesFor Ravens Pro Bowl outside linebacker, it wasn't the triumphant return to Denver against his old team that he had envisioned.

Share Tweet

Terrell Suggs guarantees a rematch

The beating the Ravens took last night was thorough and convincing. And they're ready for another shot. After allowing a record-tying seven touchdown passes from Broncos quarterback Peyton Manning in a 49-27 loss, the Ravens weren't backing down. "The g…

Share Tweet

Ravens implode in historically bad opener

ESPN.com

Sep 6, 2013

DENVER -- The Baltimore Ravens' free fall from atop the football world was embarrassing and historic Thursday night. The Ravens' new-look defense gave up an NFL-record-tying seven touchdown passes to Peyton Manning. Baltimore suffered the worst season-o…

Share Tweet

Baltimore Ravens couldn't have looked much worse in first step of title defense

DENVER – The last time the Baltimore Ravens were in this stadium, many of them sprinted off the field and through the tunnel with joy, to find some warmth and celebration in the locker room after a frigid double-overtime playoff win. This time, they onc…

Share Tweet

CNNSI.com

Sep 6, 2013

After a brutal playoff loss, Peyton Manning was firing on all cylinders as the Broncos routed the Ravens.

Share Tweet

People will be talking about Peyton Manning's ridiculous performance against the Ravens the rest of this week, the rest of this season and probably decades from now.Manning wants no part of the discussion.Manning had 462 yards and seven touchdowns as th…

Share Tweet

nydailynews.com ESPN.com profootballtalk.com yahoo.com

Sep 6, 2013

With each touchdown pass Peyton Manning was trying or setting another NFL record. His fourth equaled Brett Favre with 23 four-TD games, his fifth tied Drew Brees with his seventh of five or more and his sixth – for the third time in his career – gave Ma…

Share Tweet

For Tucker, it's power — and privilege

Humble kicker's mental strength, poise, preparation are paying off in pointsRavens kicker Justin Tucker routinely kicked clutch field goals with the poise of a veteran during his rookie season, displaying every quality retired Ravens kicker Matt Stover …

Share Tweet

Denver 49, Baltimore 27: Peyton Manning was still furious over last season's playoff loss to the Ravens, apparently, because he absolutely demolished Baltimore tonight. Manning threw for 462 yards and seven touchdowns, becoming the sixth person in NFL h…

Share Tweet

Ravens need to find someone who can catch the ball

It was a weak effort by wide receivers, tight ends all nightThe warning sign came early in the game, as soon as the first offense went onto the field. The Ravens started Marlon Brown, an undrafted rookie, at wide receiver.

Share Tweet

ESPN.com nytimes.com

Sep 6, 2013

Peyton Manning and the Denver Broncos waited eight long months, then another 33 minutes, to get the season started.

Share Tweet

Denver Broncos linebacker Danny Trevathan allowed Leon Lett to finally get a good night of sleep. Meanwhile, DeSean Jackson knows he will not be the only one in the bone-headed blooper reel.Trevathan intercepted Ravens quarterback Joe Flacco early in th…

Share Tweet

Ravens blown out by Broncos on record-setting night for Peyton Manning

Denver QB passes for seven touchdowns as Baltimore drops season opener, 49-27Eight months after leaving the same stadium on the ultimate high, the Ravens trudged out of Sports Authority Field late Thursday night as a thoroughly beaten team, taken apart …

Share Tweet

grantland.com

Sep 6, 2013

Well football returned last night, and in case you missed it, Peyton Manning went and set the entire Ravens defense on fire. Seven touchdowns and 462 ...

Share Tweet

Overreaction to Broncos blowout?

Sep 6

Are the Baltimore Ravens in trouble after giving up seven touchdowns to Peyton Manning and the Denver Broncos, or is it too early to judge the defending Super Bowl champions?

A Fun Night To Play QB

Sep 6

Broncos QB Peyton Manning talks to Sal Paolantonio about his seven-touchdown performance against the Ravens.

Baltimore Ravens postgame press conference

Sep 6

Ravens react following game with Broncos.

Baltimore Ravens wide receiver Torrey Smith's one-handed grab

Sep 6

Baltimore Ravens wide receiver Torrey Smith makes a nice one-handed grab for a 34-yard gain.