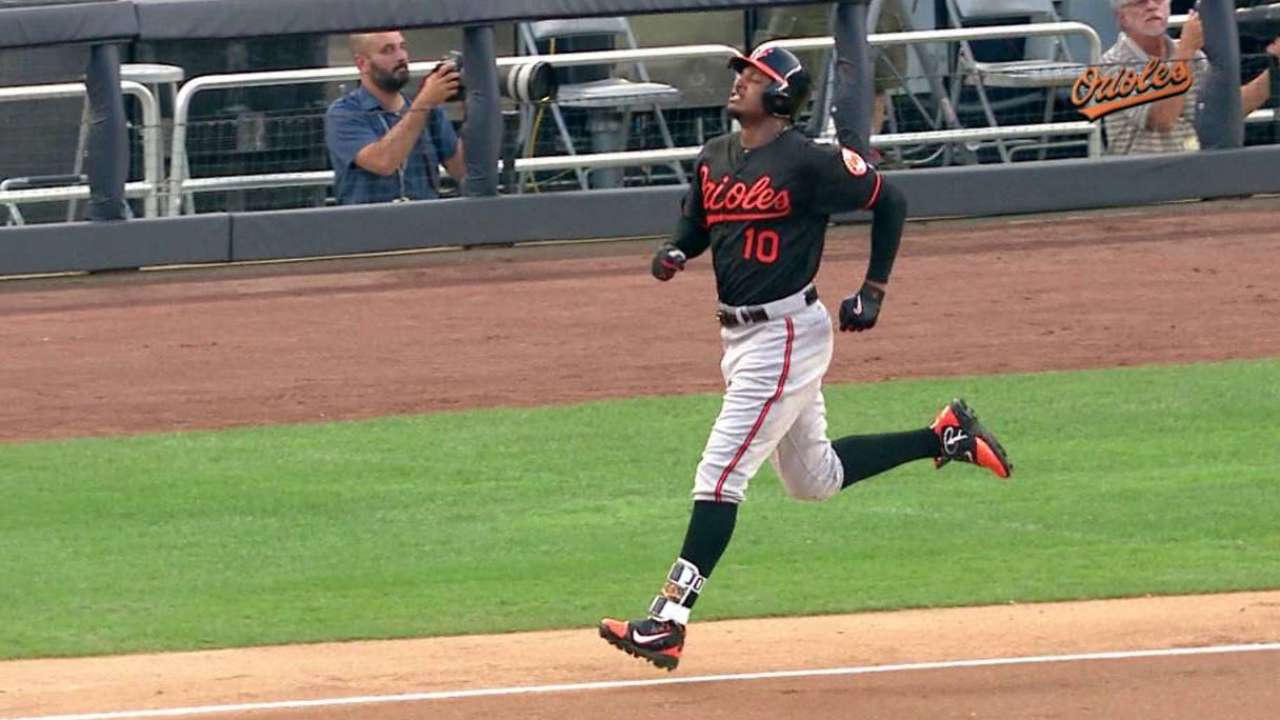 MLB.com
Updated 7 hours ago
Orioles center fielder Adam Jones exited Friday's game against the Yankees in the second inning with a left hamstring strain, though the injury isn't believed to be serious.
Share
Tweet
nytimes.com MLB.com

7 hours ago

Sanchez hit his 10th home run since being called up 20 games ago as the Yankees gained ground on the Orioles in the race for the wild-card.

Share Tweet

nytimes.com

Aug 26 (yesterday)

A look at what's happening all around the majors Saturday:

Share Tweet

McFarland comes off DL in O's latest 'pen move

MLB.com

11 hours ago

The Orioles continued their bullpen shuffle, reinstating left-handed pitcher T.J. McFarland from the 15-day disabled list and designating Logan Ondrusek for assignment off the 25-man roster prior to Friday's game against the Yankees.

Share Tweet

yahoo.com nytimes.com MLB.com

19 hours ago

Washington Nationals ace pitcher Max Scherzer may be magic. No, it's not just his brilliant start against the Baltimore Orioles on Thursday night. (He allowed just two hits over eight innings with no walks and ten strikeouts, which is magic of a differe…

Share Tweet

Steve Smith won't play this week for Ravens, Suggs and Dumervil unlikely

profootballtalk.com

22 hours ago

The Ravens are going to put Joe Flacco on the field Saturday night against the Lions, but most of their other recovering-from-injury stars are going to get the night off. Via Edward Lee of the Baltimore Sun, veteran wide receiver Steve Smith has already…

Share Tweet

ESPN.com

23 hours ago

Ravens salute Navy's Keenan Reynolds as 'America's finest,' but will he make team?

Share Tweet

MLB.com

Aug 26 (yesterday)

The Orioles' reliever carousel continued Thursday, when Parker Bridwell was optioned to Triple-A Norfolk as the team recalled Logan Ondrusek from Double-A Bowie. Bridwell becomes the third reliever sent down since Friday as the O's try to keep fresh arm…

Share Tweet

Ravens' Watson helps feed flood relief workers

ESPN.com

Aug 25 (yesterday)

Ravens' Watson helps feed flood relief workers

Share Tweet

nytimes.com

Aug 25 (yesterday)

Britton is in the Cy Young Award conversation because of a sinker that has helped him convert all 38 save opportunities for the Baltimore Orioles.

Share Tweet

ESPN.com

Aug 25 (yesterday)

Ravens' Joe Flacco not welcoming first hit in Saturday's preseason debut

Share Tweet

Machado, Wieters plate 8 as O's deny Nats

MLB.com

Aug 24 (2 days ago)

Manny Machado lit up the scoreboard all night and Matt Wieters contributed a late three-run homer to help the Orioles slug their way past the Nationals, 10-8, at Nationals Park on Wednesday night. Both Wieters and Machado -- who finished with four hits,…

Share Tweet

deadspin.com

Aug 24 (2 days ago)

Strong-as-hell swimming champion Katie Ledecky is from Washington D.C., and the Nationals invited her to come throw the first pitch tonight before their game against the Orioles. She arrived, as well she should, decked out in all five of her recently-ac…

Share Tweet

Astros edge Bucs to cap strong road trip

MLB.com

Aug 24 (2 days ago)

Fighting to keep their spot in a crowded American League Wild Card picture, the Astros did exactly what they needed to during a seven-game swing through Baltimore and Pittsburgh. Coming off a series victory over the Orioles, the Astros claimed another o…

Share Tweet

MLB.com nytimes.com

Aug 24 (3 days ago)

The Orioles placed Chris Tillman on the disabled list with right shoulder bursitis and recalled righty Mike Wright from Triple-A Norfolk on Wednesday.

Share Tweet

Why more NFL players are leaving the game early

Jul 29

Eugene Monroe and Domonique Foxworth both retired from the NFL at a young age. On Outside the Lines, they discuss why the NFL is seeing a shift as more and more players 30 and under are voluntarily retiring.

Suggs: 'You never know when it's really going to be gone'

Jul 27

Addressing the press today for the first time in over 200 days, Ravens linebacker Terrell Suggs expresses his love of football and discusses the privilege that comes with everything associated with the game.

Flacco: I don't need to rush anything

Jul 27

Joe Flacco explains his plan to speak up at practice when he feels like he needs time to recover to make sure he's healthy for the team.

Ravens won't rush Suggs

Jul 27

Ed Werder provides an update for when the Ravens should expect to see Terrell Suggs and Steve Smith Sr. back on the field.