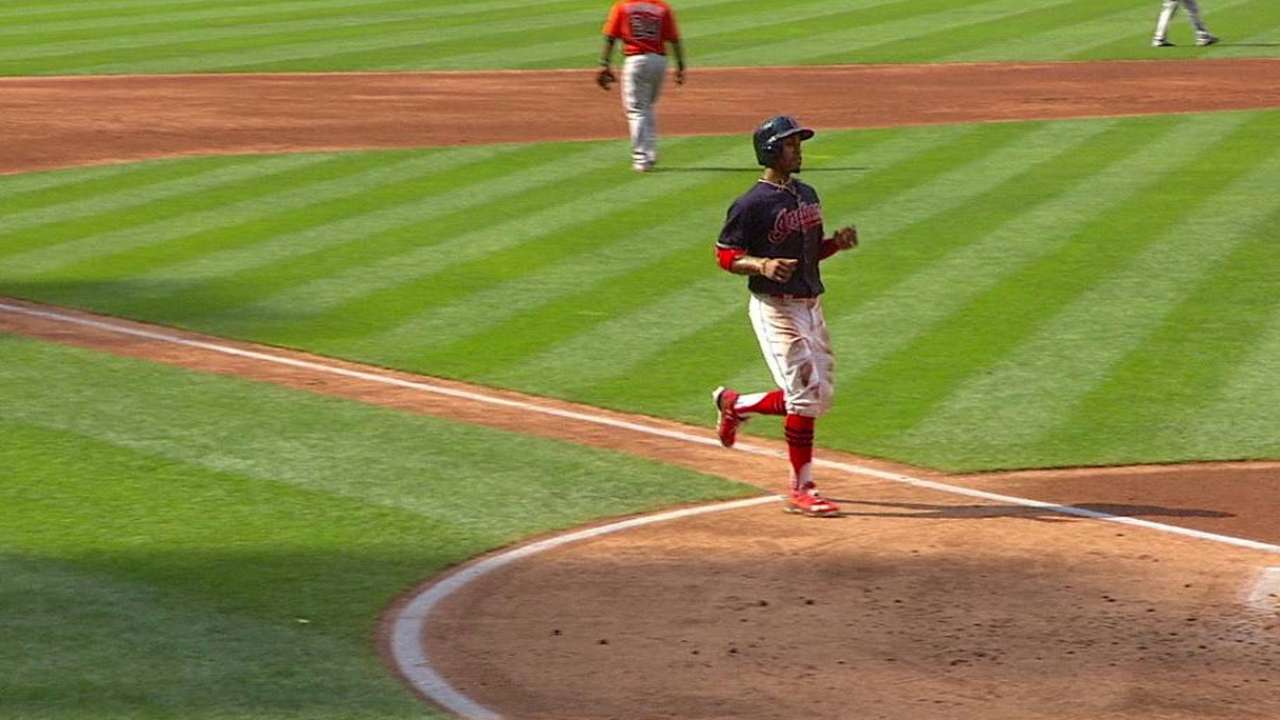 Tribe evens series with big singles, steals
MLB.com
Updated 2 hours ago
The Indians used a strong start from Danny Salazar and an all-around offensive attack to claim a 11-4 victory over the Orioles on Saturday at Progressive Field. With the win, Cleveland moved into first place in the American League Central for the first …
Share
Tweet
Gomes, Salazar Lead Indians Past Orioles 11-4

nytimes.com

2 hours ago

Yan Gomes drove in three runs, Danny Salazar allowed two runs in six innings and the Cleveland Indians beat the Baltimore Orioles 11-4 on Saturday.

Share Tweet

Gallardo throws first simulated game

MLB.com

5 hours ago

Orioles starter Yovani Gallardo began the next step in his rehabilitation process on Saturday. The 30-year-old righty threw a simulated game at Progressive Field in the morning prior to the start of game two between Baltimore and Cleveland.

Share Tweet

Haloti Ngata ready to be a veteran leader in Year 2 in Detroit

profootballtalk.com

7 hours ago

When Haloti Ngata was traded from the Ravens to the Lions last offseason, he stayed in Baltimore for much of the summer, his family still lived there, and it took him a few months before he was really a fit in the Lions' defense. This year, however, Nga…

Share Tweet

Extra Bases: Jim Palmer, at 70, Is Still Talking Pitching

nytimes.com

10 hours ago

The Orioles Hall of Famer, a three-time A.L. Cy Young Award winner, remains a fixture in Baltimore.

Share Tweet

MLB.com nytimes.com

22 hours ago

Manny Machado collected four hits and Mark Trumbo launched a critical home run for the Orioles, holding off a late Indians rally in a 6-4 victory in the opener of a three-game weekend set at Progressive Field.

Share Tweet

ESPN.com profootballtalk.com

May 27 (yesterday)

Navy's Reynolds receives final OK to join Ravens

Share Tweet

profootballtalk.com

May 27 (yesterday)

Ravens wide receiver Breshad Perriman's rookie season was over before it started thanks to a knee injury suffered on the first day of training camp that was initially shrugged off as nothing serious. The knee never improved and Perriman wound up missing…

Share Tweet

Patriots fans wanted to see Ravens lose a draft pick

profootballtalk.com

May 27 (yesterday)

For committing a blatant violation of the offseason workout rules, the NFL imposed more than $480,000 in fines against the Ravens and coach John Harbaugh and stripped the team of a week of Organized Team Activities. For some fans (i.e., Patriots fans), …

Share Tweet

profootballtalk.com ESPN.com

May 27 (yesterday)

Ravens defensive tackle Timmy Jernigan wore No. 97 during his first two years in the NFL, but is sporting No. 99 this season after it became free following Chris Canty's departure from the team. Jernigan explained that he made the switch because he admi…

Share Tweet

Welcome to The Walk Off, the nightly MLB recap from Big League Stew. Here we'll look at the top performers of the night, show you a must-see highlight and rundown the scoreboard. First, we start with a game you need to know about. Houston Astros outfiel…

Share Tweet

MLB.com

May 27 (yesterday)

Astros manager A.J. Hinch said prior to Thursday's 4-2 win over the Orioles at Minute Maid Park that he wanted center fielder Jake Marisnick in the game for his defense, even though the outfielder has been struggling at the plate.

Share Tweet

MLB.com

May 27 (yesterday)

Despite all the great strikeout pitchers the Astros have had through the years -- J.R. Richard, Nolan Ryan, Mike Scott, Roger Clemens, Billy Wagner and Roy Oswalt, to name a few -- they've never had a staff achieve what it did in sweeping the Orioles.

Share Tweet

Sapp has fun with Jernigan on social media

May 27

Jim Trotter and Darren Woodson share their thoughts on Hall of Fame DT Warren Sapp responding to the Ravens tweet on Twitter saying Timmy Jernigan will be changing his number to 99 in honor of Sapp.

Hill: Not at all surprised Ravens asked Rice to talk to rookies

May 27

Cari Champion talks to Jemele Hill about Ray Rice visiting the Ravens and speaking to rookies about life lessons.

Stephen A.: People don't believe in Rice's ability

May 27

Stephen A. Smith believes Ray Rice's return to the Ravens camp as a rookie liaison is a deserved opportunity but Smith rejects the idea of Rice returning to the field.

Bell: Ravens' penalty 'surprises me'

May 26

The NFL Insiders react to news that the Ravens will have to forfeit one week of OTAs as a result of having their rookies in pads during rookie minicamp.