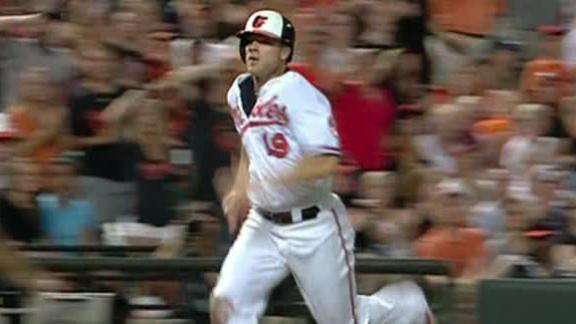 Chris Davis drove in the tiebreaking run on a fielder's choice grounder in a wild five-run fifth inning, and the Baltimore Orioles rallied for a 7-3 victory over the Cleveland Indians on Thursday night.
Share
Tweet
Machado calls first-career ejection justified

MLB.com

Jun 27, 2013

Orioles third baseman Manny Machado was ejected in the bottom of the fifth inning Thursday after arguing with home-plate umpire Will Little that he foul-tipped a third strike.

Share Tweet

MLB.com

Jun 27, 2013

Indians left-hander Scott Kazmir felt much improved on Thursday -- a day after exiting his start against the Orioles after seven innings due to back spasms. Kazmir went through a workout, but the lefty did not throw on Thursday.

Share Tweet

profootballtalk.com

Jun 27, 2013

Wednesday's edition of Pro Football Talk on NBCSN was wall-to-wall Aaron Hernandez, which means we didn't get a chance to unveil the Browns Mt. Rushmore as planned. We'll make up for that on Thursday by revealing the names of the four men who meant the …

Share Tweet

Super Bowl champs up for best team; Flacco nominated for best championship performanceThe Ravens were well-represented today when ESPN announced the nominees for the 2013 ESPY Awards, which will be held on July 17 at 9 p.m.

Share Tweet

Who's in line for extension: Ravens

ESPN.com

Jun 27, 2013

The AFC North blog is wrapping up its series this week in which we looked at one player on each team in the division who should be the priority for an extension before the season ends: The Baltimore Ravens have seven current or former starters who are s…

Share Tweet

PFT Live: Chris Canty, Shaun King

profootballtalk.com

Jun 27, 2013

Aaron Hernandez has been dominating the football landscape over the last few days, but there are plenty of other teams and players worth keeping an eye on as the league moves toward the start of training camps. The defending Super Bowl champion Ravens a…

Share Tweet

ESPN.com

Jun 27, 2013

The weekly column will be posted later this morning. It will focus on a rookie who needs to step up immediately. Until then, here's your wake-up call ... RAVENS: As tight end Aaron Hernandez was getting charged with murder, former Ravens coach Brian Bil…

Share Tweet

Latest arrests highlight difficult time of year for NFL coaches and executives

NFL coaches and team officials have a love-hate relationship with this time of year, the five or six-week stretch that links the end of mandatory minicamp with the start of training camp.

Share Tweet

Orioles Run Past Indians

Jun 27

A wild fifth inning propelled the Orioles past the Indians.