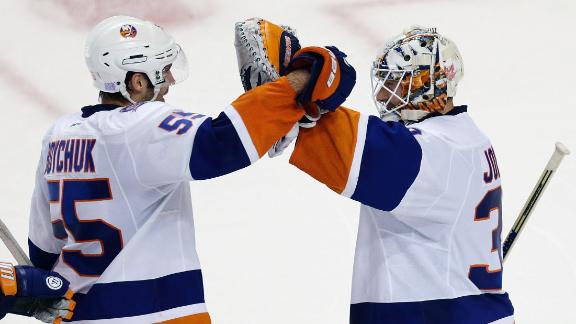 NHL.com
yahoo.com
ESPN.com
thehockeynews.com
Updated 8 hours ago
BOSTON - Boston Bruins captain Zdeno Chara will miss four to six weeks with torn ligament in his left knee. Bruins general manager Peter Chiarelli says surgery isn't likely an option right now. Chara tore the posterior cruciate ligament in...
Upvote
Share
Tweet
NHL.com

23 hours ago

BOSTON - Former Bruins backup Chad Johnson stopped 30 shots, and Kyle Okposo scored the go-ahead goal in the second period to help the New York Islanders snap a two-game losing streak with a 3-2 victory over the Boston Bruins on Thursday night. ...

Upvote Share Tweet

yahoo.com

Oct 23 (yesterday)

For a family of four, the price of attending an NHL game rose by 4.7 percent from last season, according to the latest Team Marketing Report analysis of the League. TMR released its new Fan Cost Index for 2014-15 on Thursday, and found that a theoretica…

Upvote Share Tweet

yahoo.com

Oct 23 (yesterday)

Last season, Garth Snow got aggressive for the New York Islanders, and it was a mistake. Acquiring Thomas Vanek was a redundant move. It was clearly a rental, as everyone and their mom knew he was going to Minnesota, or at the very least not staying on …

Upvote Share Tweet

Rumor Roundup: Sabres' Chris Stewart drawing major interest

thehockeynews.com

Oct 23 (yesterday)

Buffalo Sabres right wing Chris Stewart frequently popped up in the rumor mill this week as a possible trade candidate. Stewart, who turns 27 on October 30, is earning $4.2 million this season (with a cap hit of $4.15 million) and becomes eligible for u…

Upvote Share Tweet

Memorable night for young guns as three rookies register first point

thehockeynews.com

Oct 22 (2 days ago)

In 50 years, there will be three separate sets of grandkids hearing tell of Tuesday night's NHL action. The reason being for rookies Jonathan Drouin, Adam Lowry, and Seth Griffith, it was the night they registered their first NHL point. The Bruins' Grif…

Upvote Share Tweet

Rumor Roundup: Will the Oilers shop Eberle or Yakupov?

thehockeynews.com

Oct 22 (2 days ago)

Though the Edmonton Oilers finally won their first game of the season, their early-season struggles continue to generate trade speculation. Hockey Night in Canada's Don Cherry told Sportsnet 590 he thinks the Oilers must trade one of their good young pl…

Upvote Share Tweet

Gregory Campbell scores game winner, Bruins fend off late 4 minute power play

NHL.com

Oct 21 (3 days ago)

BOSTON - Gregory Campbell scored the game winner with less than 10 minutes remaining and the Boston Bruins had to fend off a late four-minute power play to earn a wild 5-3 win over the San Jose Sharks on Tuesday night. Brad Marchand and Torey...

Upvote Share Tweet

Rockstar Rask: Bruins goalie lights up the stage

thehockeynews.com

Oct 21 (3 days ago)

There are a lot of things you may not know about Bruins goaltender Tuukka Rask. For instance, he's got a habit of taking shootout losses poorly. He also served in the Finnish military. Also, did you know Rask has beaten every single team in the NHL at l…

Upvote Share Tweet

yahoo.com

Oct 20 (4 days ago)

by Josh Cooper What do Tuukka Rask of the Boston Bruins and Animal from The Muppets have in common? Not much really, besides dominant abilities on the drums. This comes from the Buffalo News: On the eve of the Bruins' eventual 4-0 stomping of the Sabres…

Upvote Share Tweet

NHL.com

Oct 20 (4 days ago)

The Boston Bruins recalled forward Seth Griffith from Providence of the American Hockey League, the team announced Monday. Griffith has played three games for the Bruins this season. He has two goals and a plus-3 rating in three games for Provi...

Upvote Share Tweet

Rumor Roundup: Red Wings still searching for missing blueline piece

thehockeynews.com

Oct 20 (4 days ago)

The Detroit Red Wings are linked to Buffalo Sabres defenseman Tyler Myers in the rumor mill, but he's not the only blueliner they could be pursuing. Sportsnet's Nick Kypreos reports the Florida Panthers want to move blueliner Brian Campbell and the Red …

Upvote Share Tweet

Five fresh faces making an impact with their new teams

thehockeynews.com

Oct 19 (5 days ago)

It's still early in the season, but fans are starting to get a feel for which free agent pick-ups and off-season trades have worked in their favor. For some, it was a blockbuster deal that could change the future of the franchise. For others, it was a s…

Upvote Share Tweet

yahoo.com

Oct 19 (6 days ago)

Hey, it's Vincent Vega! No. 1 Star: Niclas Svedberg, Boston Bruins A 32-save night helped Svedberg to record his first career NHL shutout during a 4-0 victory over the Buffalo Sabres. The Bruins netminder was making his third career start, giving Tuukka…

Upvote Share Tweet

Boston Bruins forward Milan Lucic apologized Saturday for the obscene gesture he made to Montreal Canadiens fans during Thursday's 6-4 loss at Bell Centre.

Upvote Share Tweet

Sabres make No. 2 pick Sam Reinhart a healthy scratch against Bruins

NHL.com

Oct 18 (6 days ago)

BUFFALO, N.Y. - Sam Reinhart's next step in his NHL progression is a trip to the press box as a healthy scratch. The No. 2 overall pick in June's draft played in the Buffalo Sabres' first five games and did not register a point. Not in the li...

Upvote Share Tweet

Islanders Win In Boychuk's Return To Boston

Oct 23

In his first game back in Boston since being traded, Johnny Boychuk and the Islanders beat the Bruins 3-2.

Campbell, Bruins Put Away Sharks

Oct 21

Gregory Campbell's third-period goal was the game-winner in the Bruins' 5-3 win over the Sharks.

Bruins Shut Out Sabres

Oct 18

Niklas Svedberg recorded 32 saves in the Bruins' 4-0 win over the Sabres.

Rask Pulled In Bruins' Loss

Oct 16

The Bruins' Tuukka Rask was pulled after giving up five goals, including two each to the Canadiens' Brendan Gallagher and P.A. Parentea, in Montreal's 6-3 win over Boston.