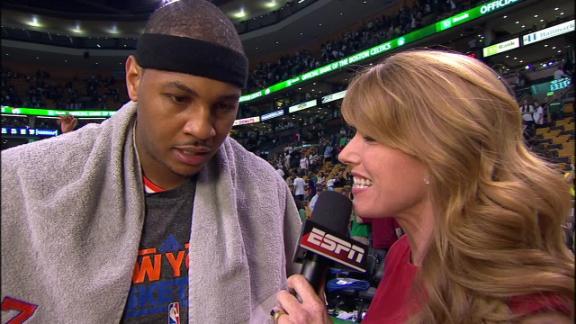 Knicks cruise to commanding 3-0 lead vs. Celts
ESPN.com
Updated Apr 26, 2013
Carmelo Anthony scored 26 points and the New York Knicks moved to the brink of their first playoff series victory in 13 years, routing the Boston Celtics 90-76 on Friday night in Game 3 of the first-round series.
Share
Tweet
nba.com

Apr 26, 2013

New York Knicks swingman J.R. Smith was ejected from Friday night's playoff game against Boston for elbowing Celtics guard Jason Terry in the face.

Share Tweet

CNNSI.com nba.com boston.com nydailynews.com

Apr 26, 2013

The TD Garden was swarming with police Friday night for the playoff game between the Boston Celtics against the New York Knicks.

Share Tweet

Carmelo After Knicks Cruise In Boston

Apr 26

Carmelo Anthony after the Knicks take a commanding 3-0 lead over the Celtics.

Felton to Smith for three

Apr 26

Raymond Felton with the crazy pass to J.R. Smith who knocks down the 3-pointer.

Flip Chart: Anatomy Of A Comeback

Apr 26

Flip Saunders breaks down what the Lakers and Celtics need to do to overcome 2-0 deficits.

Knicks Send Celtics To The Brink

Apr 26

Carmelo Anthony scores 26 points and the Knicks cruise to a 90-76 win in Boston.