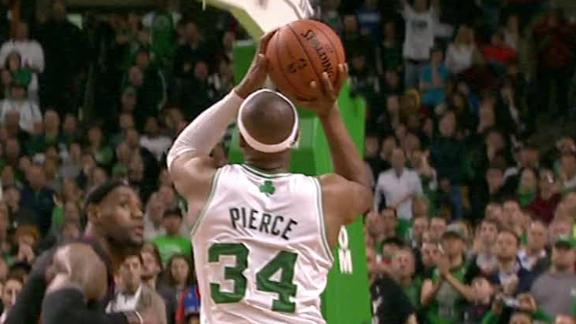 ESPN.com
boston.com
Updated Feb 7, 2013
Boston Celtics president of basketball operations Danny Ainge said Thursday that despite rumors to the contrary, he doesn't expect to trade Kevin Garnett and Paul Pierce.
Share
Tweet
ESPN.com boston.com dimemag.com

Feb 7, 2013

Paul Pierce scored 24 points and led a third-quarter surge as the Boston Celtics routed the Lakers 116-95 on Thursday night in Dwight Howard's return for Los Angeles.

Share Tweet

Q&A: Celtics chat with Gary Dzen

boston.com

Feb 7, 2013

Boston.com Celtics writer Gary Dzen takes your questions on Celtics-Lakers, the NBA trade deadline, Rajon Rondo, and more Thursday at 1 p.m.

Share Tweet

Garnett Reaches 25,000 Points In Celtics' Win

Feb 7

Celtics win sixth straight.

Ainge: Celtics 'Likely' Won't Make Changes

Feb 7

Kurt Rambis breaks down Danny Ainge's comments that he doesn't expect the Celtics to trade Kevin Garnett or Paul Pierce.

Rapid Fire with Dwane Casey

Feb 7

Raptors head coach Dwane Casey on who will win the NBA title, who the league's best point guard is, and whether the Celtics and Lakers can contend with their current rosters.

Best Rivalry In Sports?

Feb 7

"SportsCenter" debates the best rivalry in sports.