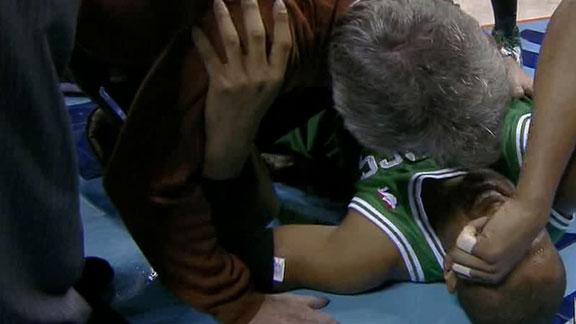 nba.com
ESPN.com
boston.com
yahoo.com
Updated Feb 12, 2013
Brazilan guard Leandro Barbosa has a torn anterior cruciate ligament in his left knee and will miss the rest of the NBA season for the Boston Celtics.
Share
Tweet
Bulls travel to Boston without Hinrich

nba.com

Feb 12, 2013

The Chicago Bulls left injured guard Kirk Hinrich at home when they traveled to Boston to face the Celtics in their final game before the All-Star break.

Share Tweet

yahoo.com

Feb 12, 2013

On one hand, an NBA player hitting an open elbow jumper to re-take a fourth-quarter lead from a dog-tired team that had just gone to triple-overtime one day earlier isn't, like, a super huge highlight. On the other, when that NBA player plies his trade …

Share Tweet

Leandro Barbosa Has Torn Left ACL

Feb 12

Antonio Davis on Leandro Barbosa's injury and what is next for the Celtics.

How Can Celtics Keep Hot Play Going?

Feb 12

Antonio Davis looks at the Celtics' rash of injuries and discusses how Doc Rivers can keep the team's hot play going.

Sports Columnists

Kobe Bryant says chastising fan on Twitter was 'right thing to do'

Feb 13

Kobe Bryant welcomes challenges, which explains why he chastised a fan on Twitter for using a homophobic slur. "It's the right thing to do," Bryant told ESPN.com. "I couldn't help myself. I saw it, I was like, 'I can't help myself. I have to respond.'"

Ian Thomsen: John Wall's return puts Wizards back on track; more mail

Feb 12

Time to break up the Wiz? Washington has won 11 of its last 18 and has ranked first in defensive efficiency since John Wall returned. Could they sneak into the playoffs as the team no one wants to face in the first round? -- Adam T., Washington D.C.